Seven points to keep you Covid-safe as the taxi business starts the post-lockdown bounce-back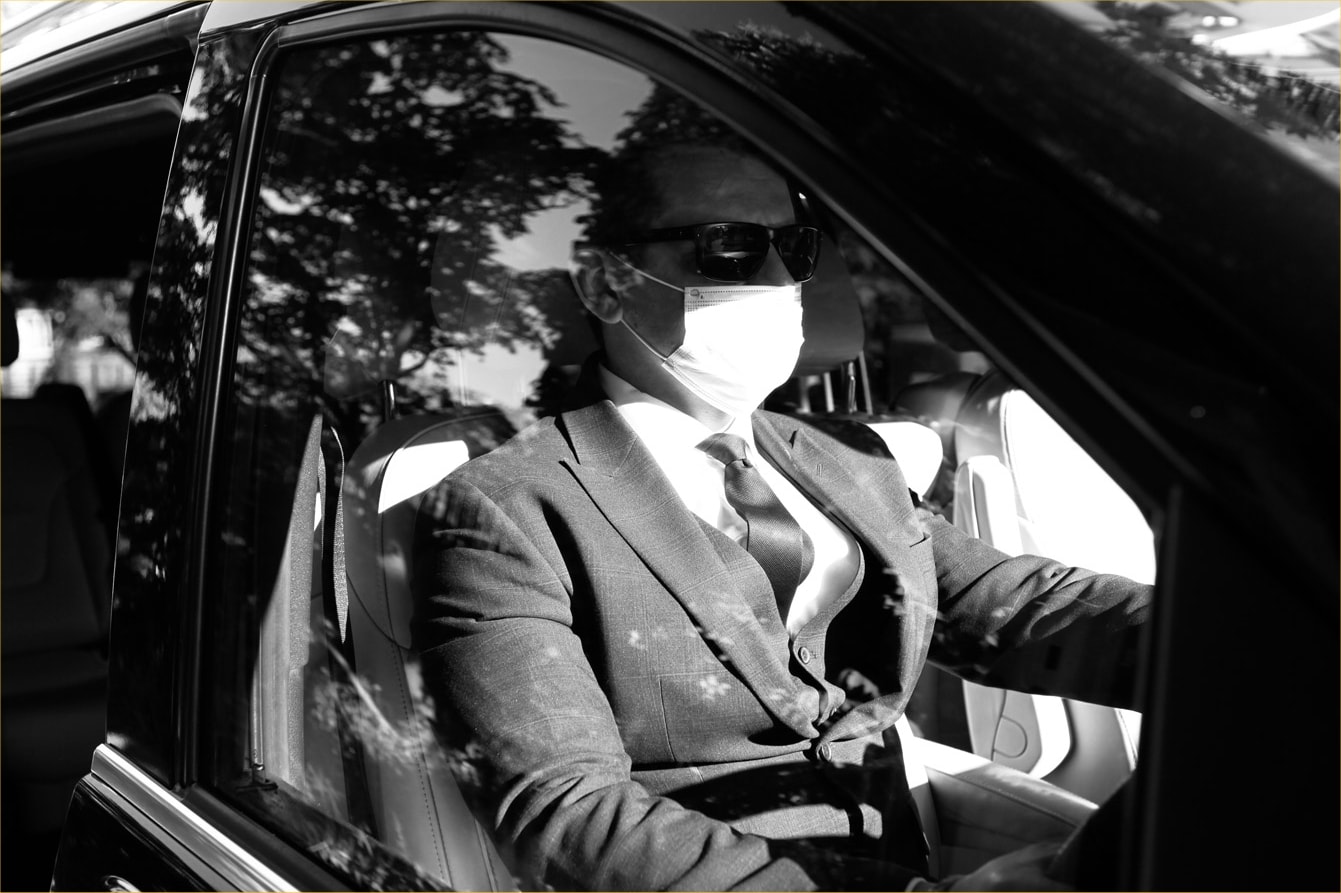 The lockdown is easing, and some aspects of our old life are returning to our world. We can socialise, and enjoy a drink in a seasonably chilly pub beer garden. We can't yet travel internationally, but that will come.
And as the vaccination programme continues to roll out, the road map back to normality means operators, especially those with a predominantly business clientele, will start to see business coming back – roadshows, trade fairs, conferences, and sporting events.
A note of caution needs to be sounded, though. We might finally be taming the Coronavirus, but it hasn't gone away. Nor is it likely to. Moving forward, we will have to live with Covid-19, as we do with Influenza and other diseases.
As work returns, it is vital for operators and drivers to remain vigilant. Let's not forget the grim toll the Pandemic took on our sector in 2020 – according to Office of National Statistics data, 209 taxi or private hire drivers died of Covid-19 between March and December. And we know that several more have died in 2021.
Drivers are still on the front line, and operators have a duty of care to their drivers to protect them as far as possible. And drivers must be aware of the risks they take every day, and act accordingly to minimise them. So what should you do to make your working environment as safe as possible? Here is a simple guide to some of the steps every driver or operator can- and should – take.
1: Get Vaccinated
The vaccines work. The figures prove it. At the time of writing, 30 million people – almost half the UK population – have had their first jab, with around 8m having had their second as well.
The vaccines – whether they are AstraZeneca, Pfizer or Moderna – offer protection from contracting Covid-19 of between 80 and 90%. But, crucially, they reduce the risk of dying from the virus to almost zero. So you might still get ill for a couple of weeks, but you almost certainly won't end up on a ventilator.
You cannot force your employees – drivers or anyone else – to take the vaccine. But you should encourage them to do so. Thankfully, the take-up is good, though there are still issues, especially surrounding BAME people. And the taxi sector relies heavily on people from a BAME background.
According to a poll by the Royal Society for Public Health, only 57% of respondents from minority ethnic backgrounds said they would take up the vaccine, compared to 79% of the white population.
The reluctance stems from a variety of sources: religion-based superstitions, general distrust of authority, and ill-advised conspiracies and rumours spread via social networks. It's unfortunate because at the same time, BAME people are at greater risk of contracting Covid-19 than white people.
According to parliament's rapid response report, "Impact of Covid-19 on different ethnic minority groups", people from BAME communities are three times more likely to contract Covid-19 and five times more likely to suffer a "serious outcome," such as death. Higher incidence of diabetes and hypertension within the BAME population also puts them at increased risk from the virus.
So how can you address these fears? The best way is to find a trusted source of guidance. The British Islamic Medical Association provides a guide to Covid-19 vaccinations, addressing concerns relating to the ethical nature of the vaccines, their ingredients and suitability for religious dietary requirements, as well as effectiveness and safety. It communicates simple facts and dispels myths which have grown up around the vaccines from both a medical and a religious standpoint. Answers are provided in a number of Asian and European languages too.
https://britishima.org/operation-vaccination/hub/covidmyths/
2: Keep testing
It's easy to check if you've inadvertently picked up the vitus. Quick and easy swab testing kits are available easily now, which allow drivers to self-test on a regular basis, allowing them to discover if they have picked up the virus without showing symptoms – which could take two weeks to manifest themselves.
Screen supplier Driver Bubble offers a simple and affordable, CE certified, rapid antigen home test kit that provides peace of mind called 20test. This contains a testing card, a sterile disposable swab, a sample treatment solution and a simple, self-explanatory guide. Prices start at £4.30.
The 20test kit provides 96.9% accurate test results within 15 minutes. Specifically, it correctly identifies 92.0% of people with Covid-19 and 99.26% without the virus.
3: Wear a mask and use PPE
Government guidance was slow and vague at first, but drivers and passengers should always wear face coverings while in the car together.
In fact it took five months from the start of the pandemic for the Government to make it a legal requirement for passengers to wear face coverings in taxis and private hire vehicles. If necessary, the police and Transport for London (TfL) officers have enforcement powers including issuing fines of £200, halving to £100 if paid within 14 days, but doubling up to a maximum of £6,400 for repeated offences.
However, the rules do not mandate that taxi and private hire drivers have to wear coverings. According to DfT sources, taxi and private hire drivers are not legally required to wear a face covering while in their workplace, but are urged to wear face masks where possible.
Face coverings do not stop you from contracting Covid-19, but they greatly reduce the risk of someone carrying the virus from spreading it. And you could be incubating the virus for up to 14 days without displaying any symptoms, spreading it through your breath and by touching surfaces, while being totally unaware that you have the virus in your system.
Wearing a face covering means that if you cough, or even when you speak or breathe, the water particles that carry the virus get no further than the face covering. So wear a mask, and ensure that drivers have an adequate supply of clean masks.
Good quality, low-cost face coverings can be bought in bulk from suppliers such as Mask Brothers, which supplies boxes of 50 masks for as little as £10. These can also be sourced via Driver Bubble's website.
Alternatively, chauffeur operators might prefer to offer a PPE kit to customers. PPE Company Care, a company started in 2020 by the Choudhury family, owners of the Reliance and Hyride chauffeur brands, is offering in-car safety PPE packs specially designed with the needs of chauffeurs in mind.
Each kit contains a disposable FFP2 mask, a Surgical Type IIR mask, a 60ml bottle of hand sanitiser, a 10-pack of 75% alcohol wipes and a pair of latex-free disposable gloves. The packs cost £9.99 each for a pack of 10.
https://ppecompanycare.com/product/ppe-care-kit/
Remember to always carry an alcohol-based hand sanitiser with you. We recommend using this to periodically rub down the door handles and steering wheel, as you may have touched a contaminated surface. Finally, if you need to fill up your car at the petrol station, make sure you wear gloves when handling the petrol pumps as these too might be contaminated.
4: Fit a screen
Partition screens have been one of the most contentious items, and have been subject to some very poor advice from a number of local authorities, including TfL and, in particular, Wolverhampton City Council.
We've covered these borderline idiotic authorities in depth in previous issues. TfL has insisted on cumbersome and costly approval processes for the fitment of screens, fearing that they might interfere with airbag operations in the event of a crash.
Average 10mph speeds around London mean airbag deployments are rare, the likelihood of death through such an incident is infinitesimal compared to the risk of death from Covid – just ask the families of those 209 drivers who died last year. And Wolverhampton Council's policy of forbidding screens because there was "no evidence" they prevented Covid was irresponsible to the point of criminal. The authority is not fit for purpose, and heads should roll.
Because make no mistake, screens are effective and are a vital weapon in the fight to keep car occupants safe. We see chat on social media from drivers who are reluctant to fit a screen because their customers don't like them.
The customer might be king, but that does not give them the right to endanger the driver's life. So while the screen might be ugly and impersonal, it does provide a vital barrier between the passenger cabin and the driver, and aerosol-borne viruses will collect on the screen, where they can be hygienically wiped away and destroyed.
The Department for Transport recently released long-overdue guidance for the fitment of screens to their vehicles to reduce the spread of coronavirus.
The DfT guidance states that fitting a screen can help to reduce the risk of virus transmission and "should be one of a number of measures you consider", but dodges the issue of compulsory fitment, adding that the decision on whether to use a screen "rests with you and the local licensing authority".
The guidance states: "Licensing of taxis and PHVs is a local government responsibility. If a licensing authority decides to specify requirements in respect of screens, they are encouraged to consider this guidance in developing their own licensing requirements for the fitment of interior screens to help prevent the spread of coronavirus."
While complicated, it is to be hoped that the guidance will encourage councils that have been reluctant to approve screens, such as TfL, or those that have been hostile to the concept, such as Wolverhampton, to take a more enlightened approach.
The guidance covers screens that are fitted to vehicles not originally designed to have a screen. It does not cover screens that are included in the vehicle as part of their original design.
https://www.gov.uk/government/publications/coronavirus-covid-19-safety-screens-for-taxis-and-phvs/
There are plenty of suppliers, both national and local, that will supply and fit screens safely. Some local authorities, such as Liverpool, will provide funding for drivers to fit the screens through an approved supplier.
In London, thanks to TfL's jobsworths, the choice is more limited. Unless a screen has been developed by a vehicle manufacturer (Toyota and Ford have done so), it must be approved by testing carried out at either Millbrook or Horiba MIRA.
The biggest screen supplier, Driver Bubble, has so far had approval for a range of Toyota screens to fit cars including Prius, Auris, Corolla and Camry, and has recently gained approval for another popular London private hire car, the Mercedes-Benz E-Class.
Manufactured by FixiCover, this new version of the partition screen was also subjected to impact, light fire and chemical resistance tests to meet legislative requirements. The Driver Bubble FixiCover TfL Shield – Mercedes E-Class is made from 1.5mm polycarbonate and fits all Mercedes E-Class W213 models built from 2017-21. It costs £95.57 ex-VAT.
"Based on our clients' recent feedback and the demand, the Mercedes E-Class was the second-most popular PHV in London. Therefore, it was only right for us to process the E-Class as the next vehicle for the inspection and TfL approval," said Driver Bubble business development manager Will Cattrall. "After a close discussion with potential clients who have fleets of E-Classes, we wanted to understand their take on TfL approved screens for the E-Class, and the response was very positive."
Driver Bubble had to make one change to receive approval from TfL. The upper left and right corners of the screen have been replaced with a more flexible material to allow side airbag deployment.
Driver Bubble has also teamed up with London-based valeting firm American Carwash to offer a professional installation service at its car wash centres. Customers can now choose this service when buying the TfL-approved shields. The installation service costs £18.
5: Clean your car thoroughly
Keeping your cars clean and disinfected will reduce the chance of the coronavirus being transmitted through commonly touched surfaces such as steering wheel, gearstick, radio and door handles.
You should do a "deep clean" as often as possible, preferably daily, in addition to wiping down between each job any surfaces that the customer might touch, or that you touch as well. This includes interior and exterior door handles, grab handles, seat belts, steering wheel, gear lever and, if fitted, the partition screen.
Make sure that you have the correct cleaning products. Alcohol-based disinfectants, Lysol wipes and similar are ideal, though good old soap and water is effective against Covid-19. Products marked as "anti-bacterial" are unlikely to be effective unless they are alcohol-based and contain at least 60% alcohol.
When choosing an antiviral cleaner, look for products confirmed to be effective against all enveloped viruses as defined in European standard EN 14476:2013 + A2:2019 Annex A, which includes all coronavirus and SARS-CoV-2 (Covid-19). Products such as CarChem Viracare Interior Cleaner contain an active biocide that can destroy bacteria, fungi, yeast, algae and viruses.
If you are using disinfectant on leather surfaces, such as the wheel or seats, use leather-care products (ideally ones that contain moisturiser) to protect and maintain the leather – and your warranty.
Products to avoid include bleach and peroxide-based cleaners. These kill germs, but also damage vinyl and plastic, and probably discolour your car too. Chlorine bleach could cause serious damage to the car's interior. If it gets on the seat belts, it could weaken the fabric and affect the safety. Also avoid using ammonia-based cleaners inside your car. They can break down the vinyl, particularly on the dashboard, and make it sticky under heat and light. And don't use glass cleaner on touch-screen displays, as they can affect anti-glare coatings.
Before cleaning your car, put on protective gear, including a pair of high-quality rubber gloves and a face mask if you can, as there will be a lot of dirt particles in the air as your dust surfaces. Apply a generous amount of alcohol-based sanitiser to your hands before putting on the gloves so that you have an extra layer of protection.
Valet the car as you normally would, and then use an alcohol-based disinfectant to rub down all plastic parts including the door panels, centre console, dashboard, the pillar covers between doors and around your windscreen.
Don't forget to clean up the boot of your car as well, as this is one place that sees the most foreign items. Remember to apply the disinfectant/sanitiser to all the most commonly touched parts of the vehicle including the steering wheel, gear stick, power window buttons, rear view mirror, fuel lid opener and bonnet opener.
After you've finished your valeting job, dispose of the vacuumed dirt effectively, preferably in a bin bag you can throw into your main bin immediately. Dispose of the gloves, waste cloths and other disposable material effectively. All your clothes and car wash cloths and sponges should go straight into the wash and you should take a long shower.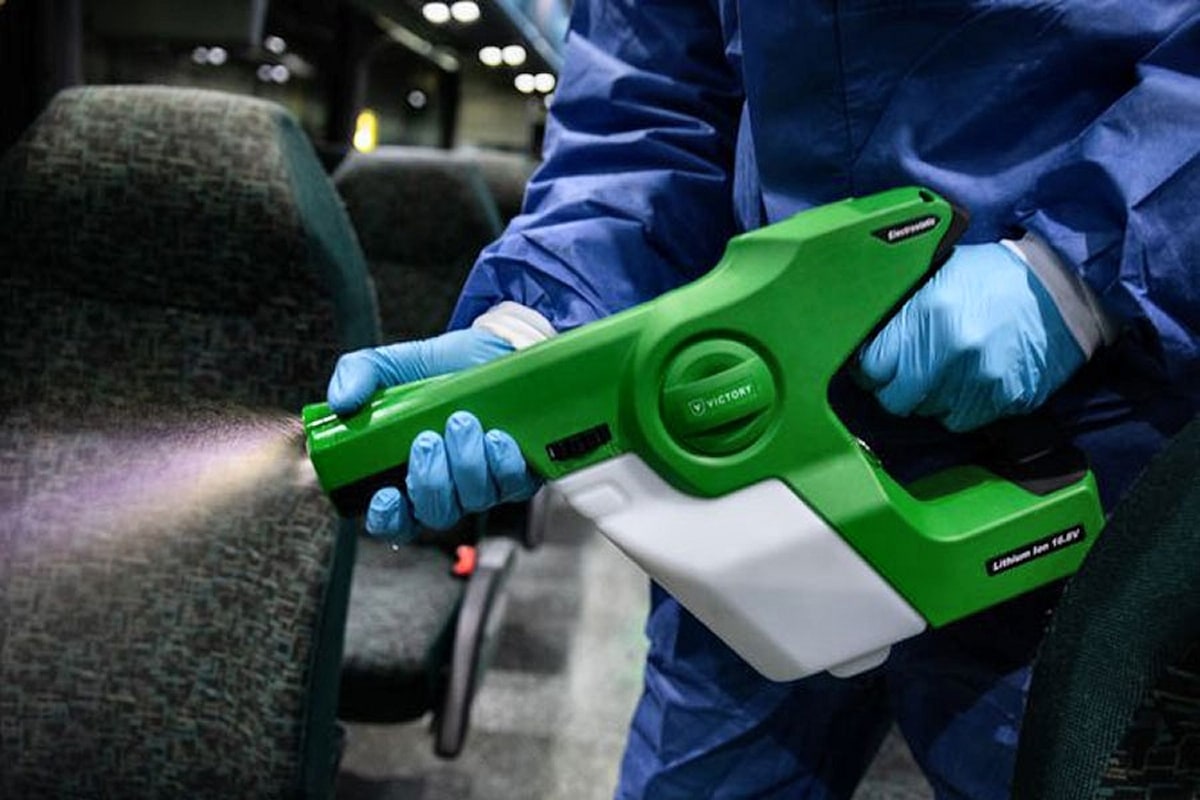 6: Use available cleaning technology
There are ways of getting your car clean – and keeping it clean – that go beyond buckets and sponges, car vacuums and bottles of antiviral fluid. One is electrostatic cleaning, which is an effective way of sanitising your car simply and effectively.
In partnership with trade body the LTDA, ComCab, one of London's biggest taxi fleets, recently used electrostatic cleaning to valet hundreds of London black cabs.
The electrostatic technology was provided by cleaning expert iPurus to ensure all vehicles were sanitised efficiently and professionally. The process involves spraying a disinfectant "fog" inside the car, and this creates a static layer on the surface being treated. The solution used is exceptionally safe, water based and effective against a wide spectrum of viruses and bacteria including Coronavirus, Influenza and MRSA.
The electrostatic spray covers every area of the vehicle and kills 99.9% of bacteria, fungi and viruses. The process is quick too – it only takes 60 seconds to have the vehicle fully decontaminated, allowing the drivers virtually no downtime from their jobs.
Natasha Nicolaou, Marketing Manager of ComCab said:
"The safety of our drivers and passengers is of the utmost importance to us. Travelling in a ComCab black taxi ensures a piece of mind for both parties. We will continue to stay diligent in the cleaning routine of our vehicles under all circumstances and ensuring our ComCab fleet offer a Covid secure travel solution." ComCab, iPurus and The LTDA are currently planning to offer cleaning events more frequently in future.
Other technologies will do a similar job, such as the Sany Car, a portable device that uses ozone gas to sanitise vehicles, with the cost per treatment as low as 93p per car. It is a single-box device that pumps Ozone gas throughout the vehicle's interior, and thus every surface is treated in a uniform manner.
Sany Car is powered by a standard 13-amp plug or car cigarette lighter socket. It can be placed inside any vehicle and can complete the sterilisation to a medical grade standard within 22 to 44 minutes depending on car size.
https://www.sanitysystem.co.uk/sanity-system-products/
Keeping the air within your vehicle clean while on the move is another way of minimising risk. Covid-9 is spread in small water droplets – or aerosols – from breath or sweat. These aerosols provide an environment in which viruses can remain alive for hours before setting on surfaces, contaminating them too.
In the enclosed space of a car interior, the effect can be devastating. Of course, modern cars are fitted with effective filtration systems in their air conditioning systems, designed to keep particulate emissions, pollen and other nasties out – but they're of little use when the nasties have entered the car, carried by the passenger.
The Airbubbl device, developed by AirLabs, is designed to reduce pollution levels within vehicles by extracting harmful pollution particulates from the atmosphere and filtering them out, thus cleaning the air inside the car. But as the Covid-19 virus is of a similar size, AirLabs says the Airbubbl can remove the airborne virus particles from the air circulating inside the cab. AirLabs claims the device can remove more than 95% of airborne particles that pass through the filter.
Airbubbl is a compact, 310mm long cylindrical device with pre-installed filters. It plugs into a USB socket inside the car and can be easily attached using a crash-tested strap, around the headrest supports one of the front seats. Operation is simple – a quiet internal fan sucks air into the cylinder, through the filters and expels freshened air out of the other end at a rate of 30cu m per hour. Once the virus becomes caught in the filter, it dies off after a period of 24 hours.
Already the devices are being adopted by a number of private hire operations, including Ed Halil, managing director of Byfleet-based chauffeur operator EA Chauffeurs. He said: "We felt that the Airbubbl was the only item on the market at the moment which, combined with our existing sanitising measures, would instil complete confidence in our customers that we were doing everything possible to protect their health during this unprecedented period."
https://www.airlabs.com/product/airbubbl/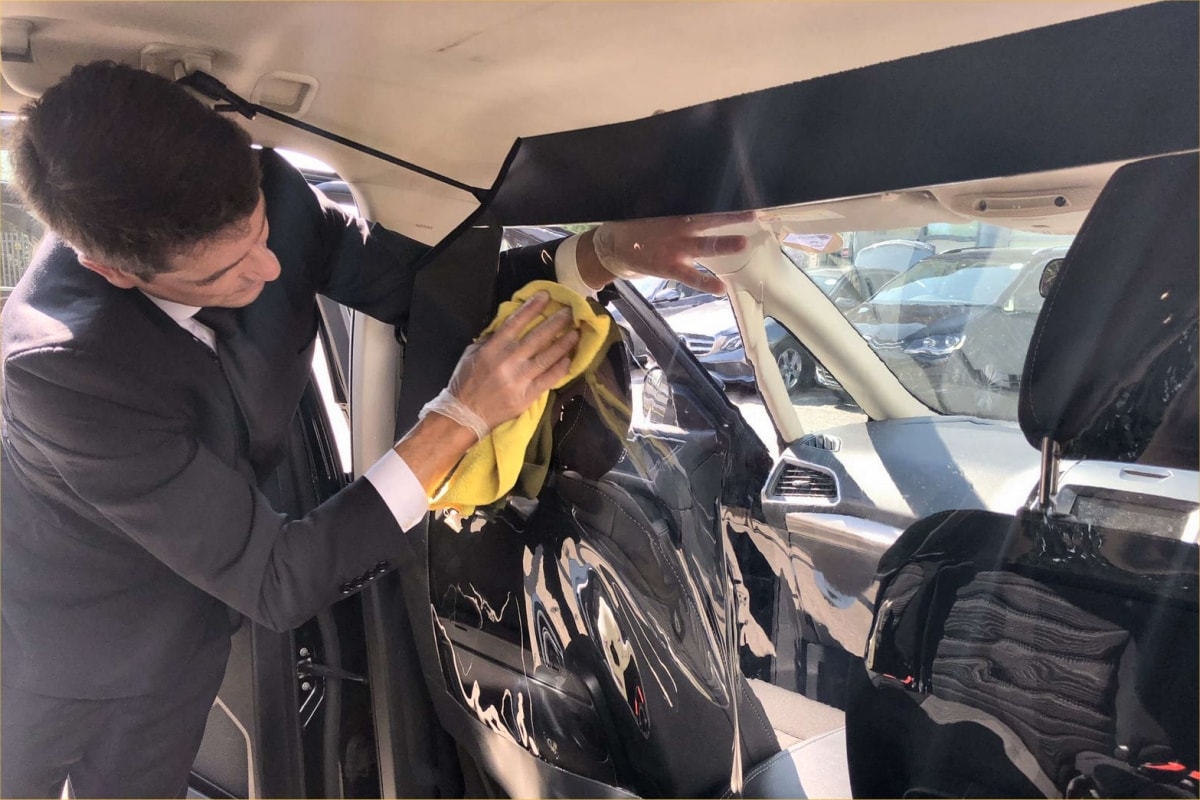 7: Be thorough
It's important that everyone on your team buys into this. The last thing we all need is another lockdown later in the year. Transport is a known Covid spreader, and many people will be relying on cars rather than trains, buses or even planes to get around – because the environment is cleaner and safer.
So your customers are relying on you to keep them safe. Which means you might still have to have uncomfortable discussions about mask-wearing or why you have to have a screen. You're doing your best to keep them – and your drivers – safe and alive.
So you might need some training, or a policy document setting out how to do all the things you need to do. There are good examples of best practice throughout the industry
London-based chauffeur company – and Professional Driver Gold QSi winner – iChauffeur has an excellent guide on its website, which is as close to best practice as you'll find.