Geneva Motor Show 2019 report
The annual Geneva Motor Show is the European car industry's premier showcase for new models and new technology. This year electric cars and plug-in hybrids took centre stage as automakers rise to the challenge of cleaner motoring. Professional Driver's Mark Bursa presents our annual guide to the new and future cars that are likely to feature in chauffeur and private hire fleets in the future.
Audi Q4 e-tron
Audi has revealed a smaller battery-electric SUV crossover, the Q4 e-tron. It goes on sale at the end of 2020, and will form part of what the German automaker says will be a 12-strong EV line-up by 2025. The Q4 e-tron uses VW's group's modular MEB platform, which also forms the basis of EV offerings for Volkswagen, Seat and Skoda.
Q4 e-tron, which is slightly bigger than the conventionally-powered Q3 SUV, has the same powertrain as the Skoda and Seat EV concepts shown at Geneva – twin electric motors, one driving each axle, developing 302bhp, and 460Nm of torque. An 82kWh underfloor battery pack gives a claimed maximum range of more than 280 miles on a single charge under the new WLTP standard. The battery can be recharged to 80% in 30 minutes.
Audi e-tron Sportback
A second version of Audi's first all-electric car, the e-tron SUV, was shown at the 2019 Geneva Show. The Audi e-tron Sportback adds a fastback body to the high-riding crossover, pitching the car against the likes of the BMW X4 and Mercedes GLC Coupe.
Under the skin it's the same as the standard e-Tron, with an electric motor on both front and rear axles giving a maximum output of 402bhp. Electric range is estimated at 248 miles on the WLTP cycle, and the car supports 150kW fast charging. The Audi e-tron Sportback was first shown as a concept at the Shanghai Motor Show in 2017. It is a similar length to an A7, but sits lower. Sportback is expected to be on sale by the end of the year, with the SUV arriving in the late Spring.
Audi PHEV drivetrains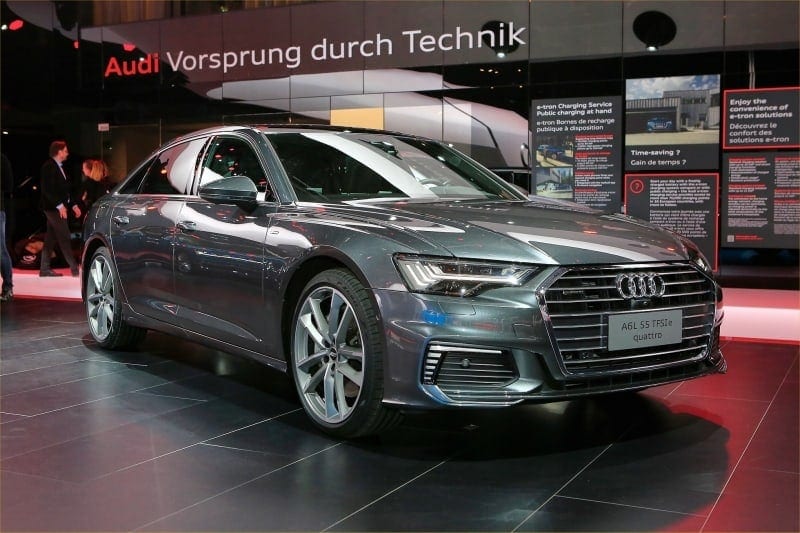 Audi announced a range of plug-in hybrid versions of the Q5, A6 (pictured), A7 and A8, available to order later this year. The PHEV models will all be badged TFSI e. The hybrid Q5, A6 and A7 come in two power outputs, badged as either 50 TFSI e or 55 TFSI e.
The 50 TFSI e models mate a 2.0-litre turbocharged four-cylinder petrol engine to a gearbox-mounted electric motor, providing combined performance figures of 291bhp and 450Nm of torque. The 55 TFSI e models use a 3.0-litre V6 petrol with the same electric motor, for a combined output of 357bhp and 500Nm of torque. All TFSI e models use a seven-speed twin-clutch S tronic automatic transmission, with all-wheel drive.
The new hybrid A8 also comes with the 55 TFSI e powertrain, as well as a 60 TFSI e version with a higher-output version of the engine, delivering 436bhp and 700Nm of torque. All A8 TFSI e models use an eight-speed torque converter automatic gearbox. Audi TFSI e models use 14.1kWh lithium-ion battery packs mounted under the boot floor, offering an electric-only range of 25 miles (WLTP) on all models.
BMW 7-Series
The giant grille of the facelifted BMW 7-Series is already dividing opinions, and at Geneva, BMW explained why the new "face" has been applied to the car. It seems Chinese and American buyers prefer the bolder look, and the move also ties the new 7-series to the equally be-chromed X7 SUV. It also makes the 7-Series look more radically different to the 5-series in the BMW range.
The new kidney grille raises the bonnet edge 50mm higher than before. And while the grille is bigger, the headlamps are smaller and narrower, changing the look of the car significantly.
A new plug-in hybrid model joins the 7-Series range. Now badged 745e, it replaces the four-cylinder petrol unit of the old 740e with a turbocharged in-line six-cylinder petrol engine, along with a higher-voltage battery and electric motor. The system offers 389bhp and 34 miles of electric range.
BMW PHEV models
BMW has expanded its range of plug-in hybrids with five new models and two revised versions of the 530e PHEV, which gets a new lithium-ion battery giving an all-electric range around 40 miles, 11 miles more than the previous model. BMW also plans to introduce an all-wheel-drive version of the 530e in July.
Also at Geneva were new PHEV versions a number of other models: X5 xDrive45e, X3 xDrive30e, 330e saloon and 225xe compact MPV (pictured), which give chauffeurs new options when looking for ULEZ-compliant luxury cars.
Imagine by Kia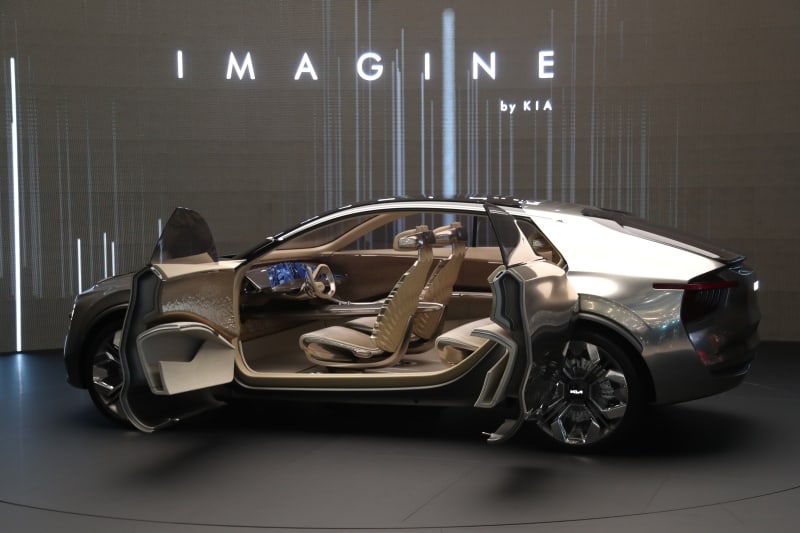 Kia revealed a glimpse of how it sees its next generation of electric cars, which could be available as early as 2022. The Imagine by Kia concept car is a C-segment saloon with a tall, SUV stance. It's all-electric, with a battery pack mounted below the floor and the ability for wireless charging.
The windscreen and roof are all glass, giving a full-length panoramic roof. Entry is via rear-hinged rear doors with no B-pillar, giving a roomy four-seat interior. Because it's electric, it has front and rear luggage compartments a la Tesla.
Kia Niro
Kia is facelifting the hybrid and PHEV versions of its Niro crossover this year. The two hybrid models receive a refreshed exterior, a revised interior and some new technology features. Powertrains are unchanged, though. The new versions are expected to go on sale before the end of the year.
Changes include new16in alloy wheels, new front and rear bumpers and redesigned exterior lighting. Inside, new materials and colours are added, as well as a new electronic parking brake, lane following assist, collision avoicance systems and adaptive cruise control. Kia's new Uvo Connect telematics system also makes its debut on the Niro, giving real-time traffic updates via an optional 10.25in touchscreen.
Mercedes Concept EQV
Chauffeurs looking for an all-electric, ULEZ-compliant seven-seat MPV won't have long to wait – the V-Class-based Mercedes-Benz Concept EQV will be launched as a production model later this year. The Concept EQV features a large 100kWh battery with a claimed range of over 240 miles on the new, real-world WLTP tests. And it can be recharged quickly – 60 miles of charge takes just 15 minutes via a rapid charge point.
The Concept EQV's batteries all sit under the floor, meaning no change to the space inside with six, seven or eight seat options available. A 200bhp electric motor drives the front wheels. It carries Mercedes' new EQ electric cars sub-brand, with a redesigned nose and plenty of signature blue LED lighting.
Nissan IMQ
Nissan will not offer plug-in hybrids in its range – despite the availability of the technology through the alliance with Renault and Mitsubishi. Instead it plans to focus on electric cars and its so-called e-Power plugless hybrid drivetrain, which will launch in Europe by 2022.
This is likely to be on the next-generation Qashqai, which is expected to look a lot like the IMQ concept car on the Nissan stand. The e-Power drivetrain uses a petrol engine as a power generator to recharge the battery that powers the car's electric drive motor. The system is already popular in Japan on Note and Serena models. Nissan says it will launch eight all-electric vehicles by 2022, though not all of them will be destined for European customers.
Polestar 2
Polestar is Volvo's new up-market sub-brand, and it revealed its second new model at the show. The all-electric Polestar 2 will be pitched against Tesla Model 3 with prices starting from around £35,000. Production starts in 2020 at Polestar's Chinese factory, with a loaded-spec launch edition model, priced around £50,000.
The five-door Polestar 2 uses Volvo's new all-electric CMA platform. It uses two electric motors, giving output of 400PS and 660Nm of torque. A 78kWh battery pack, gives a claimed all-electric range of 310 miles, and a cheaper, lower-range model is also likely. Buyers will have access to Polestar's public charging network, and the car's satnav will give directions to the nearest charging location. A larger Polestar 3 SUV is also planned, pitched against Tesla's Model X.
Seat el-Born
All four VW group mainstream brands showed electric car concepts based on the company's modular MEB platform – and here's Seat's version, the el-Born concept. The car, similar in size to a Seat Leon hatchback, uses a 62kWh battery fitted under the floor to power an electric motor driving the rear wheels, which gives it a range of 261 miles.
The concept car looked close to production, and much of the interior will be shared with a similar VW ID electric hatchback, including a 10in infotainment screen. The car has 100kW DC charging, so it can be restored from zero charge to 80% in 47 minutes. Pricing is expected to start from around £25,000.
Skoda Vision iV
Volkswagen group is gearing up for a massive push into the electric vehicle market, and Geneva saw the reveal of the concept car that points the way for Skoda's first EV .The Skoda Vision iV coupe-SUV concept is almost production-ready, and is likely to launch in 2021.
Vision iV is driven by electric motors powering both axles, giving a total output of 302bhp and a 0-62mph time of 5.9sec. It uses an 82kWh lithium-ion battery, offering 310 miles of range under the WLTP testing. Skoda says it can be rapid-charged to 80% capacity in 30 minutes.
SsangYong Korando
Korean brand SsangYong launched an all-new Korando SUV at Geneva, aimed at the likes of Toyota RAV4 and Nissan Qashqai. The new car is based on last year's e-SIV concept. It comes with 1.6-litre diesel and 1.5-litre turbocharged petrol engines, though an all-electric powertrain is expected to follow in 2020.
This is likely to combine a 189bhp electric motor powered with a 61.5kWh battery to give a range of 200 to 280 miles. The battery pack can be 80% charged in 50 minutes.
Toyota Corolla Sedan
Toyota may have killed off the Avensis, but it has not abandoned the traditional saloon market. There's a new Camry on the way, and at Geneva a new Toyota Corolla Sedan was revealed. The four-door version of the Auris replacement will join the hatchback when UK sales begin in the first quarter of 2019.
It's positioned as a top-line model, and has a different front-end styling to the other Corollas. The saloon shares its 2,700mm wheelbase with the estate – it's 61mm longer than the hatchback. Under the bonnet is a Prius powertrain – a 120bhp 1.8-litre mild hybrid. Combined economy is claimed as 65.7mpg, while WLTP-measured CO2 emissions 98g/km.
Toyota Corolla Trek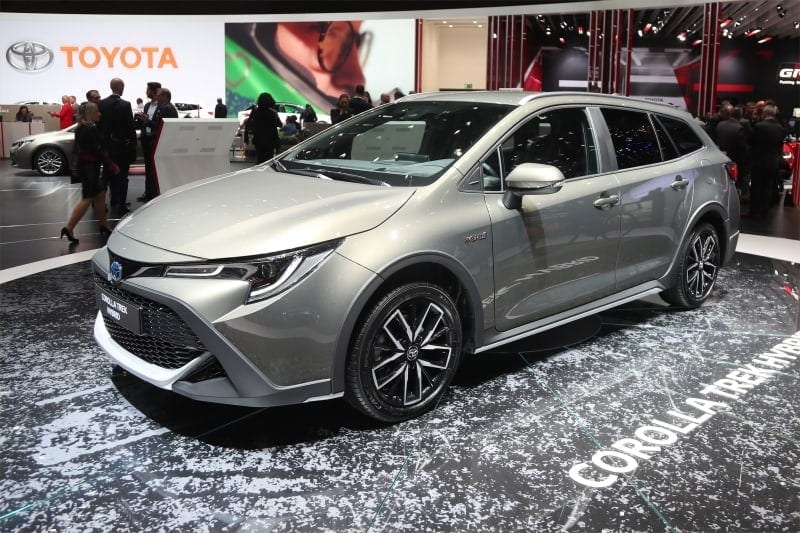 Toyota also revealed a crossover version of the new Corolla estate called Corolla Trek, designed as part of a tie-in with cycle-maker Trek. The Corolla Trek estates will be used as support vehicles for the Trek-Segafredo professional cycling team. The Corolla Trek has a 20mm increase in ride height, 17in alloy wheels, rear privacy glass, LED headlights and an optional roof-mounted bike-rack. It's powered by either a 1.8-litre or 2.0-litre four-cylinder petrol-hybrid mated to a CVT automatic. Deliveries will start in August.
Volkswagen Passat
Volkswagen has given its Passat upper-medium sector saloon and estate a facelift with minor cosmetic changes, but plenty of new technology under the skin. These include a semi-autonomous system called Travel Assist which can steer the Passat automatically at speeds of up to 130mph – a big advance on the 25mph limit of the Traffic Jam Assist system on the current car.
Petrol and diesel versions continue, but the GTE plug-in hybrid (pictured) gains a bigger battery, rising from 9.9kWh to 13.0kWh, giving an electric-only range of 34 miles (WLTP), 12 miles more than the current. Volkswagen believes GTE could take up to 25% of Passat sales, up from 10% previously.