The 2022 Professional Driver Awards – The Winners
Environment Award
Sponsored by Ethos Finance
| | |
| --- | --- |
| Gold | Addison Lee, London |
| Silver | Your Local Car, Camberley |
| Bronze | Parkers Executive, Newcastle-upon-Tyne |
There's no bigger issue than the environment, and the QSi Environment Award recognises companies that have shown a genuine commitment to adopting environmentally-friendly policies that have made a positive impact.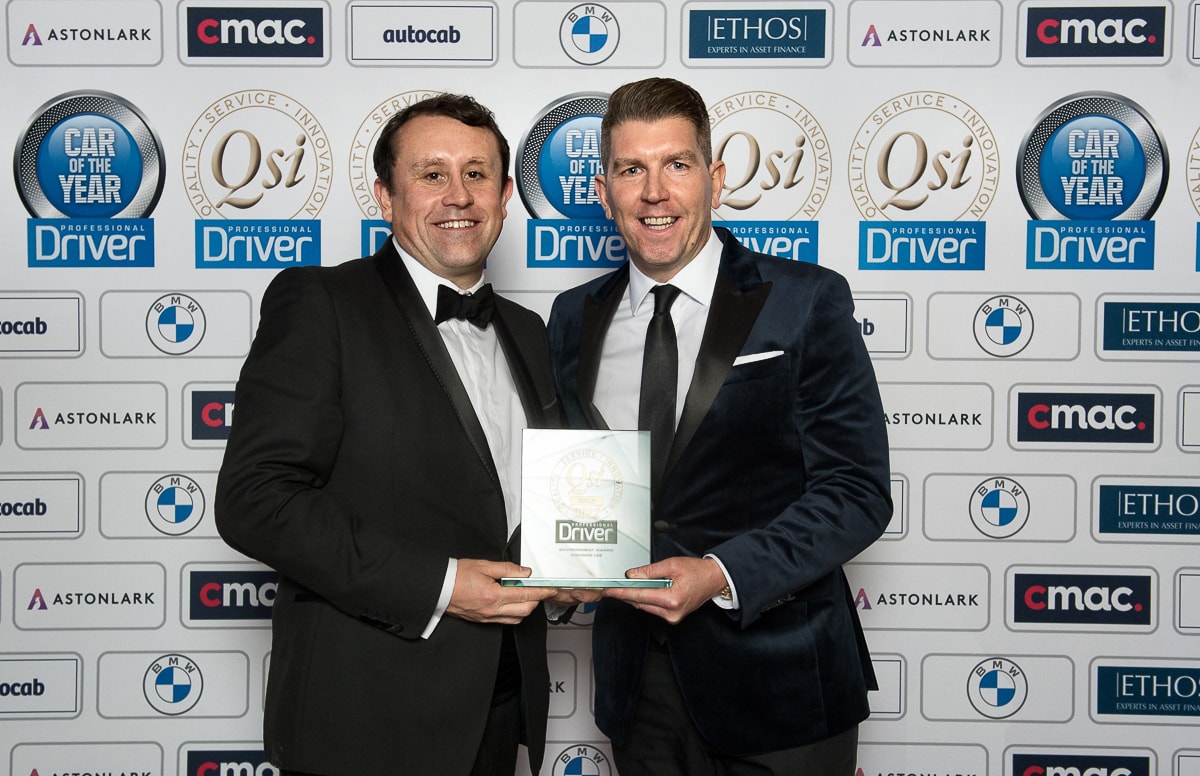 Our Gold winner is Addison Lee. The company has made a massive commitment to electrifying its entire fleet – it's a big fleet – and backing up that initiative with innovative schemes to help drivers access charging facilities – even those without off-street parking.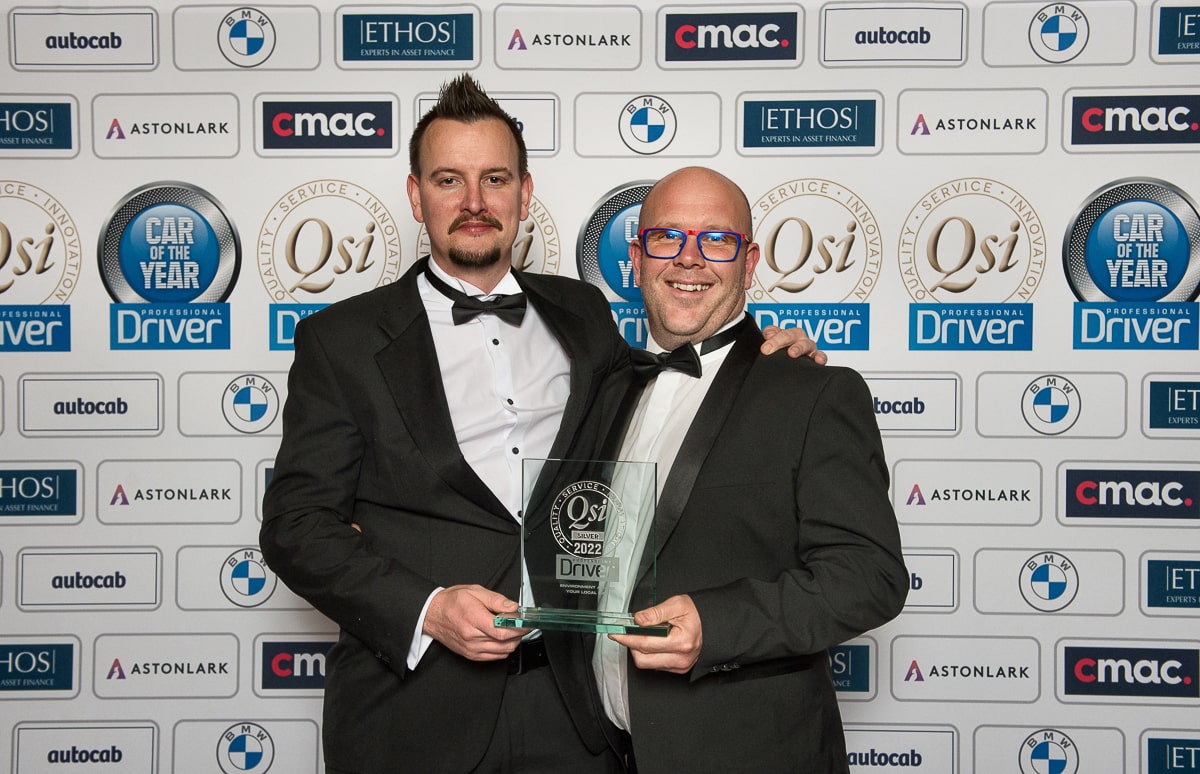 The Silver award goes to a small company that has big ideas about thinking green. Your Local Car merged its back office with other businesses in a bid to cut energy costs, and it has made saving across the business by as cutting back on printed cards and leaflets. Its first electric cars have also joined the fleet – a big investment for a small firm.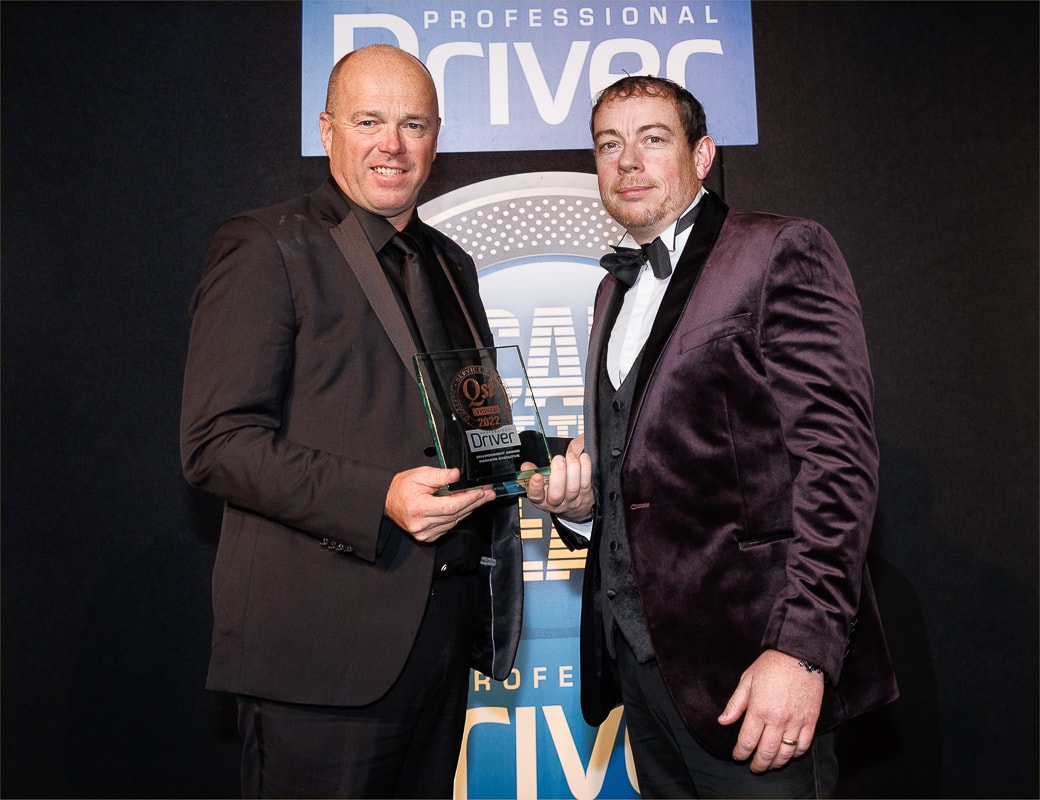 The Bronze award goes to Parkers Executive of Newcastle-up-on-Tyne, a company that has undertaken a thorough re-evaluation of everything it does to make sustainability the cornerstone of its business. That means everything from electric vehicles to smarter scheduling – to encouraging its workers to cycle or walk to work.
Business Diversification Award
Sponsored by Cmac
| | |
| --- | --- |
| Gold | GLH, London |
| Silver | DG Cars, Nottingham |
| Bronze | Blacklane, Berlin |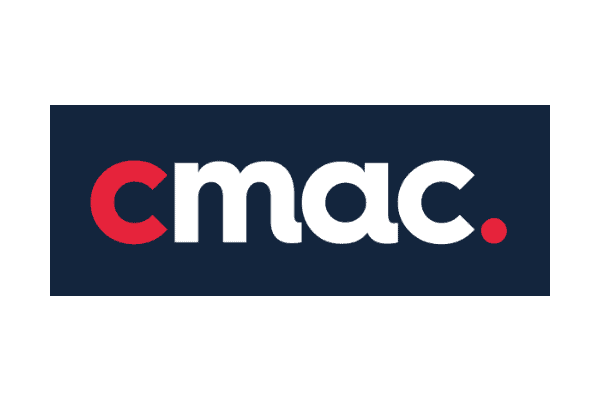 We introduced this last year to reward initiatives to develop new lines of business during the pandemic. Covid certainly made these initiatives more important as a way of keeping cars and drivers working when the regular business had disappeared, but we're glad to see that the industry has kept on innovating now the worst is hopefully behind us.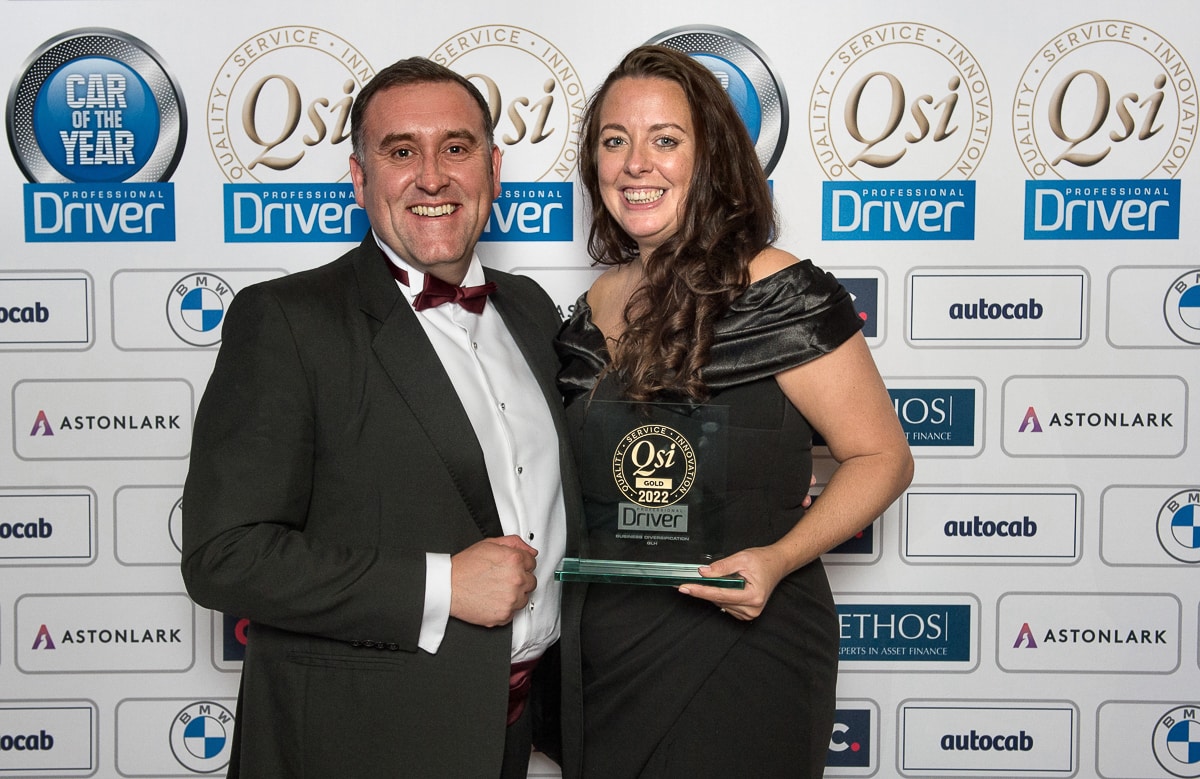 Our Gold winner is GLH. The London firm has always provided a service for transporting NHS patients, but it has turned this into a major strand of its business, by introducing a new booking system to streamline hospital booking and new driver training to bring drivers on board just to do patient transfers. By winning this QSi Award, GLH has maintained its proud record of winning a QSi award every year since the first ceremony back in 2013.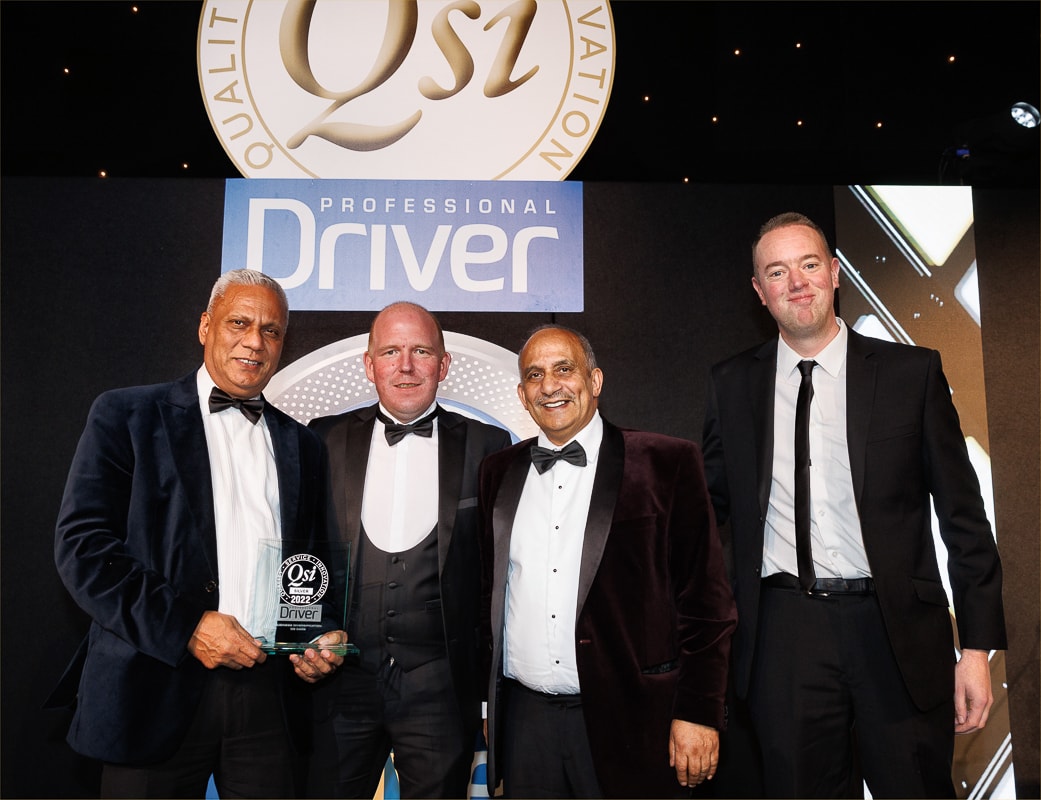 Silver goes to last year's Gold winner in this category, Nottingham's DG Cars. Introducing delivery services saw it through the pandemic relatively unscathed. Now it's growing, and it's doing so by investing in its drivers – a new training facility is helping it ride the recession by training men – and women – to drive for the company.
The Bronze winner suffered the loss of 99% of its business during the pandemic. But Blacklane's route to recovery was through innovation, launching a host of new services, including long-distance, fixed price journeys, app-based bookings and a dedicated electric car service. Now it's bouncing back stronger than ever.
Marketing Award
Sponsored by Eazitax
| | |
| --- | --- |
| Gold | AAA Taxis, Hatfield |
| Silver | Take Me Group, Leicester |
| Bronze | Veezu, Newport |
Which companies promote their operations in the most creative and original way? The QSi Award for Marketing aims to find out. The judges were looking for chauffeur, taxi or private hire operators, large or small, that make use of innovative or creative marketing and advertising across a range of media, and can show how this has improved their businesses.
Our Gold QSi Award went to a very special and significant initiative. The driver shortage is one of the biggest issues facing our industry right now – yet most companies are missing an obvious solution. Half the population is out there and available for work – but how many companies have female drivers? AAA Taxis has addressed this issue through its Females in the Fleet initiative, through which it is creating an opportunity for every company in the country to attract female drivers and them with a provide a safe, well-trained career.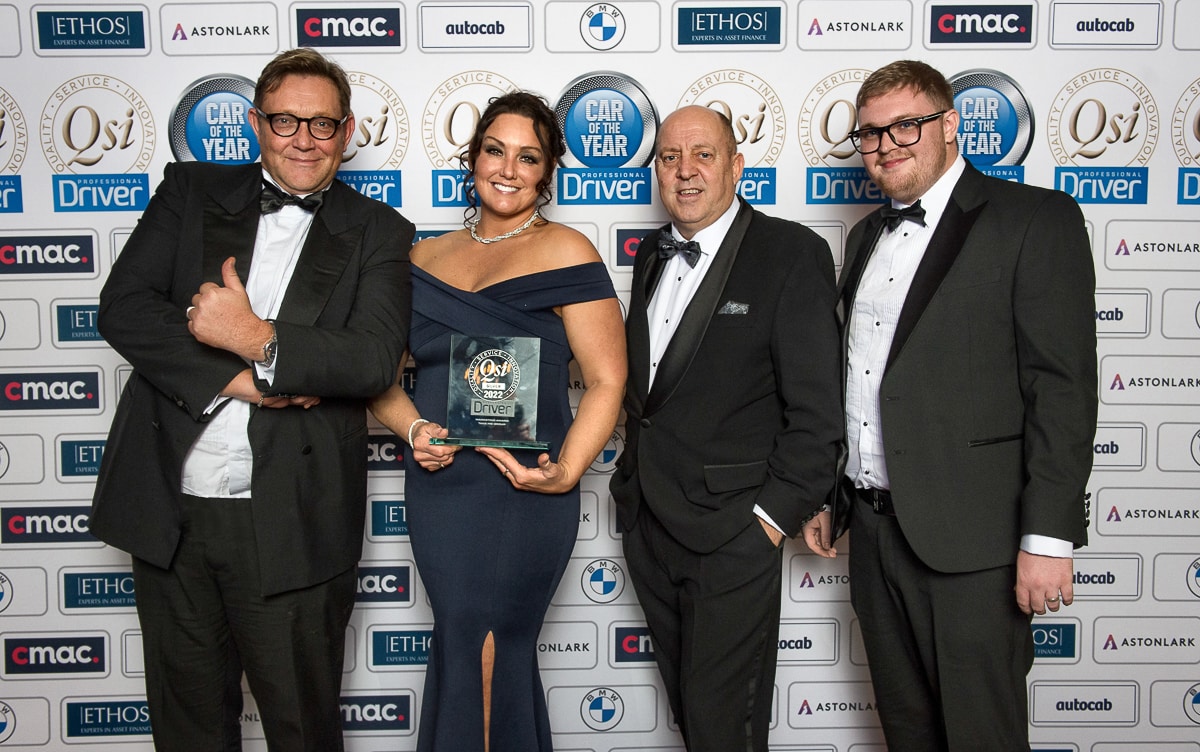 Our Silver winner has started introducing its own highly recognisable brand to its fleet. But Take Me Group's real strength has been how it has marketed itself to the industry, and used that relentless approach to bring more and more companies under its umbrella. The project is ongoing, but the impact is remarkable.
The Bronze award goes to a major player in the industry, but one that is now starting to make its mark as a national player. Veezu has started rebranding its operations under one national name – and telling its local customers with a well-executed "smarter rides" Marketing campaign.
Community Award
Sponsored by Autocab
| | |
| --- | --- |
| Gold | Your Local Car, Camberley |
| Silver | Street Cars, Manchester |
| Bronze | Albatross Cars, Derby |
| Bronze | Flat Cap Cabs, Brixworth |
The QSi Community Award aims to reward those operators that make an extraordinary effort to provide an exceptional service for local businesses and organisations.
Our Gold winner is a company that is entirely focused on the towns it serves. The local area around Camberley doesn't just provide its customers – it's home to its drivers too. By working with other local firms Your Local Car aims to be an integral part of its community, providing services and employment, and creating what it calls a virtuous circle.
The Silver winner is a major player in its home city of Manchester – but it hasn't lost the local touch. In addition to its regular and growing work, Street Cars has focused on providing a service to the local ambulance service, transporting more than 1,200 seriously ill patients and their carers a week, with a high standard of punctuality and service.
Our judges were split over our Bronze winner – so we decided to reward two companies. Our first Bronze goes to Derby's Albatross Cars, which made strong use of social media to promote its services by highlighting its best asset – the local people who drive its cars. It put their faces and stories on its well-followed Facebook page, and the result was not just lots of likes – it brought in more business.
Our second Bronze goes to another East Midlands operator – but a rather different one. You can't get more local than a village taxi service with just one car – and you'll struggle to find a more popular, distinctive or hardworking one than Flat Cap Cabs. Sadly being a one-man band has its drawbacks, and owner Freddie Fudge didn't want to let down his customers, and was unable to attend.
New-Start Operator
Sponsored by Cmac
| | |
| --- | --- |
| Gold | L&L Travel, Newton-le-Willows |
| Silver | StarPrime Chauffeurs, Bristol |
| Bronze | NI Chauffeurs, Belfast |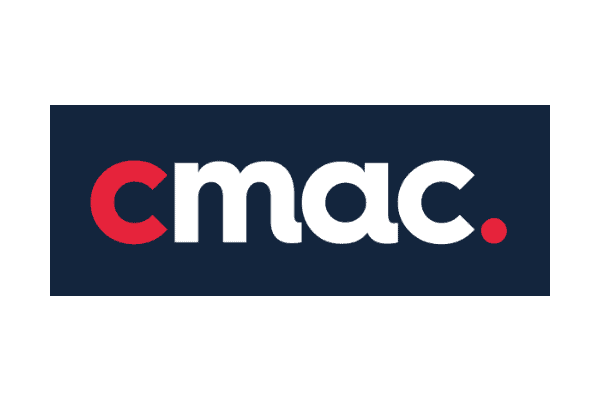 The New-Start Operator Award aims to reward private hire, taxi and chauffeur businesses that have only recently become established in the market. It's open to companies that have either started operating or undergone a major change of management or direction since the start of 2018.
Our Gold winner is a company that only started operations this time last year, but has impressed with its innovative approach to building its business. L&L Travel has focused on minibus transfers, airport work, and taking coach travellers from home to coach station, as well as providing a lower-priced minibus service for schools and local community groups.
The Silver New-Start QSi award goes to a company that started in September 2020, at the height of the pandemic, but Bristol's StarPrime Chauffeurs has grown at a rapid pace to build a fleet of 10 cars, and become one of the go-to chauffeurs in its local area.
Our bronze winner, NI Chauffeurs, has risen quickly from a standing start in 2018 to become the leading executive chauffeur operator in its region. Last year it had just three cars – now it boasts a fleet of 12, as well as a host of awards from local businesses. Sadly owner Mick Hedley was working and couldn't attend.
Chauffeur Company of the Year (1-10 vehicles)
Sponsored by BMW
| | |
| --- | --- |
| Gold | Parkers Executive, Newcastle-upon-Tyne |
| Silver | Aura Journeys, Newark |
| Bronze | Luxstar, Newport |
| Bronze | MET Chauffeur Services, Erskine |

This is always a closely-fought category in the QSi Awards. The judges find this is one of the hardest categories to call. It always attracts a strong entry of companies with a focus on personal service, and the successful entrants are those with a vital "x factor".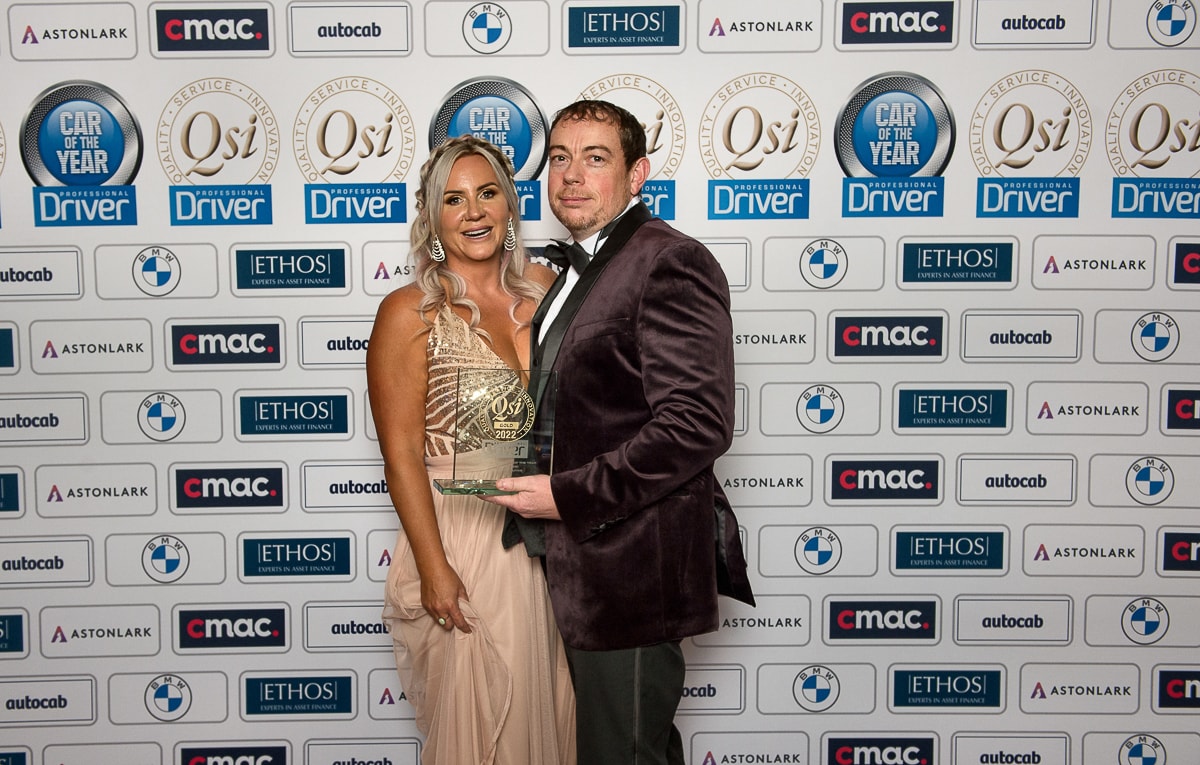 The Gold winner is certainly special. Parkers Executive is the dominant chauffeur operator in its home city of Newcastle-upon-Tyne, offering a genuine first-class service with an emphasis on sustainability, driver training and security. No box goes unticked, and if a top-level job is needed in Newcastle…it goes to Parkers Executive, previously a Gold QSi winner in the first edition of the awards back in 2013.
Our Silver QSi winner is Newark's Aura Journeys, a company that impressed with its meticulous approach. Aura integrates technology, analysis and training to ensure its customers receive a service of the highest quality.
As is so often the case in this category, our judges found it hard to get the shortlist down to a final three. So we've got a final four, with two Bronze winners. The first goes to Scotland's MET Chauffeurs, a company that has kept its focus in challenging times and has remarkably helped itself to grow by mentoring another start-up and helping it grow by offering work that it could otherwise have not fulfilled.
While MET travelled a long way to be at the event, our second Bronze QSi winner had an easier journey. Newport-based Luxstar is another 2020 start-up that has prospered through hard work and dedicated service – it now handles 400 jobs a week in South Wales.
Chauffeur Company of the Year (11+ vehicles)
Sponsored by BMW
| | |
| --- | --- |
| Gold | Chabé, London |
| Silver | Blacklane, Berlin |
| Bronze | Belgraves of London, Sutton |
| Bronze | iChauffeur, London |

This is another tough category, where Quality and Service are a given – so it's often down to Innovation to decide the medals. Which operator will be the large Chauffeur fleet of the year?
Our Gold winner is last year's New-Start champion, Chabé. Starting operations in 2020 at the height of the pandemic might have seemed risky, but the absolute focus on quality and the immense professionalism on show has meant our winner has accelerated out of the crisis and is on course for a fleet of 30 cars in 2023.
The I in QSi stands for innovation, and that's what makes our Silver QSi winner stand out from the crowd. Blacklane is a global giant, and its innovations include an electric chauffeur fleet, chauffeur hailing via an app, and especially, fixed-rate inter-city journeys that compete with train travel on price and convenience.
Once again, our judges couldn't get down to three, so we have two Bronze winners. The first goes to a familiar firm whose business was devastated during the Covid pandemic. But iChauffeur has taken a creative approach to rebuilding its business, with new ways to book, electric cars and a first-rate driver recruitment and mentoring policy.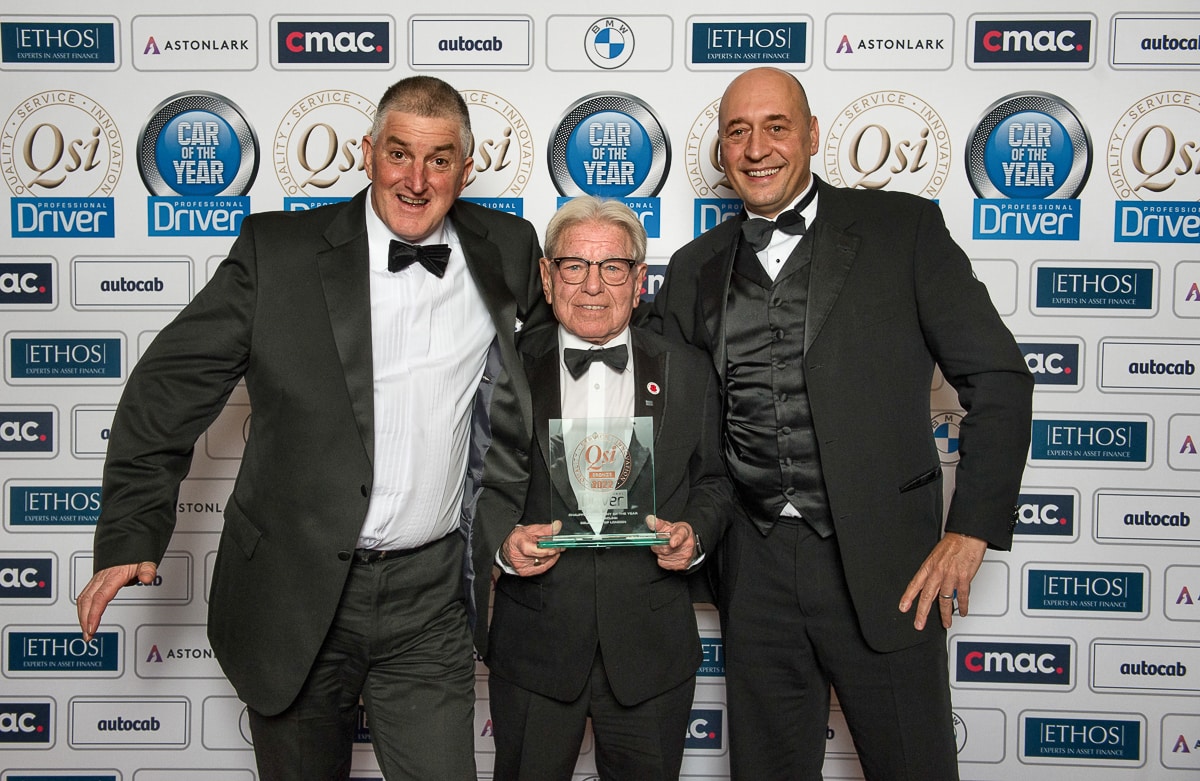 Our second Bronze winner is another company that has been here before! Like most operators, the pandemic and driver shortage have been challenges – but Belgraves of London has overcome them through a focus on quality and service, as well as a strong commitment to sustainability.
Private Hire Operator of the Year
Sponsored by Autocab
| | |
| --- | --- |
| Gold | Radio Taxis, Southampton |
| Silver | DG Cars, Nottingham |
| Bronze | Street Cars, Manchester |
Now it's time for the most hard-fought of all the awards – Private Hire Operator of the Year. This category always attracts a seriously high-quality entry, and this year is no exception.
Choosing our Gold winner was a very tough call. Our judges weighed the merits of all seven shortlisted companies. But in the end, it was a focus on its biggest asset that turned out to be the clincher. Radio Taxis of Southampton turned its attention to its drivers, setting up numerous initiatives to help them get back to work and earn more money.
Silver goes to another of the most acquisitive companies of the past year. A series of takeovers have turned this company from a local to a regional powerhouse, and its biggest takeover has given it the contract to run the car service at three large regional airports. It has achieved this with no drop in quality. Gold last year, but silver in 2022 for DG Cars.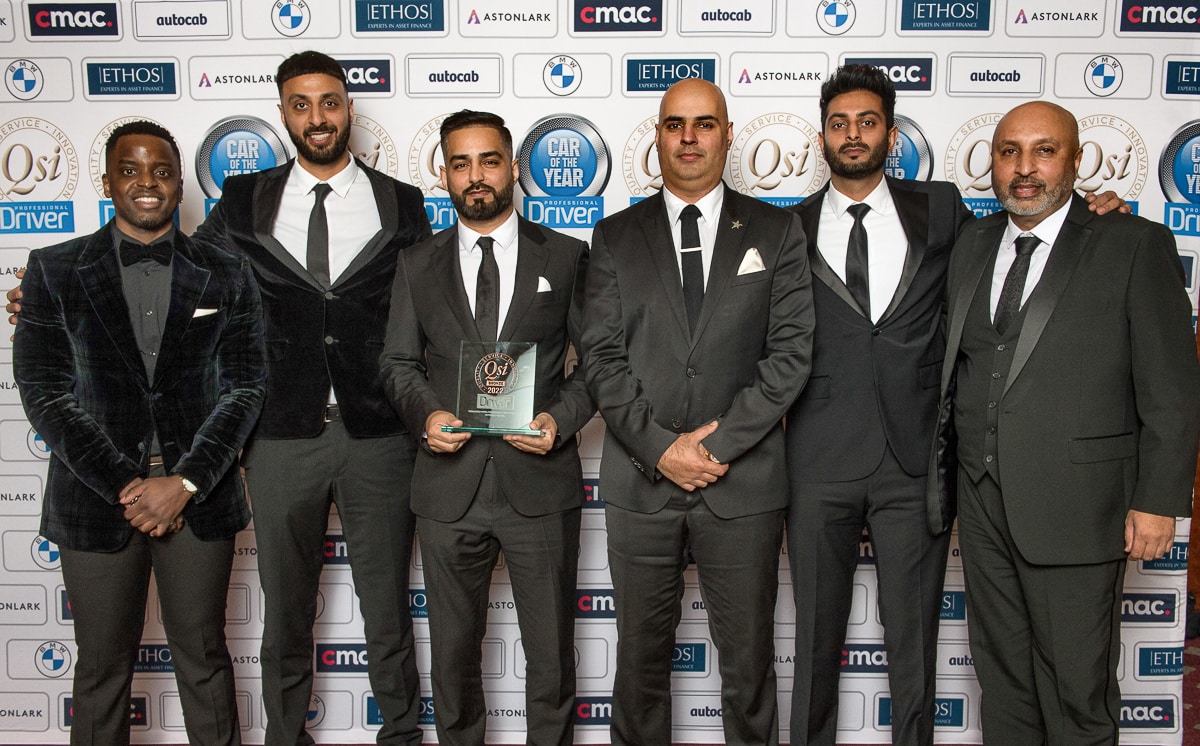 Our Bronze winner is Manchester's Street Cars. This is a company that has won Gold here before – and has had a spectacular year, making a number of key acquisitions in its home city that have reinforced its position as the number one operator there. And it has diversified into a new region by picking up the contract to run the cabs at Stansted Airport.
Professional Driver of the Year
Sponsored by BMW
| | |
| --- | --- |
| Gold | Kenneth Bond, City of Birmingham |
| Silver | Nayyer Iqbal Bhatti, Albatross Cars, Derby |
| Bronze | Tony Hernandez, AZ Luxe, London |
| Bronze | Derek Cole, Cole Executive, Malmesbury |

Finally, the Professional Driver of the Year. It's our Flagship Award, and goes to the individual private hire driver or chauffeur who provides the absolute highest standard of service, in terms of driving skills, customer service, personality, and ability to represent their company.
As always we have an impressive shortlist, and this year 10 drivers are in the running. And every one of them deserves to be there. Their stories demonstrate the depth of talent and quality that exists in the industry, and choosing three winners was difficult – so difficult that once again, we've gone to four.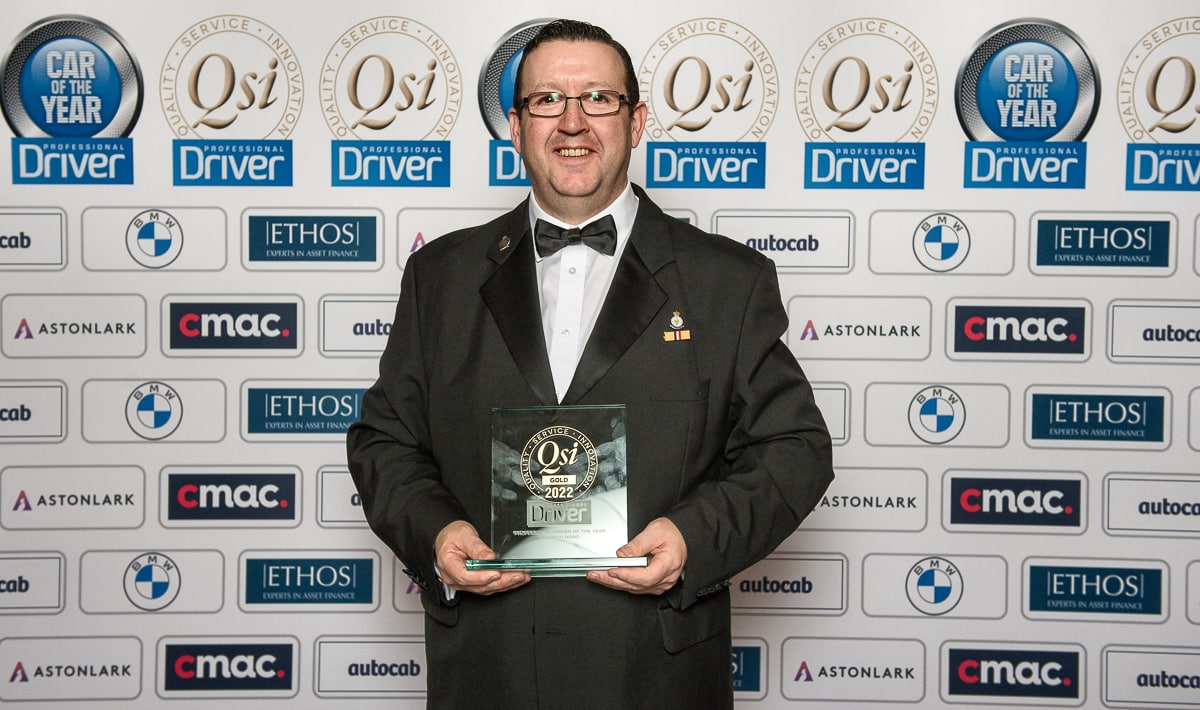 Our Gold QSi Professional Driver of the Year, 2022 was runner-up in 2021. Kenneth Bond operates at a high level, chauffeuring dignitaries in Birmingham, including the Mayor. There is hardly a qualification available that he doesn't have, and the judges praised the way he continues to strive to be the best.
Our Silver winner is renowned for his friendly approach, but Albatross Cars' Nayyer Iqbal Bhatti grew suspicious when one elderly customer asked to be taken to the bank as there had been, she said, fraudulent activity on her account. Our driver listened to the lady's conversation, and deduced, quite correctly, that she was being scammed. His quick actions saved the day.
The first of two Bronze QSi awards goes to a driver described by his employer as a real team player. With meticulous standards of driving and customer care, his level of service persuaded a major London luxury hotel to give all its business to his company. That company is AZ Luxe, and the driver is Tony Hernandez.
Our second Bronze winner is almost certainly the most experienced driver on the shortlist. Derek Cole now runs his own business, Cole Executive Hire, but he started driving in the Army more than 50 years ago – and with experience in transporting high explosives, taking care of volatile customers comes easy.