Mercedes reveals all-new S-Class, with major upgrades to computing power, and electric versions to follow
Mercedes-Benz has revealed its all-new S-Class, including major upgrades in technology and safety. The new range, which will go on sale in the UK in December, will include a petrol-electric plug-in hybrid model with an electric range of 60 miles, with an all-electric EQS model to follow. Initial models available will be S350d; S400d 4Matic and S500 4Matic. Prices will be announced closer to the launch.
Inside the car, the dashboard has been completely redesigned, with a OLED large central screen mounted above the centre console. The new central display has an active screen diagonal of 12.8in, a 64% larger area than in the preceding model. The driver display has a diagonal of 12.3in, as before.
As well as a 50% increase in computing power for the MBUX infotainment system, which gives the driver an "augmented reality" 3-D driving display and allows a high degree of personalisation. With MBUX, all passengers can use voice controls to access the system, not just the driver.
The new S-Class has a high degree of electronic components, and more than 50 elements can be updated with new software over-the-air. These include the entire MBUX infotainment system, the driver display, the driving assistance systems and the lighting systems. This technology saves the customer time, as avoids the need to do this at a dealership, as well as keeping the vehicle up to date throughout its lifecycle.
The car has high levels of autonomy, and is capable of full hands-off Level 3 autonomous driving, once regulatory approval is given. The automatic park assist systems are level 4 compliant and can be done without driver intervention.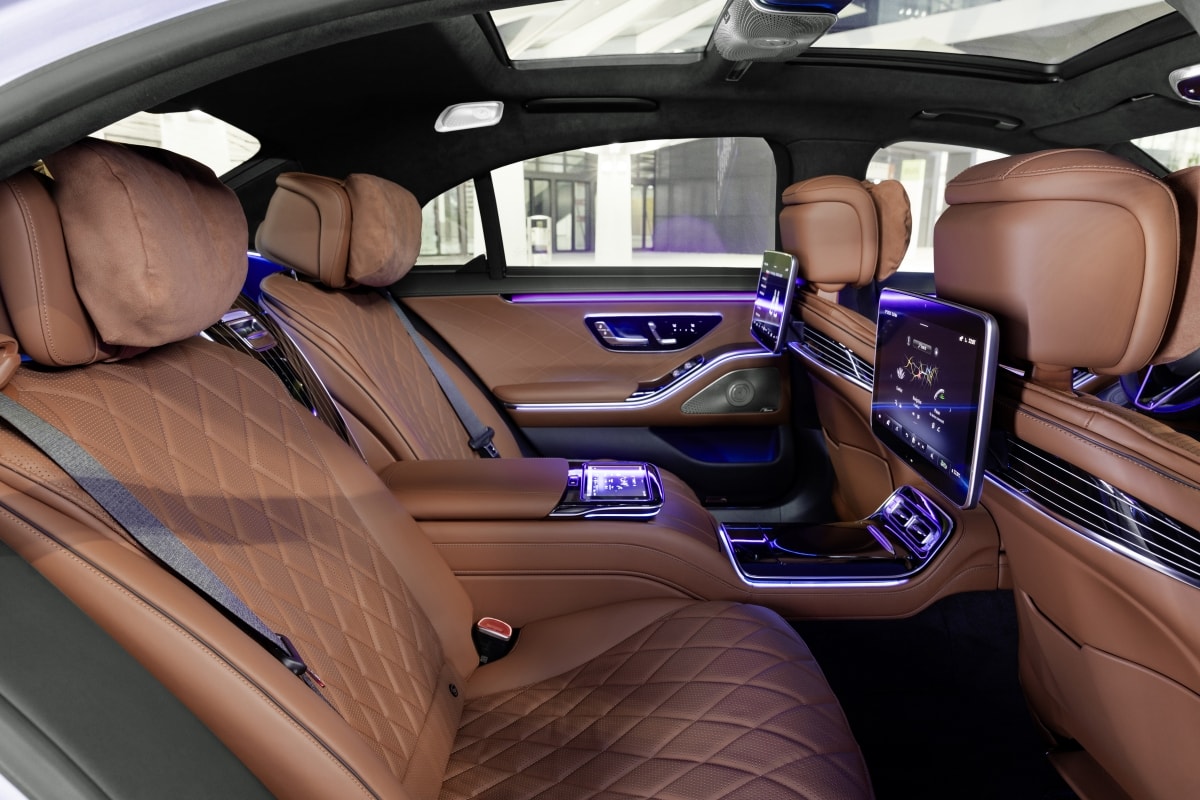 The EQS all-electric version will be on sale during the second half of 2021, said Markus Schäfer, Mercedes-Benz head of research, development, procurement and product quality. The EQS will have a different profile to the S-Class. "It will be a different-looking car, aimed at a different customer base," he said. The EQS will be built on the same, all-new production line in Sindelfingen as other S-Class models. It will have a range of more than 435 miles (WLTP) and will come in 4×2 and 4×4 versions. The PHEV version will be a straight replacement for current S560e models, and unlike the E-Class, which has both petrol and diesel PHEV versions, there will be no diesel PHEV S-Class, Schäfer said, as prime markets for the S-Class were China and the US, where there is negligible demand for diesel.