Northern taxi drivers hailed as heroes after offering free rides for stranded Manchester Arena terror victims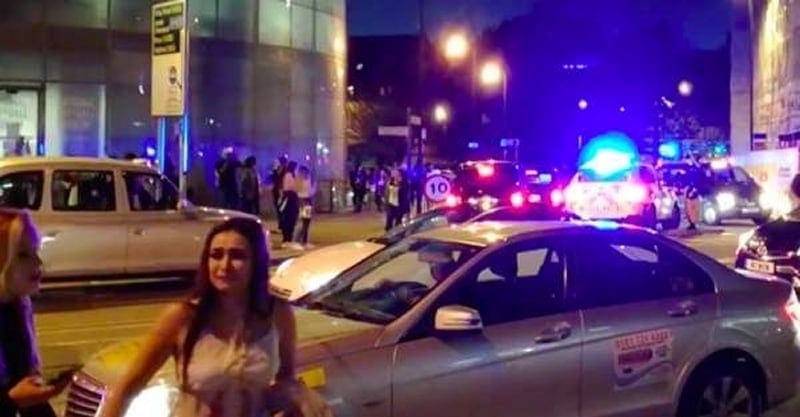 Northern taxi drivers were praised as heroes for their actions in the wake of the terror attack at Manchester Arena last month.
Drivers and operators from as far afield as Liverpool and Newcastle-upon-Tyne offered free transport to make sure terrified concert-goers were safely picked up and taken home after a suicide bomber murdered 22 people and injured more than 60 as they left the Ariana Grande concert at the venue.
Many drivers and operators, including Uber, turned off their meters and offered free rides to get people to safety. Some drivers abandoned their cars and went inside the police cordon to find their customers – many of them young women and children and escort them out of danger and back to the car.
Many concert-goers were left stranded after transport networks, including trams and trains out of Manchester Victoria station, were shut down to allow security services to investigate the incident.
Black cabs in the city centre also worked through the night for free, while reports on social media said taxi drivers came from as far away as Liverpool to help out in the aftermath of the incident.
Sameer Arshad, co-owner of Street Cars Manchester, said he was driving past the arena on his way off a shift when about the attack. Arshad immediately asked all his drivers to pick up as many people in need of rides home or to the hospital as possible. He also asked them to turn their meters off while doing so.
He said he told his drivers, "This is our city, at the end of the day. Money's not everything, do you know what I mean?" No driver refused the request, he said. The majority of Streetcars' drivers are Muslim, Arshad said. "It just shows that we're not all what you make us out to be."
Many drivers travelled from Liverpool to assist. A spokesman for Alpha Taxis confirmed drivers from their company had attended the incident: "We can confirm some of our drivers were picking up from the Manchester Arena. They tried to help in any small way they could. All of our thoughts are with the victims and their loved ones."
Indeed, one Alpha driver safely picked up the daughters of Liverpool mayor Steve Rotheram in the aftermath of the attack. The driver abandoned his car and walked into Manchester to find the girls, aged 19 and 21, who were waiting in a hotel.
Rotheram praised the driver: "He couldn't get to where he was supposed to pick them up, he phoned one of them and walked through the streets of Manchester to go and get them and take them back to the cab which he had left some distance away and then to drive them back safely. I am forever grateful for that show of kindness."
Driver Tommy McMahon from Runcorn walked around the city for an hour until he found the two teenage girls he was scheduled to take home to Frodsham in Cheshire. He got the go-ahead from a police officer to pass through and search for the girls on foot, while his colleagues at the Frodsham & District Taxis office tracked him on GPS and advised the route as he looked for a snooker club where the girls were waiting.
As a teenager, McMahon had been in the Hillsborough Stadium on the day of the 1989 disaster, and he said this meant he was able to tell the girls "I know what you're going through".
Newcastle-based Blue Line Taxis sent cars to Manchester to bring home for free people from the north-east who were stranded following the explosion. "I thought if I had family there, I'd want them home," said Andy Humphrey, business development executive. "The response from drivers was amazing. They were all willing to go and help out wherever they could."
Uber did not activate its controversial surge pricing system, and general manager Neil McGonigle said any fares charged on the night would be refunded: "Our hearts go out to everybody affected by this horrific attack," he said. "We'd like to thank all the drivers who took thousands of people home last night, many of whom did so for free. We're ensuring all rides from Manchester city centre last night were free of charge."