Renault Trafic SpaceClass Prestige dCi 145 L1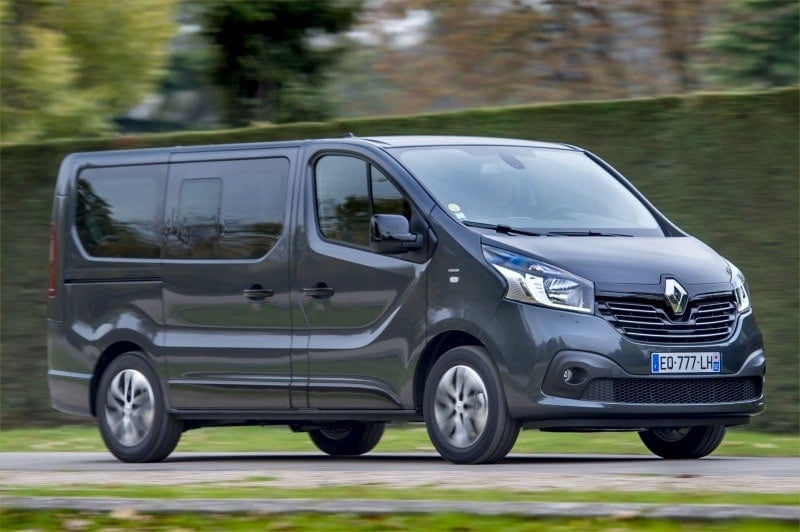 Once upon a time, when the launch of the Ford Galaxy was far, far away, Renault bestrode the MPV universe like a colossus. The Espace, the car that invented the modern MPV, had few rivals, and for many chauffeurs, was the go-to car for hotel and airport business shuttle work.
But the 2009 recession forced a rethink at the French manufacturer, and the Espace disappeared from the UK streets as part of a brutal reshaping of the range. Out went the big cars, in came crossovers like Captur and Kadjar.
Since then, the MPV market has changed dramatically. Full-size people-movers like the Espace have all but disappeared. The Chrysler Voyager, Peugeot 807, Kia Sedona and others have left the stage, and operators looking for a big, practical seven-seater with enough luggage space for five or six passengers have to look at something van-derived.
Mercedes-Benz and Volkswagen have dominated this niche, but in recent years, they've had some competition, notably from Ford with its Tourneo Custom. Renault's latest Trafic van arrived a couple of years ago, and it's a fine vehicle. But until now, people-carrying versions have been a little rudimentary – crew buses that could be used as urban taxis, but not serious rivals to the Mercedes V-Class or VW Caravelle.
That's all about to change with the launch of the Trafic SpaceClass. Harnessing and embellishing the Trafic's handsome looks and adding a luxurious, conference-seating interior seemed a no-brainer, and the only surprise is that has taken Renault so long to top out the Trafic range with a luxury model. In fact, Renault has contracted out the conversion to specialist bodybuilder Gruau, based close to the factory that builds the Trafic van in France.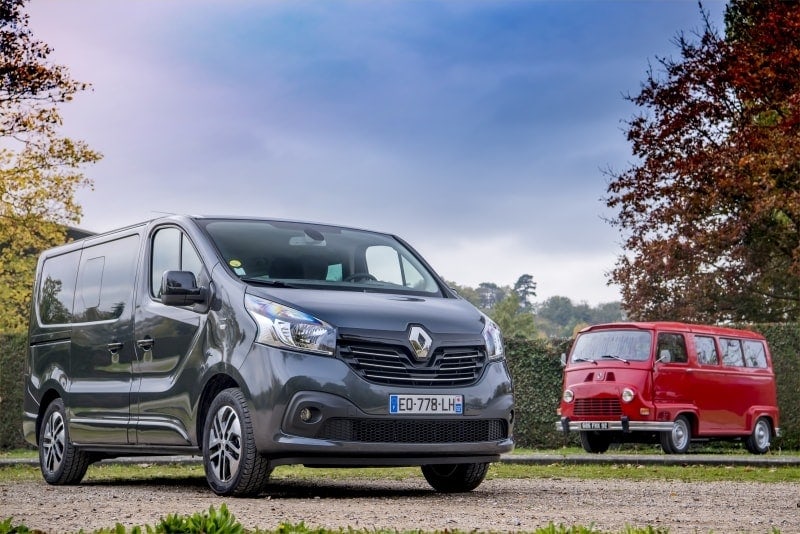 In an imaginative launch, Renault raided its extensive heritage collection to give us a taste of how far its people-movers have come. And alongside the likes of the 1980 Estafette minibus – a 1960s design that soldiered on until the launch of the first Trafic in 1982 -the SpaceClass is a quantum leap in quality.
Pitched against its key rivals, it's an impressive vehicle too. The interior has a genuine high-quality feel, and the trim is closer to V-Class than Vito.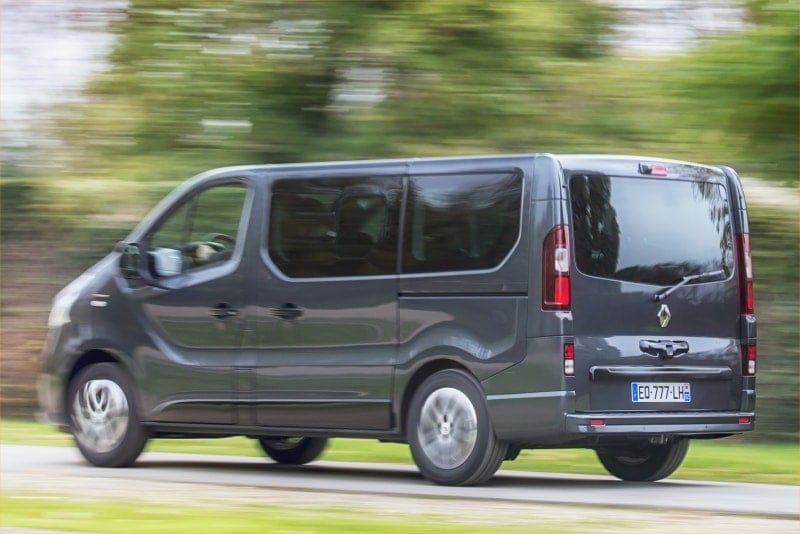 The third-generation Trafic is a good-looking van, and the SpaceClass features a distinctive new L-shaped LED light signature, SpaceClass logos on the front wings and 17in diamond-effect alloy wheels.
The rear cabin has dark privacy rear glazing and a black satin-finish pack on the exterior rear-view mirrors, door handles, lower side protection, tailgate handle and registration plate light strip. There's also a new exterior body colour, metallic Comet Grey, which was applied to our test car.
In the front, the ambience is restrained and dark, with charcoal and black everywhere. The seats are leather, as is the steering wheel trim. The cockpit is dominated by a big, central sat-nav "pod" incorporating a 7in screen.
This is an intuitive and simple system, which works rather like a smartphone. The display is very clear, and it's a big improvement on earlier Renault systems.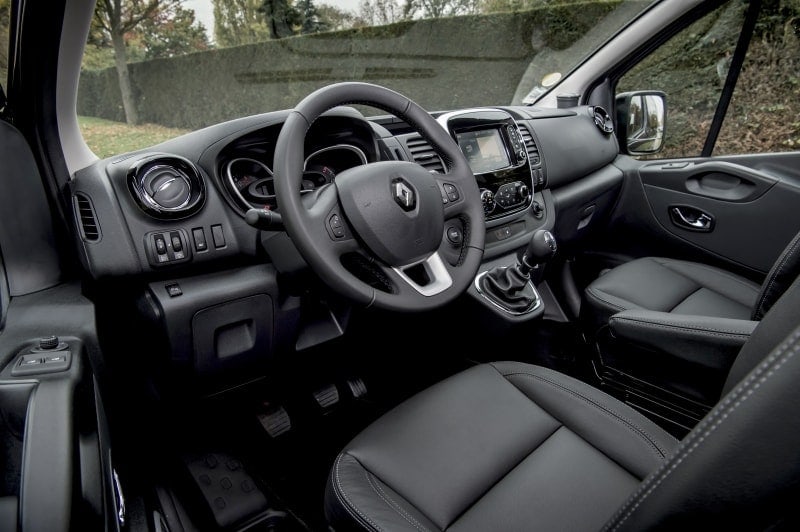 The driving position is commanding and the heated leather seats are very supportive. The six-speed manual gearshift uses a short, dash-mounted gearstick, making for easy, smooth changes with minimal effort. Steering is precise and turning circle is very decent for a large van.
The Trafic SpaceClass is available with twin-turbo 1.6 dCi 125 and Energy 1.6 dCi 145 engines, both Euro 6 compliant and mated to a 6-speed manual gearbox. An automatic is under development, but it won't be ready until 2019.
Renault is keen to stress the modularity of the passenger cabin. There are three trim levels and two body lengths on the same wheelbase within the range, and more than 50 possible seating combinations, offering from two to nine seats.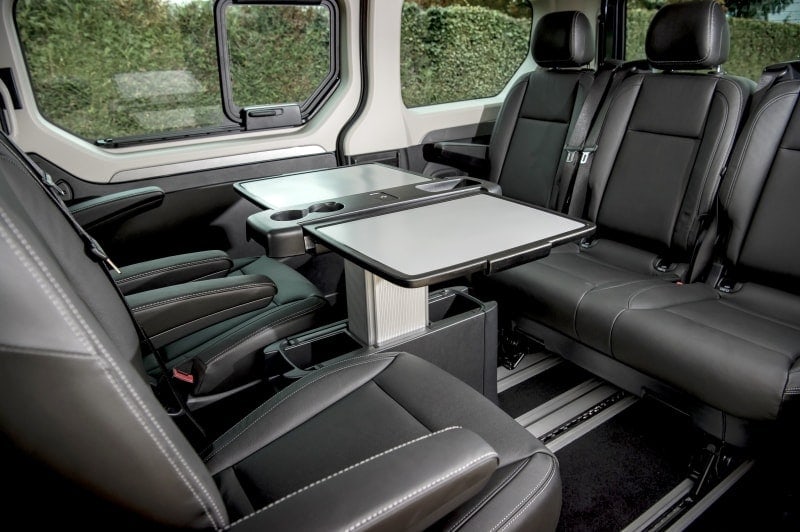 The rear cabin can be configured with either benches or individual seats – and the second row can be reversed, giving conference seating with an exceptional up to 26cm of knee space.
The base version has bench seats, but we tested the higher Prestige version, with two individual, swivelling captain's chairs on the second row and a three-person bench forming the third row of seats. A removable sliding central table stows between the two individual chairs and has two sturdy fold-out surfaces that pull out from the centre of the table. There are storage areas in the sides of the well-thought-out table, ideal for folders or magazines.
SpaceClass has ergonomic seats or benches with multiple adjustments of backs and armrests. The rear cabin includes six individual LED reading lights, along with 220V and 12V sockets and two USB ports to charge electronic devices. Heating and air conditioning boosters can be adjusted from the passenger space.
Wide-opening sliding doors give good access, and there is a neat flip-out step to ease access, as well as a second moulded step inside the vehicle.
Boot space is very useable – between 550 litres and 1,000 litres in our L1 test vehicle, rising to between 890 litres and 1,800 litres with the longer L2 body, depending on how far forward you slide the rear row of seats. The extra length is all aft of the rear axle. There is a sturdy shelf too, so smaller bags can be placed on that.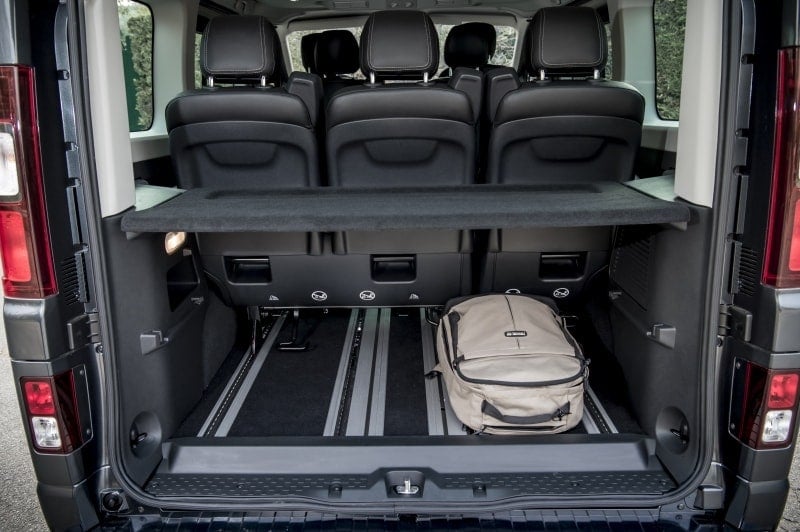 Pricing has been announced in advance of deliveries, which should be starting this month (January 2018). The entry price for a base model, short-body SpaceClass with dCi 125 engine is £45,351, rising to £47,511 for the longer model with the bigger dCi 145 engine in Prestige trim – not too high a premium for a significant improvement in specification. It also prices the SpaceClass at around £6,000 less than the equivalent Mercedes V220d – a very worthwhile saving.
Performance differences between the two engine sizes are minimal – the dCi 125 offers 48.7mpg and 155g/km, while the dCi 145 delivers a claimed 47.1mpg and 159g/km. Our relatively brief test was largely at urban speeds, so the final figure of 26.8mpg would almost certainly be much better if some motorway miles were included. We'll be putting a UK-spec SpaceClass through its paces in due course!
VERDICT
Renault's Espace was a much-loved MPV, especially the longer Grand Espace version, and it's a shame that the current generation of the car isn't built in RHD.
The Trafic SpaceClass is a different animal – pitched squarely at the likes of VW Caravelle and Mercedes V-Class – and it's a very classy competitor. It doesn't quite reach the level of driver's cockpit opulence of a Mercedes V-Class, but the rear cabin isn't far off. Details such as the optional folding table are very well-made, and sturdier than the somewhat flimsy items that feature in some rival products.
It's a very comfortable drive despite the relatively small engines. There's plenty of torque in the 145PS version – 340Nm. And while we didn't get enough miles in on test, we reckon high 30s should be achievable in real-world use.
We'd go for the bigger engine and the longer body – the wheelbases are the same – to get the extra luggage space that's so useful when you're doing shuttle work.
Service back-up is likely to be good too, through Renault's specialist Pro+ commercial vehicle dealer network, which offers longer opening hours, and extended test drives.
---
DATA
Renault Trafic Space Class Prestige dCi 145 L1
Price (OTR) £46,071
Specification
| | |
| --- | --- |
| Engine | 1,598cc 4-cylinder turbodiesel |
| Transmission | 6-speed manual, front-drive |
| Power | 145PS at 3,500rpm |
| Torque | 340Nm at 1,750rpm |
| Top Speed | 112mph |
| Combined fuel economy | 47.1mpg |
| CO2 emissions | 159g/km |
| Length | 4,999mm |
| Width | 1,956mm |
| Height | 1,971mm |
| Wheelbase | 3,098mm |
| Loadspace | 550-1,000 litres |
| Fuel Tank | 80 litres |
| Warranty | 48 months / 100,000 miles |
| VED Band | I |