Why you should fit a partition screen in your car – and how to find a supplier that will fit one safely
One of the most obvious measures to protect private hire drivers during the Coronavirus crisis is fitting of some kind of partition between the front and back seats. From big fleets to independent drivers, many people started looking at partition screens as soon as the lockdown started in March.
You'd think fitting a screen would be relatively simple. But it has turned into something of a minefield, with licensing authorities in different cities putting out conflicting messages. There is still no consistency, and the lack of clarity coming from some of the local councils responsible for licensing many thousands of vehicles is shocking. The issue clearly highlights the need for stronger national regulations within the taxi and private hire sector – but that's another issue.
Local authorities' concerns are legitimate. All vehicles have undergone comprehensive safety testing, and will have achieved European whole vehicle type approval. Changing or adding to the interior of the vehicle can potentially alter the type approval of the vehicle, if that involves permanent modifications or fittings. A temporary screen would be less likely to compromise type approval, but a badly fitted, cheaply made units or a screen made using unsafe materials, could have a catastrophic effect if a vehicle is involved in a road traffic accident.
Bad advice from councils
But these factors can be mitigated. At Professional Driver, we believe screens are a good thing. They are not a perfect solution, but a partition between driver and passenger compartment, combined with the use of face coverings by both driver and passengers, will minimise the risk of drivers catching Covid-19 from passengers who may be unaware that they are carrying the virus.
But authorities are often getting the science wrong. TfL quoted guidance from a body called the London Scientific and Technical Advisory Cell (STAC), which states that partitions would not remove the risk of infection. According to STAC: "While it is possible that partitions may reduce the risk of transmission of infection, the risk would not be eliminated entirely."
This is undoubtedly true, but as an argument it is entirely spurious. We're trying to reduce the risk, not eliminate it completely. Furthermore, other councils are quoting this guidance and getting it wrong, Here's what Birmingham Council has to say: "There is no evidence available that demonstrates that partitions in taxis or PHVs reduce the risk of transmission of COVID-19 infection".
Sorry, but that is just plain wrong. Covid-19 is an airborne virus, and while it is true that the spaces around the screens could allow the virus to reach the partitioned-off front part of the car, the virus is spread mostly in breath through small droplets of saliva from the mouth, or via surfaces that have been touched or spattered with saliva from an infected person. Therefore, a screen would actually stop most of the virus emitted by an infected passenger from reaching the front of the car. Not all, but to say there is no evidence that a partition reduces the risk is a dangerous and frankly stupid statement.
Wolverhampton council is another getting it wrong, claiming: "Whilst it is possible that partitions might reduce the risk of transmission of infection, the risk would not be eliminated entirely". The council's dangerous and disingenuous "advice" even goes as far as to state: "The presence of partitions may also increase the transmission of Covid-19, where the virus is deposited onto a screen which has not been wiped down, the virus can linger for many hours (up to 72 hours for metals and plastics), thus passing the infection on to other passengers."
Of course that would happen if the screens were not kept clean. Thoroughly cleaning and disinfecting the car – with or without partition – is essential, and most operators have told drivers they most disinfect after each journey. Wolverhampton council concludes that banning a device with clear public health and safety benefits is being done because "the safety of the public is of paramount importance and simply going along with populistic trends cannot be allowed to impede on the public's safety". Let's remind these jobsworths of the brutal fact that 134 taxi and private hire drivers died in the UK of Covid-19 in the March-May period.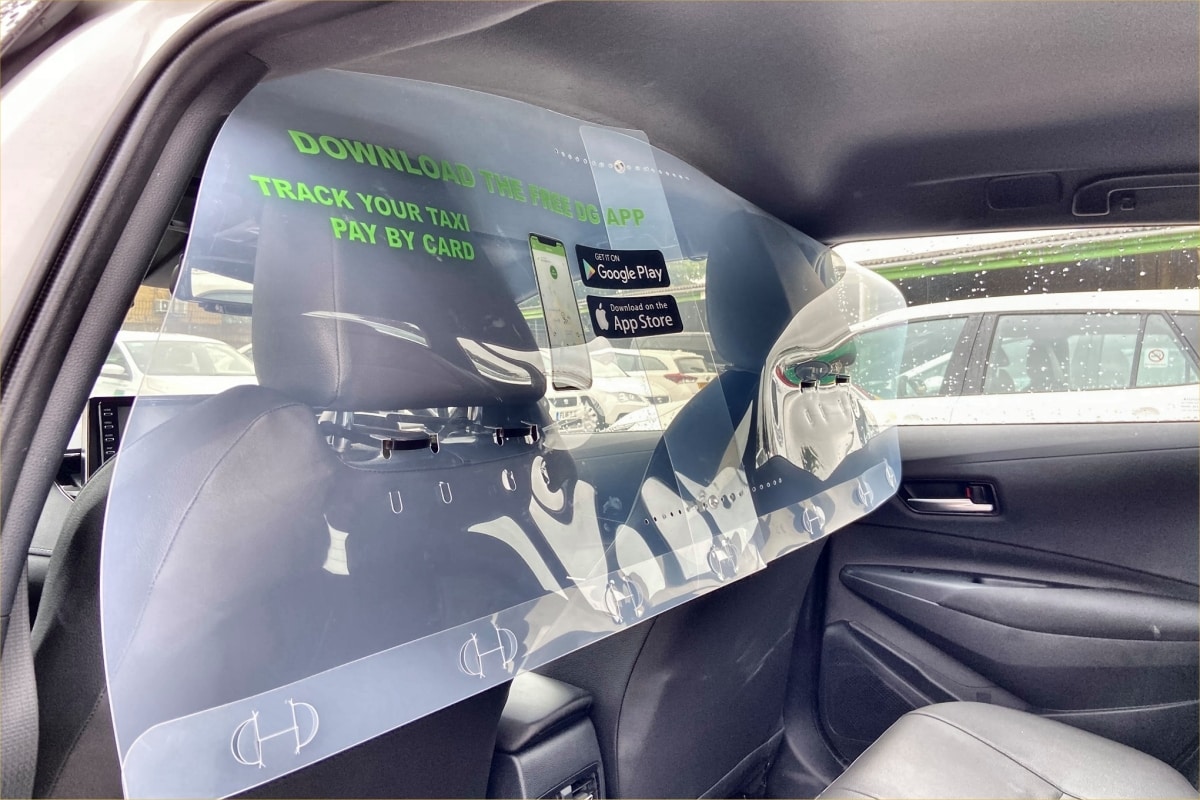 Insurance industry support
The insurance industry is on board with the screen concept. Ricky Chivers of leading private hire insurer Aston Lark said: "I can confirm that our scheme provider are happy with a screen that is fitted by a motor trader or professional fitter, or a screen that is manufactured and designed to fit in the vehicle that is also designed for self-install. What is not acceptable for example is buying a material such as plastic or glass from a hardware store and trying self-fabricate it to fit to the vehicle themselves."
And there were plenty of tales of drivers making their own screens from plastic sheet and gaffer tape in the early days of the crisis. But these makeshift solutions were hardly likely to win favour with regulators, and nor were the cheapo "do-it-yourself" kits available online for a few pounds via the likes of Ebay and Amazon. However, these turn out to be nothing more than sheets of clear plastic with flimsy velcro fasteners – hardly more sophisticated than the home-made bodge-jobs.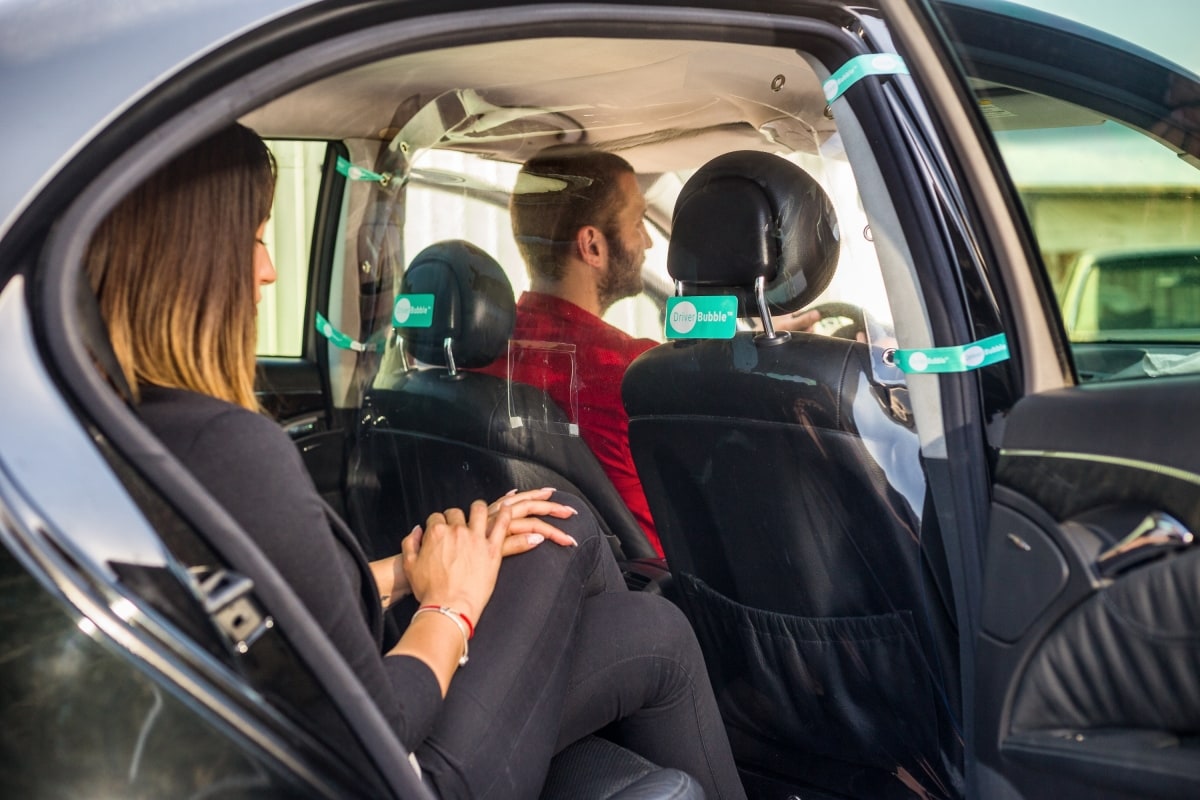 Independent suppliers
In the early stages of the lockdown, one of the most frequently asked questions we fielded at Professional Driver was "where can I get a partition screen?" And it wasn't an easy question to answer. TfL said that prior to the Coronavirus crisis, there had been no demand for the screens and as a result, there were no approved installers in London. But now that has changed. Vehicle manufacturers have entered the market, and there are a number of sensible suppliers of partition screens in the market.
Fortunately, there are now a number of sensible suppliers of screens, and a number of more enlightened licensing authorities are giving their approval to these firms. Among the first to respond is Driver Bubble, a Dutch company established in March to supply transparent, removable, plastic protective screens to the global transport market. The company has been established by Steven Blom, who runs Taxi Butler, a maker of taxi booking terminals, and has already sold thousands of screens. Blom said: "We started off with a simple, flexible screen, and now have products for almost every type of car available".
Prices start at €39.90 (£35) for the Driver Bubble Flex, rising to €89.90 (£80) for the Driver Bubble Shield Standard. A larger version for bigger vehicles is also available, at €94.90 (£85). All prices are ex-VAT. Discounted rates are available for fleets ordering more than 50 screens.
Driver Bubble screens are also available at a discounted price via dispatch systems supplier Autocab. The exclusive deal can be accessed through Autocab Connect, an online marketplace which offers taxi operators a range of third-party services, including insurance and marketing, intended to help support and grow their businesses. Autocab has also pledged not to make a profit on any purchases of screens made via its marketplace.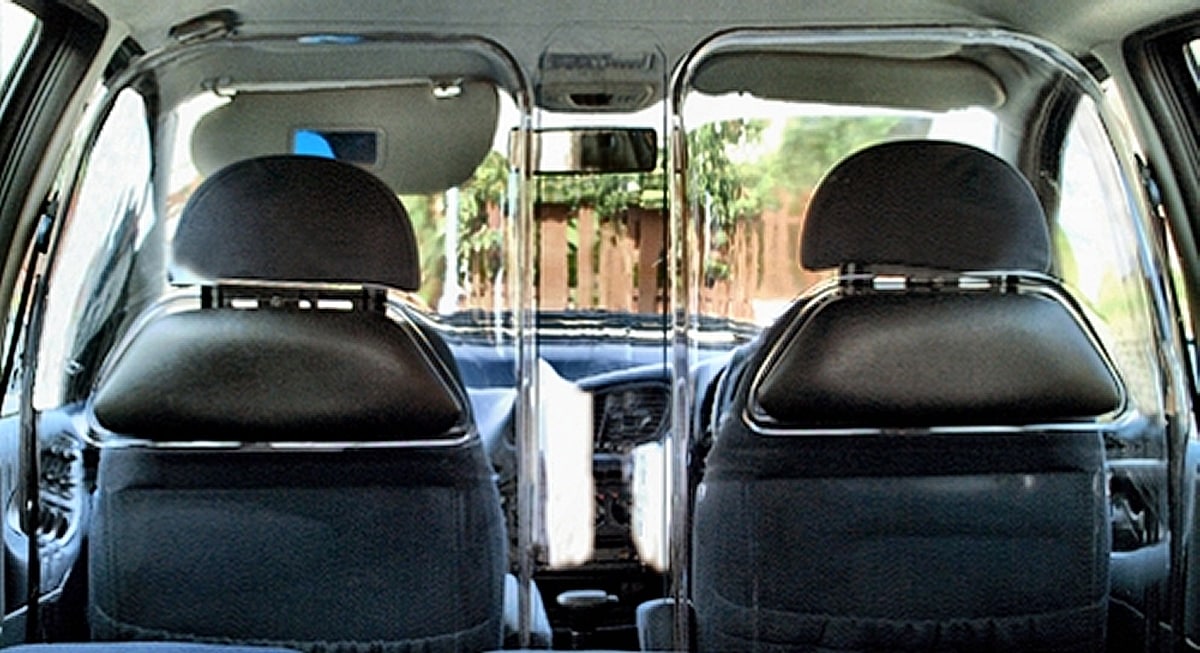 Essex-based DriverShields was already supplying screens before the Covid-19 crisis for a different reason: driver protection. The company makes polycarbonate screens designed to protect drivers from attacks from the rear seat passenger.
The shields are manufactured to fit behind front bucket type seats, and two overlapping screens can effectively seal off the rear compartment. Installation is simple and the screens can easily be transferred from car to car.
Car manufacturer-supplied screens
Many licensing authorities will only approve a screen that is supplied direct from a vehicle manufacturer. Transport for London is among those – so far the only screens it has approved are those made by Toyota and fitted via Toyota dealers. Ford has also announced official screens as part of their accessory programmes, and other manufacturers are expected to follow. These should also receive TfL approval, and it is to be hoped that some of the more difficult councils such as Wolverhampton or Birmingham will fall into line.
Toyota
Toyota has launched a range of polycarbonate barrier screens designed to fit a number of popular models including Prius. Corolla and Camry, with more to follow when a larger version of the screen, which will fit Prius+, becomes available later in the year. The Medium-sized screen now available costs £195 including VAT and fitting, and it has been approved by Transport for London, providing it is fitted by a Toyota technician – meaning thousands of drivers of fourth-generation Prius (from 2015) can be equipped with a screen.
The screens have been tested to allow full air bag deployment testing and damage-free installation – no Velcro means no marking of the headlining or B-pillar fabrics. The screens are designed to tuck neatly into the pockets on the back of the front seat, helping to support the weight of the screen. The screens have been tested with the windows open at speeds of 80mph, and installation time is just10mins
Ford
Ford has also launched its first protection screens, designed to fit the Transit and Tourneo Custom models. As with the Toyota screens, Ford's screens are part of the manufacturer's official accessories range. They are likely to be approved by TfL future for use in Tourneos used for private hire in advance of them becoming available to fit through Ford dealers from late July.
Screens to fit further models will follow, with Transit/Tourneo Courier and Connect models next up. Screens for Galaxy and Mondeo were likely in the future, said a spokesman. The screens are adjustable and have been developed with operators including public transport, school and private hire use in mind and are fully compatible with safety features including airbags.
Once installed, the shields do not restrict passenger comfort, interior space or operation of the heating and ventilation systems. The transparent PVC material also allows the driver to retain full visibility of the windscreen, side windows and mirrors, and passengers can still hear and see each other as normal.
Some councils get it right
While some licensing authorities have been reluctant – and in some cases downright obstructive over the screens issue, others have been far more positive. A good example is Liverpool City Council has taken a local approach to providing safety screens for its private hire operators, working with a local supplier to develop and fit an approved screen. The council's licensing team worked with locally-based Car 'N' Cab Care to promote the safety screens to Liverpool operators and drivers.
Car 'N' Cab Care designs and manufactures the screens, which take less than an hour to install. They have been designed so passengers can still communicate with the driver and include a special 'letterbox' through which passengers can safely pay their fare. The screens cost just over £300 to make and install for a typical saloon car.
Shaun Marnell of Car 'N' Cab Care said: "When the coronavirus outbreak first began I realised it was going to mean big changes for the industry. As a father, I thought to myself that there is no way I would let my child travel in a cab or taxi unprotected, which is where the idea for the screen came from. We put together the prototype in just under two days and then began to sound our local authorities about the idea."
Liverpool taxi driver Mike Pennington was one of the first to have the screen fitted, he said: "The lockdown period has been a terrible time for the trade. I haven't worked for six weeks because there are so few passengers. I also wasn't prepared to go back until there were some extra precautions in place. These screens couldn't have come at a better time and the council has done a great job in inspecting them and passing them as safe to use so quickly."
One of the most positive responses came from Bradford City Council, where a £233,000 scheme has been set up to improve safety in Bradford taxis. This will see screens installed in vehicles across the district, and facemasks and hand sanitiser will be provided for drivers and passengers.
Simple advice
Finally, remember to follow these simple guidelines when you're fitting a partition screen.
Before buying a screen, check with your licensing authority that the screen you want to fit is acceptable and the supplier is approved. You don't want to be ordered to remove it.
Always make sure your drivers and passengers wear a face covering – you can source a box of masks for very little money, and give them to passengers who don't have their own. If they refuse to wear one, you can refuse to carry them.
And always clean your partition thoroughly after each job with either soap and water, or preferably an anti-viral cleaner.
Partition screen suppliers
Safe Shield Northampton Ltd
01604 677909
www.safeshield-ltd.co.uk
ron@safeshield-ltd.co.uk