First deliveries of Mercedes-Benz's all-electric EQS chauffeur saloon expected before year-end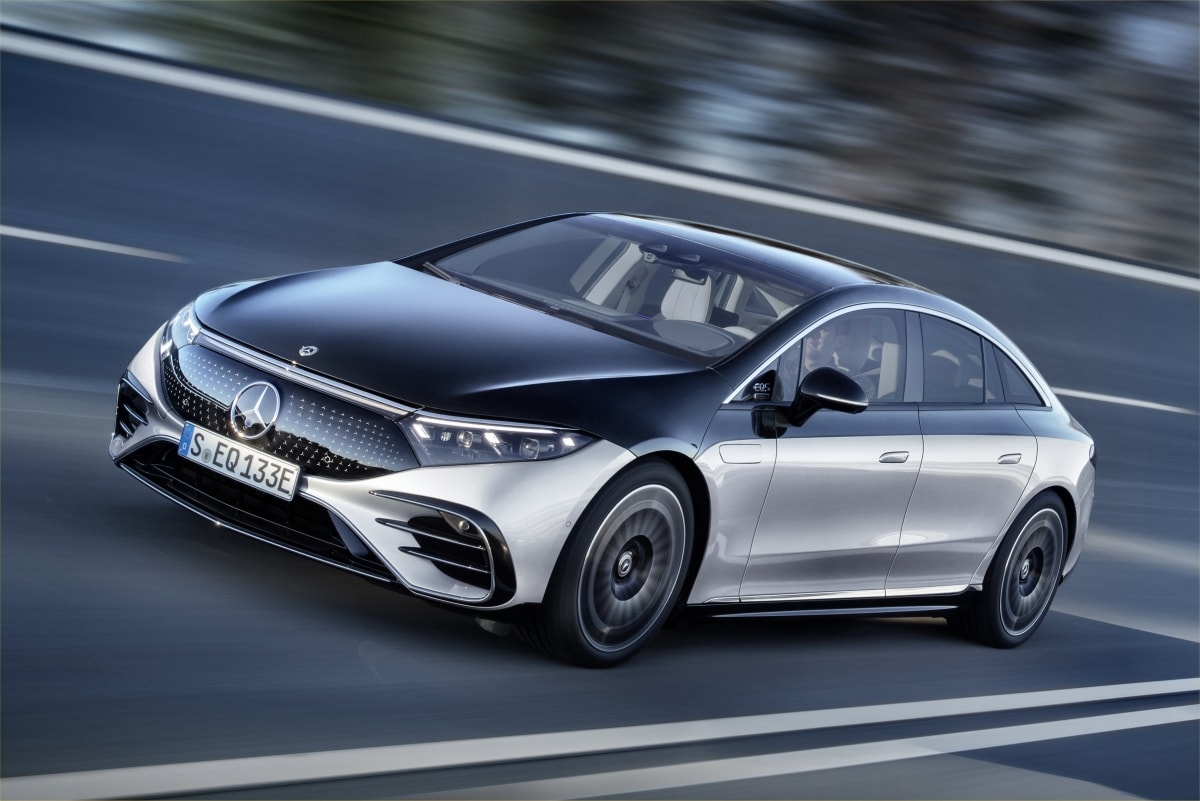 Mercedes-Benz has released details of its much-anticipated EQS model – the first all-electric luxury chauffeur car to hit the market.
The EQS goes on sale in late summer, and at that time, UK pricing and specification will be announced, ahead of first UK deliveries, which are expected before the end of the year. It's expected to cost somewhere north of £80,000 – comparable to a current S-Class.
The EQS is the first Mercedes-Benz model to be based on the company's new modular architecture for luxury and executive-class electric vehicles. Although the EQS is a close relative of the new S-Class, it is built on an all-electric architecture. Nevertheless, it is built alongside both the S-Class and the Mercedes-Maybach S-Class at Mercedes' new carbon-neutral 'Factory 56' at Sindelfingen, Stuttgart, the company's most modern automotive plant.
The styling is very different from the new S-Class. Mercedes calls the body shape "one bow" and the lack of an internal combustion engine up front means a shorter bonnet and a cab-forward design with fastback rear. There's no radiator grille – instead a black front panel sits where you'd expect to find the Mercedes chrome grille. It has a Cd value of just 0.20, making it one of the most aerodynamic cars ever made.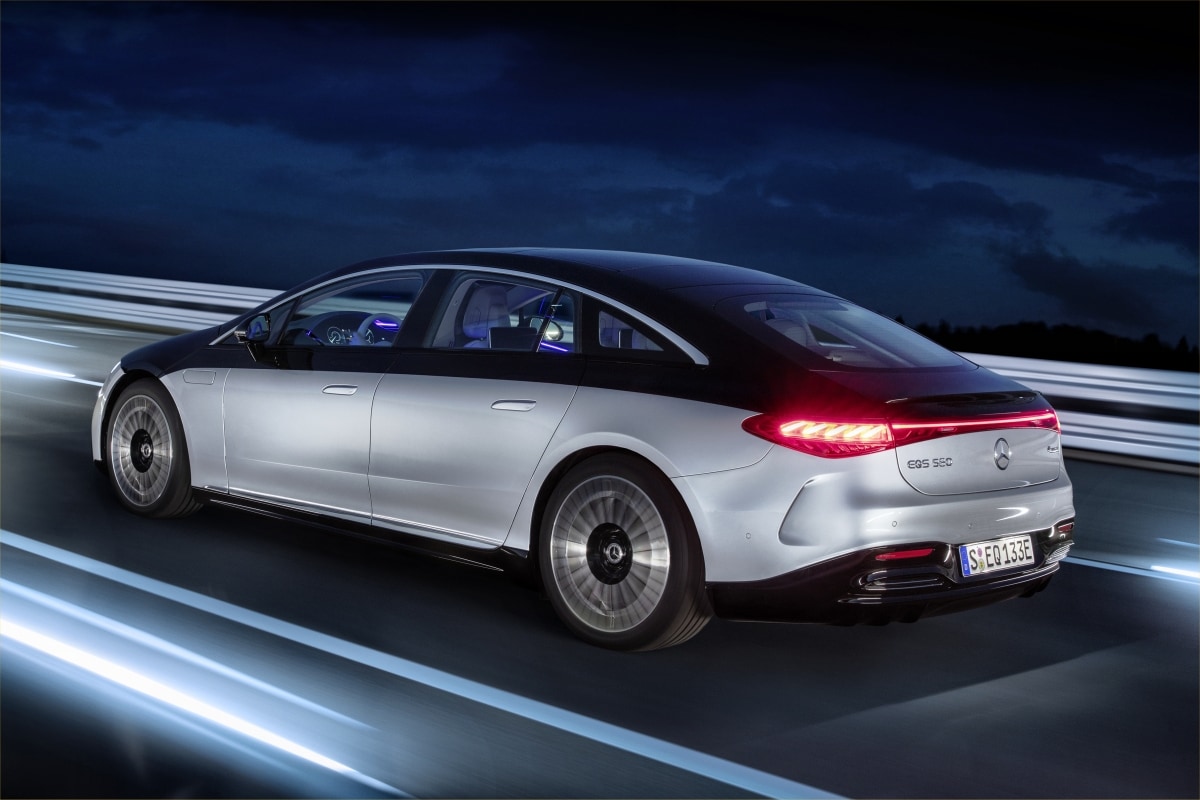 Mercedes has released specifications for two specification levels, but only the lower-powered, rear-drive EQS 450+ will be coming to the UK.
It doesn't look like we'll be getting the high-performance EQS 580 4Matic, with all-wheel drive and 385kW of power – the equivalent of 516hp. It's unlikely that chauffeurs will be looking for performance, and the EQS 450+ still has plenty of power – 245kW equates to 328hp, giving the car a 0-62mph acceleration time of 6.3sec.
New-generation batteries provide a range of up to 478 miles on a full charge. These batteries have significantly higher energy density than those used in current Mercedes EVs, such as EQC and EQV. The larger of the two batteries has a usable energy content of around 26% more than those fitted to the EQC 400 4Matic.
The EQS can be charged at fast charging stations at up to 200kW with direct current. A 180-mile (WLTP) recharge takes just 15 minutes at this power, Mercedes claims, though 200kW chargers are few and far between at the moment. The charging time for a 10-80% charge is 31 minutes, using a DC rapid charging station with a voltage of 400V and current of at least 500A.
Charging overnight from a home wall box via the standard 11kW onboard charger is slow – about 10 hours. You can pay extra for a 22kW onboard charger that will cut that to an acceptable 5 hours.
By using the Mercedes me Charge function, it's simpler than ever to recharge – simply plug in at a charge point and the current starts flowing without messing around with cards or apps. Mercedes has cut a deal with charging giant Ionity, and all European Mercedes me Charge customers can use the fast charging network free of charge for one year.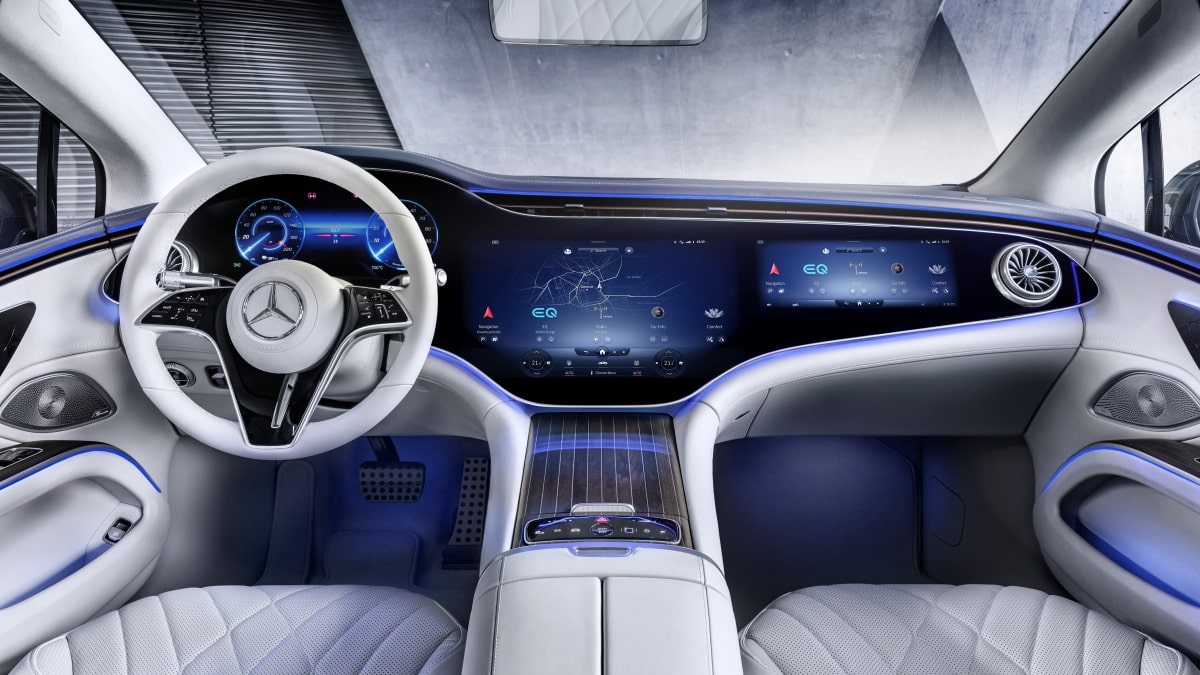 Inside, the entire dashboard is a one-piece screen called the MBUX Hyperscreen, revealed at the CES show in January, and now shown installed in the car. It is a concave screen that stretches across the entire dashboard, from driver's side to passenger's side.
The MBUX Hyperscreen is integrated into the instrument panel in minimalist fashion, with only a thin silver frame, a vent band and a narrow leather frame surrounding it. The systems can be upgraded by downloading new versions, and Mercedes says the in-car systems will be kept up-to-date for the life of the car.
The satnav system is highly sophisticated, and can plan the fastest and most convenient route, including charging stops. It reacts dynamically to traffic jams or a change in driving style, for example.
The EQS includes a visualisation in the infotainment system showing whether the available battery capacity is sufficient to return to the starting point without charging. Charging stations along the route that have been added manually are given preference in the route calculation. Suggested charging stations can be excluded. The estimated charging costs per charging stop are calculated.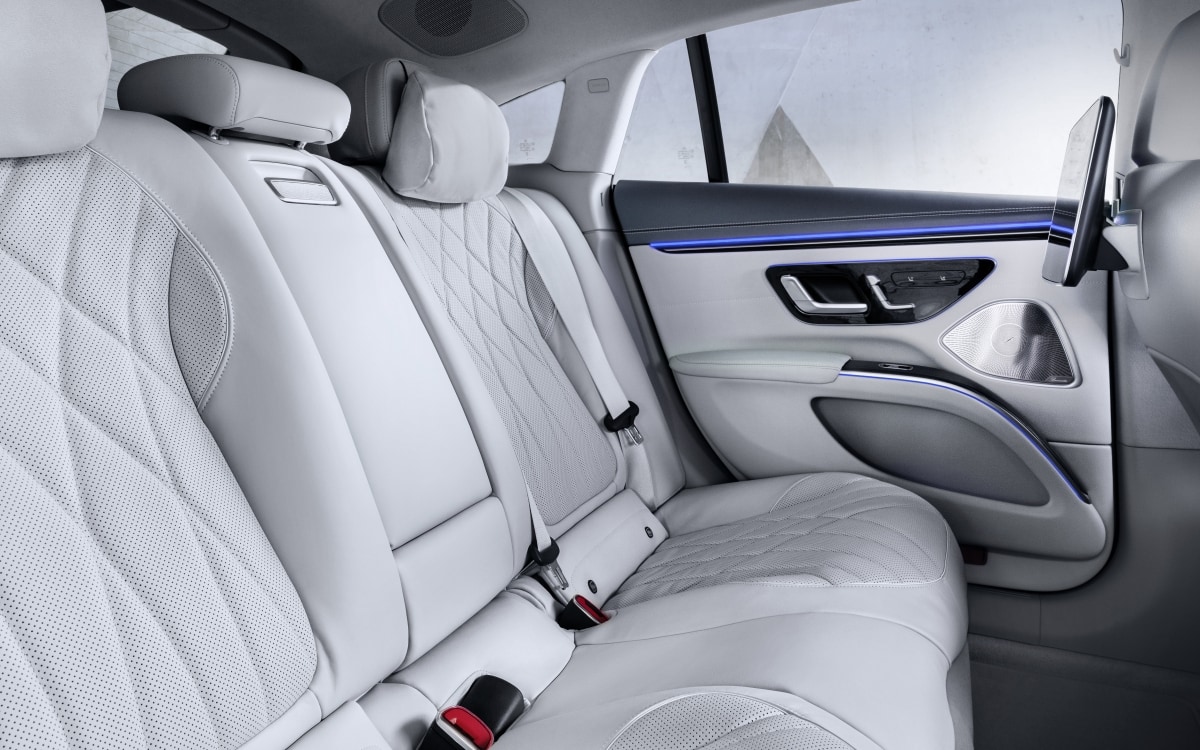 Among driving features are rear-axle steering with a steering angle of up to 4.5 degrees. An alternative rear-axle steering angle of 10 degrees can be ordered or subsequently activated by an upgrade over the air (OTA). This enables a turning circle of 10.9 metres for the EQS, impressive for a car that is more than 5 metres long.
With the optional Drive Pilot, the EQS will be able to drive in conditionally automated mode at up to 37mph where traffic density is high or in tailbacks on suitable motorway sections, initially in Germany only. Autonomous features also include the ability to park and unpark the car via smartphone using Remote Parking Assist.
Mercedes-Benz is working on offering a carbon-neutral new car fleet within 20 years. By 2030, the company wants more than half the cars it sells to feature electric drive systems, including fully electric vehicles and plug-in hybrids.
Christoph Starzynski, vice-president electric vehicle architecture, gave some clues as to forthcoming models: "Our electric initiative is in full swing. With the EQE business saloon and the SUV variants of the EQS and EQE, further models based on the new architecture will follow soon."
---
DATA
Mercedes-Benz EQS 450+
| | |
| --- | --- |
| Price | £TBA |
| Engine | Permanently excited synchronous electric motor |
| Power | 328hp |
| Torque | 568Nm |
| CO2 emissions | 0g/km |
| Electric range | 478 miles (WLTP) |
| Max DC charging capacity | 200kW |
| 0-62mph | 6.3sec |
| Top speed | 130mph |
| Length | 5,216mm |
| Width | 1,926mm |
| Height | 1,512mm |
| Luggage volume | 610 litres |
| Turning circle (with rear steering 4.5°) | 11.9m |
| Turning circle (with rear steering 10°) | 10.9m |
| VED Band: | A |