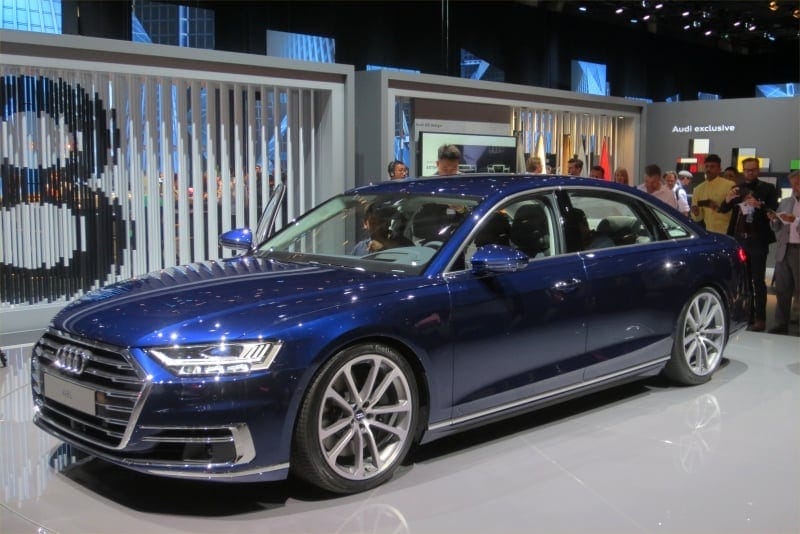 Audi has revealed its new fourth-generation A8 luxury saloon at a spectacular presentation in Barcelona. The latest version of the flagship saloon includes a high degree of autonomous driving capability, and every model in the range will have a hybrid powertrain.
All combustion-engined models use a 48-volt electrical system, which allows a mild hybrid system to be fitted to all A8s. The range also includes a ULEZ-compliant petrol-electric plug-in hybrid version with a 30-mile pure electric range.
The mild hybrid drive comprises two main components: a water-cooled 48-volt belt alternator starter and a lithium-ion battery in the luggage compartment to act as the energy accumulator for the mild hybrid electric vehicle (MHEV).
The new A8 MHEV can switch into battery-driven coasting mode from 34mph to 99mph, and can then coast with zero emissions for up to 40 seconds with the engine off.
Orders for the launch range commence in September, with the first cars delivered by year-end. The launch range comprises standard-wheelbase A8 and long-wheelbase A8L models, which feature a 130mm stretch. Both are available with 3.0-litre diesel and petrol engines, as well as a 4.2-litre V8 diesel and a range-topping 6.0-litre W12 petrol model.
Entry models will start below £70,000, with LWB versions carrying a price premium of around £4,000.
The plug-in hybrid A8L e-tron quattro will follow toward the end of 2018. This combines a 3.0 TFSI petrol engine and an electric motor to give 449PS of system power and 700Nm of system torque. The lithium ion battery stores enough power for about 31 miles of electric driving, but as with most large PHEVs, the battery pack is in the boot and reduced boot space from 560 litres on standard diesel or petrol models to 390 litres.
Wireless Charging will be offered at a later date as an option on the PHEV model. This uses a pad in the garage floor to transfer power inductively to a receiver coil in the car.
"Piloted driving" functions will also be rolled out in production Audi A8 versions from 2018. This includes a "traffic jam pilot" system that allows the car to drive autonomously in slow traffic, tracking the cars in front and the road using an array of sensors and cameras, including for the first time on a production car, a laser sensor.
The traffic jam pilot works at up to 37mph on major roads where a physical barrier separates the two carriageways. The system is activated using an AI button on the centre console.
The traffic jam pilot manages starting, accelerating, steering and braking. The driver no longer needs to monitor the car permanently. As soon as the system reaches its limits, it calls on the driver to take control.
Compared to its predecessor, the new A8 has grown substantially in length in both body styles. The rear left seat is an optional relaxation seat that comes with four different adjustment options and a footrest, including a foot massage function. Rear passengers can also make private phone calls via a separate operating unit.
The dashboard is almost completely digital, with three separate panels. A central 10.1in satnav screen is flush-mounted with the dashboard, and the satnav map incorporates highly detailed 3D models of major European cities. Navigation and maps can also be displayed on the digital dash panel. A third touch screen serves as heater control and input device, allowing handwriting input of a more sophisticated nature, including whole words to be written with a fingertip. The rotary controller has been done away with in favour of writing or voice control.
Driving dynamics are improved by the addition of dynamic all-wheel steering, which turns the rear wheels either in or against the direction of steering depending on the speed range. A fully active suspension system is also included, which minimises pitching of the car during braking and acceleration, and cuts body roll to a minimum.
[widgetkit id="16″ name="Audi A8 Gallery"]