How's the future looking? Well, the hovercars and jetpacks we were promised in the 1950s and '60s have so far failed to materialise, but at last we are starting to wean ourselves off fossil fuels as far as cars are concerned.
Tesla might argue that the revolution started five years ago when it launched the Model S – and it does have a point. But Tesla's silicon valley approach blindsided the major automakers, which tend to operate at a less entrepreneurial pace.
But it does look like they've used the intervening half-decade to play an effective game of catch-up. And now we're starting to see a flow of new electric cars hitting the market from the likes of Volvo, Mercedes-Benz and Volkswagen. And this car is the first all-electric Audi, the e-tron.
T's timely, too, given the tightening of regulations and the widespread installation of Clean Air Zones throughout the UK from 2021. London's ULEZ will be followed by similar schemes in cities such as Leeds, Birmingham and Southampton. As London operators are painfully aware, if they want to register a new car now 2020, it has to be either a plug-in hybrid or an all-electric car.
If you were expecting Audi's first EV to have a futuristic look, with a slippery, streamlined body, you're going to be somewhat disappointed. In the metal, the e-tron looks rather normal. Parked alongside sundry Q7 and Q5 models, there's little to give away the fact that under the skin, it bears no resemblance to its diesel and petrol siblings.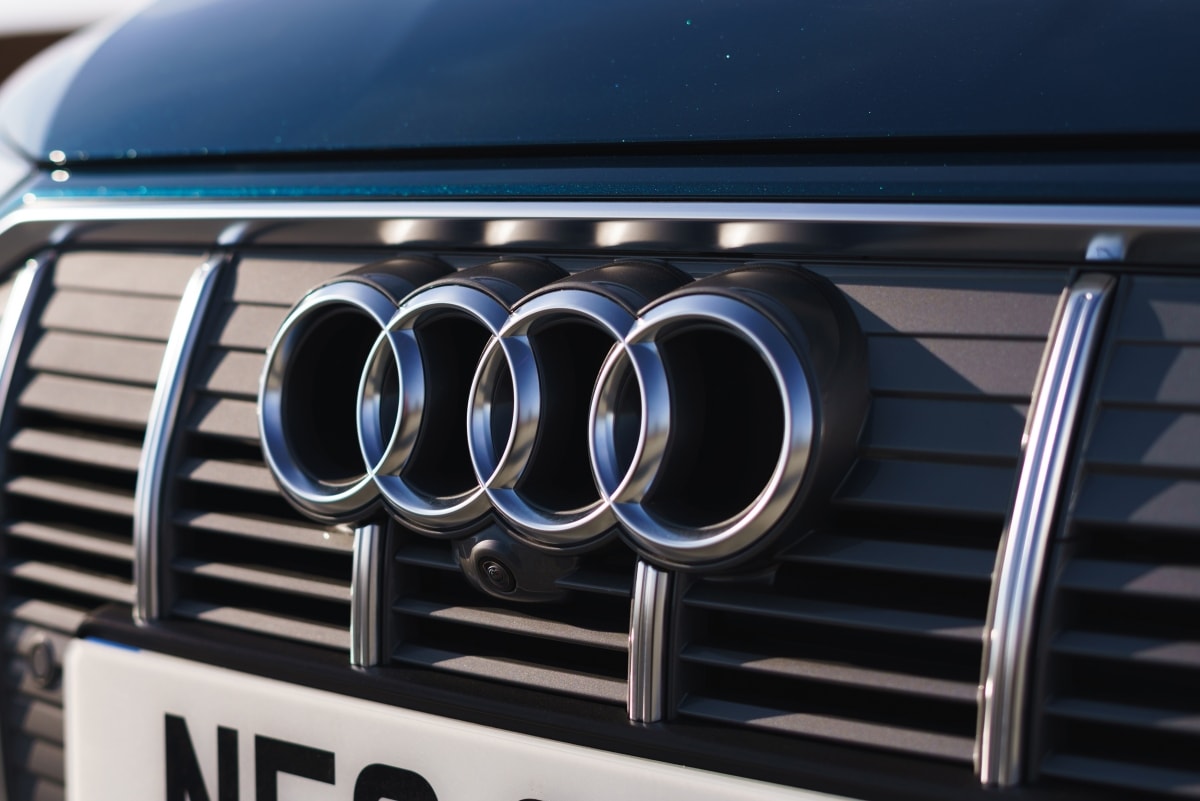 Indeed, there are only faint clues to the fact that the e-tron is an electric car. No exhaust pipes, for a start, and no fuel filler cap on the rear wing. And the typically bold Audi grille has aerodynamic louvres that can close at speed, improving airflow – giving a silver-grey look to the grille rather than the customary black. Even the electric charge point is well concealed. Visually, the future looks rather like the present.
Interior layour
The same applies inside the car. The interior finish is typical of other modern Audis, with multiple touch screens, a digital dashboard on to which navigation instructions and detailed maps can be displayed, and comfortable seating for four (or slightly less comfortable seating for five). Until you start actually driving the car, you might just as easily be sitting in a regular Audi SUV. It feels like a slightly smaller Q8 – no bad thing. Rear legroom is comparable to an executive saloon such as a Mercedes E-Class or Audi A6, but with more headroom.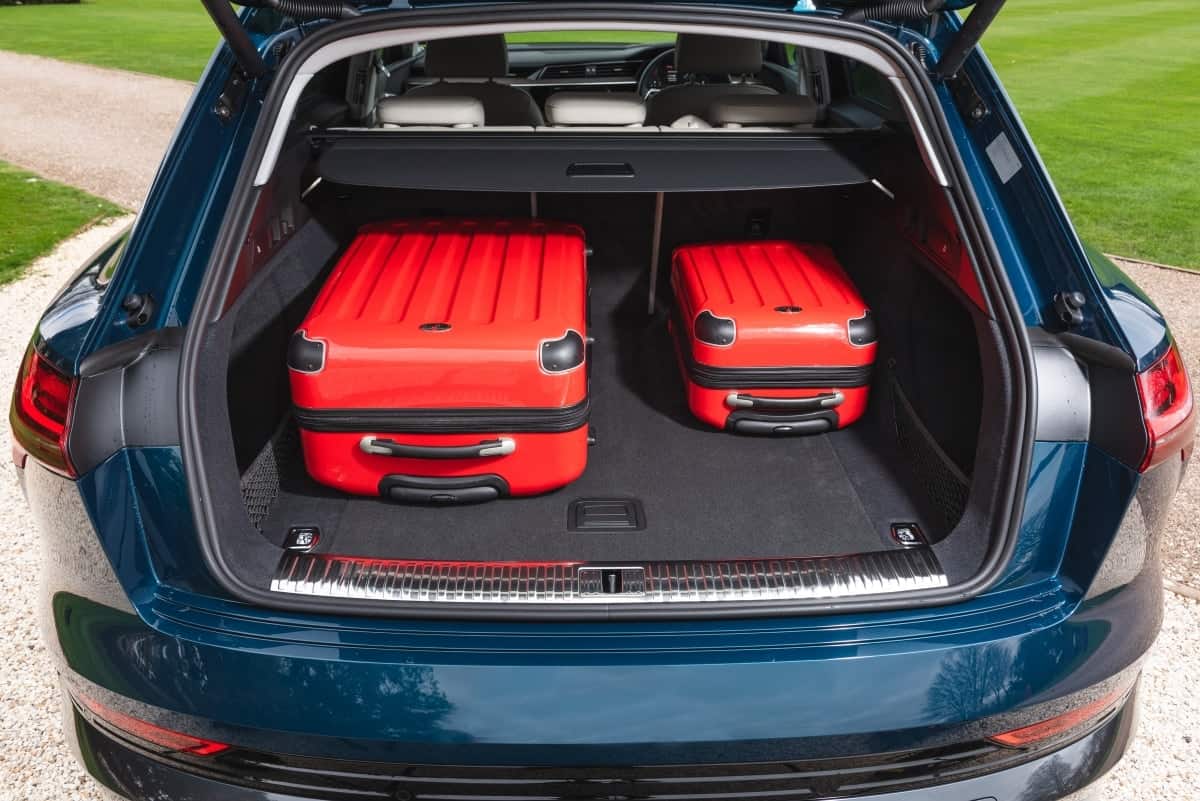 There's no compromise in boot space either – 660 litres is precisely half-way between a Q5 (550 litres) and a Q7 (770 litres). Plenty of room for cases – though unlike its main rival, the Jaguar I-Pace, there is no second "front boot" as the under-bonnet area is home to motors and electric running gear.
If you've driven any of the recent Audi range – anything launched since 2017's A8, you'll find the e-tron rather familiar. It has the same basic layout – a central touch screen and a lower "control" screen of the MMI Touch system, which is used for satnav input, air-con control, phone and in-car entertainment. It's the A8 system, basically.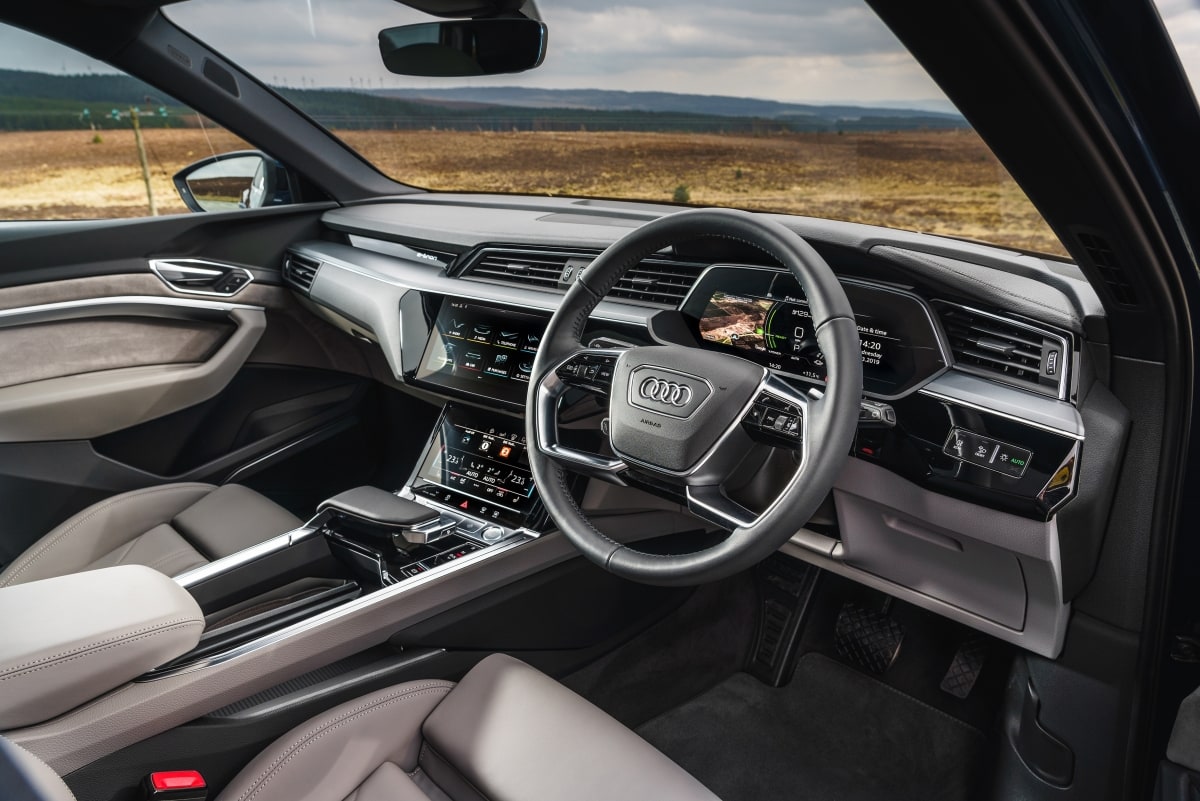 There are no analogue gauges and very few physical buttons on the dash or the centre console. Because it's electric, the gearshift is simpler than most –just forward, neutral, backward and a separate button for Park, on a chunky aluminium bar on the centre console.
Driving dynamics
And with a clunk, we're off. Not entirely silently – there is a noticeable high-pitched whine from the electric motor – not unpleasant, though, and at least you know the car is doing something. Our route is extensive and takes in a wide variety of terrain, including tight urban streets, twisty country roads, smooth A-roads across the moors and a spot of dual carriageway. How does it drive – and perhaps more importantly, how accurately does it match the displayed range with actual miles?
The e-tron has a fully-charged range of 241 miles, which should be sufficient for a typical day's private hire work. Today the cars are not "brimmed" – we embarked on a 118-mile test route with 174 miles of range in the battery pack, which should be ample to ensure that range anxiety doesn't come into play.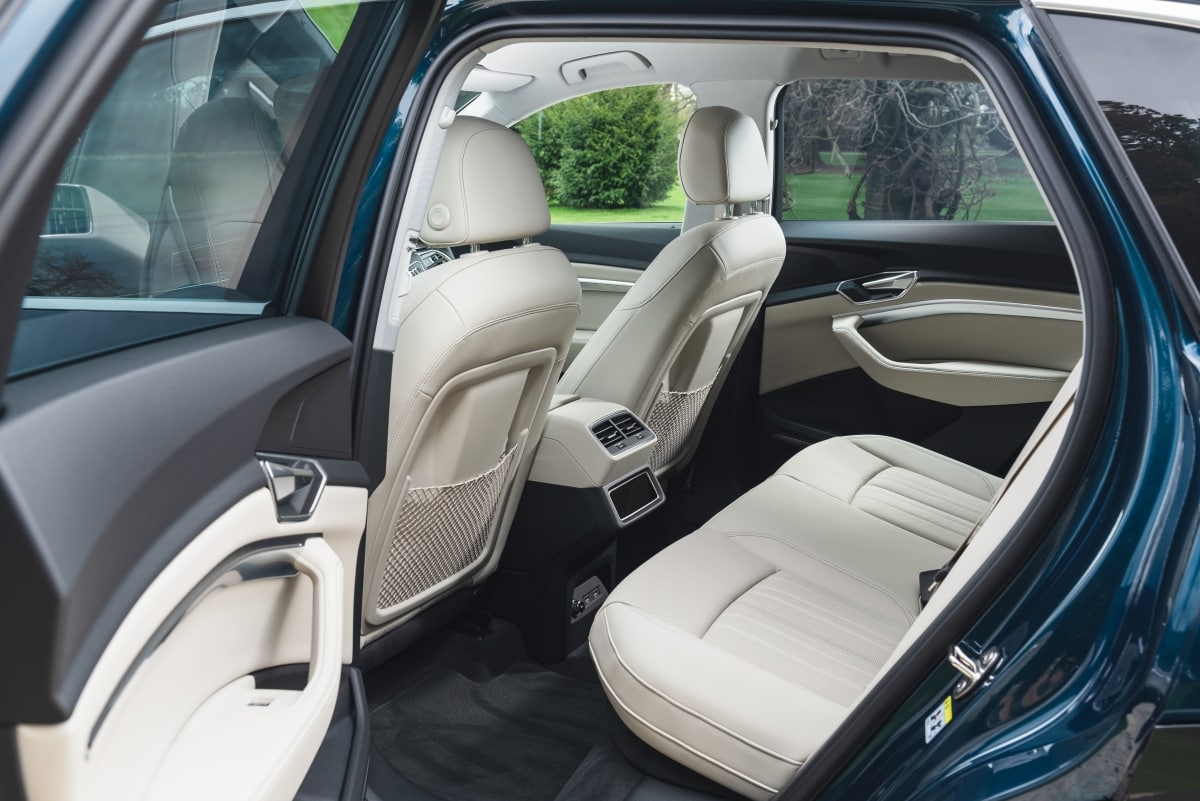 First impressions are of a solid, quite heavy car – it weighs 2.49 tonnes unladen – but with plenty of instantly available power and torque – so it gets away from traffic lights briskly, and overtaking is never a source of concern. E-tron qualifies as a "quattro" as it uses two electric motors – one per axle – which jointly deliver an output of up to 300kW. Audi claims 5.7sec 0-62mph acceleration, and a top speed of 124mph.
The car's weight and its 20in alloys mean ride is probably not as soft as it could be, even in comfort mode. On the plus side, there's almost no body roll at all thanks to the low centre of gravity from the battery pack, mounted under the seats. Standard adaptive air suspension helps the flat cornering too.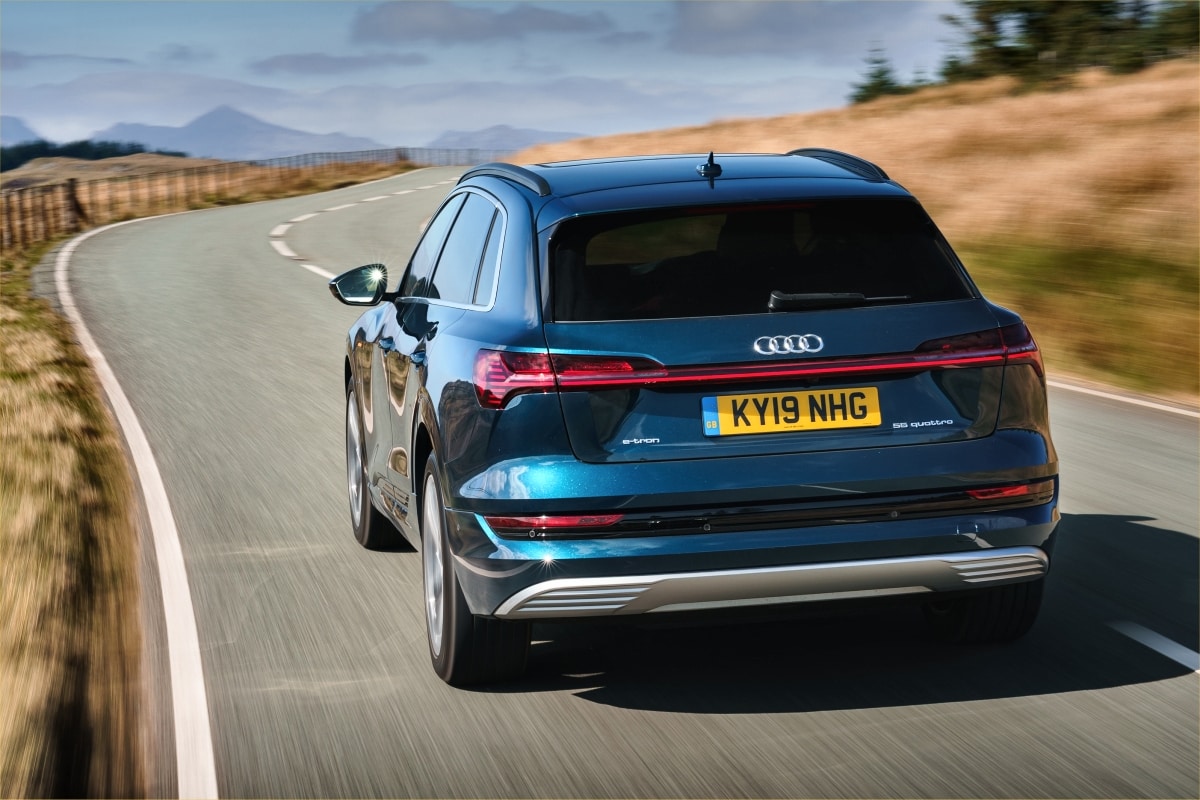 Autonomous driving
As the route progresses, it becomes clear that the e-tron is not just a showcase for electric drivetrain technology – it's also packed with some very sophisticated autonomous driving technology. The adaptive cruise system "reads" road signs (via cameras and GPS) and automatically adjusts the car's speed to match the limit.
So when you come from a 50mph road into a 30mph limit, the car slows progressively without driver intervention. Once you leave the 30 zone, it reads the new limit and accelerates you back to the new limit – or adjusts to the speed of the car in front. On rural roads this can be a little scary – the limit may be 50mph, but you might not drive anywhere near as fast.
The car appears to accelerate to what its systems consider to be a safe limit, but which may seem a bit close to the limit for a comfortable ride. On dual carriageways or motorways, though, it works just fine, as does the lane assist, which accurately tracks bends in the road.
There's a legal requirement to keep on intervening – you're asked to touch the steering wheel every few seconds. But there's no doubt that the system is competent, and should it become legal to use, it will make for more relaxed motorway driving at least.
All this autonomous tech comes as part of a "tour pack", a £1,950 option, which includes the sophisticated Adaptive Cruise Control, as well as "predictive efficiency assistant", which reads the road signs and the roads themselves. The future, it seems, is hidden away in a microchip, deep within the car.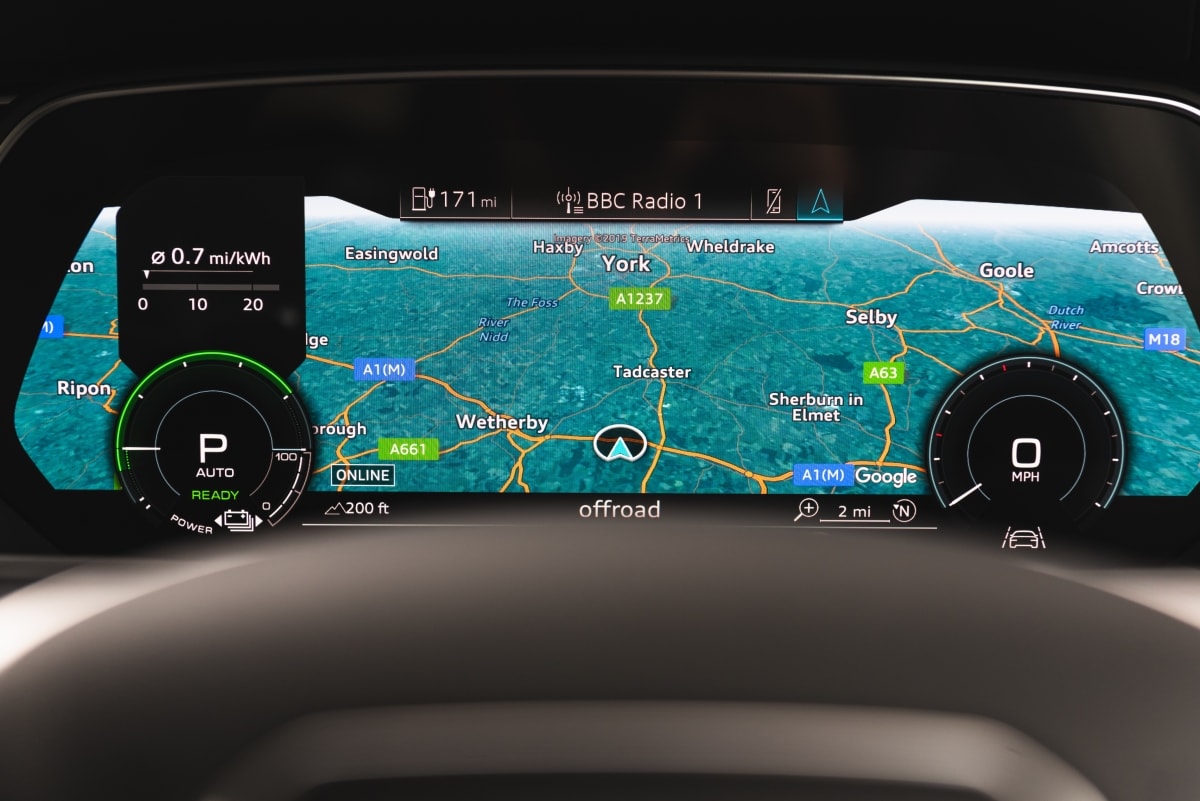 Meanwhile, we've been keeping an eye on the range and the distance covered – and it's rather encouraging. After 30 miles, we've lost 34 miles of range; after 60 we've lost 77 miles. But the first half of the route was hilly, and uphill stretches use more power than is recuperated on the downhills.
The second half of the route is flatter and smoother, and after 90 miles, it's coming back – we've used 99 miles of range. And when we reach our destination, 118 miles of motoring has used precisely 118 miles of our range – leaving us with 56 miles of the original 174 at our disposal. Range anxiety never entered the equation. Hugely impressive.
The 95kWh lithium-ion battery is mounted beneath the passenger compartment. E-tron can be charged via fast DC charging stations at up to 150kW, enabling recharging to 80% of capacity in as little as 30 minutes. There are charge ports on each of the front wings, allowing kerbside charging without the need to tug cables across the car.
The charge ports are neat, too – at the touch of a button, the covers for each port open downwards, revealing the sockets. You can also "slow charge" via home AC electricity or using a home wall box. Cables stow away under the boot floor.
One option on the Audi e-tron is digital mirrors – yes, the wing mirrors on the car are replaced by two small cameras mounted on aerodynamic stalks, with the image shown on small screens on the inside of the doors.
This offers a number of advantages. Firstly, it removes a major source of drag. The cameras are much smaller than the mirrors, and that reduces fuel consumption and cuts wind noise around the mirrors.
Secondly, it improves night-time vision, as the cameras automatically brighten the image in the way an optical mirror cannot do. It looks pretty cool, too.
Verdict
It's very good – easily the match for its main rival, the Jaguar I-Pace. And with Mercedes-Benz's EQ-C now available as a direct rival, and Tesla working on an SUV called Model Y, it's about to get very interesting for chauffeurs looking to move across to an electric car.
It's not a cheap move – at £71,560 for the basic model, you're looking at S-Class prices for a car that is comparable in size and space to an E-Class. On the other hand, those low running costs, especially if you can charge overnight at domestic rates, will make a major saving.
And it seems to perform on the money – though we' need a longer test to see if night running, or cold weather, knocks back the range.
The e-tron is a well-packaged car with no compromise to interior space or boot space, thanks to batteries stashed below the floor and running gear concentrated under the bonnet.
Fit and finish is to the standard of other up-market Audis we've tested, and indeed, the satnav system has been transplanted straight out of the A8. But the autonomous functions on show here via the £1,950 Tour Pack option are as impressive as we've seen on any car to date.
As to the "stealth" looks – we don't necessarily think it's a bad thing that the shape of our future hi-tech electric cars is pretty much the same as the cars we're expected to shift across from – regular petrol and diesel SUVs. There are subtle differentiators, but you'd have to tell your client that the car was electric!
---
DATA
Audi e-tron 55 quattro 265kW
| | |
| --- | --- |
| Price as tested | £71,560 |
| | Including £3,500 government grant |
| Engine | Dual electric motors |
| Transmission | Direct drive, all-wheel drive |
| Battery | Lithium-ion 95kWh |
| Power without/with boost | 360PS /408PS |
| Torque without/with boost | 561Nm /664Nm |
| 0-62mph without/with boost | 6.6sec/ 5.7sec |
| Top speed | 124mph |
| WLTP combined range | 241 miles |
| WLTP city range | 268 miles |
| WLTP consumption | 24.2 kWh/100km |
| Recharge time | 30min to 80% capacity (150kW) |
| Length | 4,901mm |
| Width | 1,935mm |
| Height | 1,629mm |
| Wheelbase | 2,928mm |
| Loadspace | 660 litres |
| Insurance group | 50E |
| VED Band | A |