Ford Tourneo Custom Titanium 310 LWB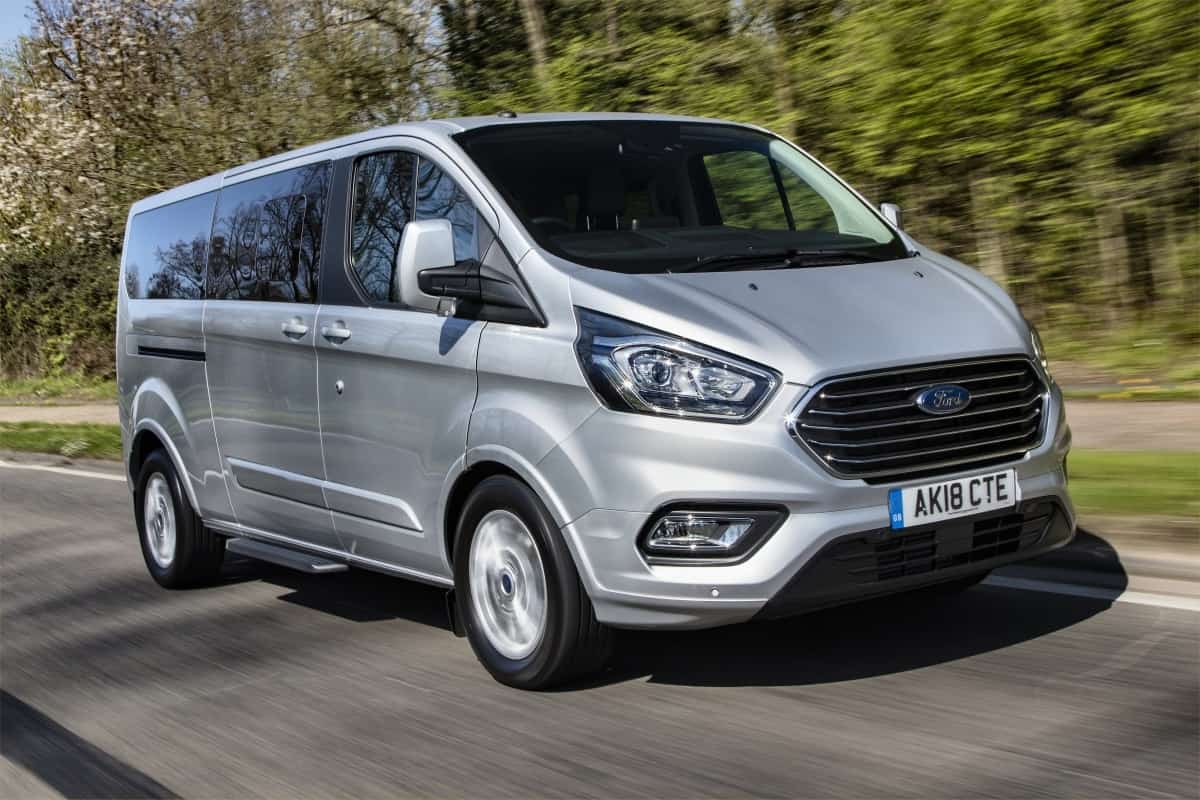 Ford started calling its passenger-carrying Transit the Tourneo back in 1995, and the vehicle is well established as a reliable urban seven-seater taxi.
As successive versions of the Transit have been launched and facelifted, the Tourneo has slowly shifted up-market, to a point where it presents a serious alternative to the likes of Mercedes Vito and Volkswagen Caravelle as a business shuttle. Maybe not quite the luxury mobile boardroom of the Mercedes V-Class, but not far off.
And with full-size MPVs becoming an endangered species these days, van-based people-movers are growing in popularity. They're versatile assets to any operator's fleet, useful for event shuttle work, airport runs and business trips, as well as jobbing late-night private hire work, taking groups or families for a night out.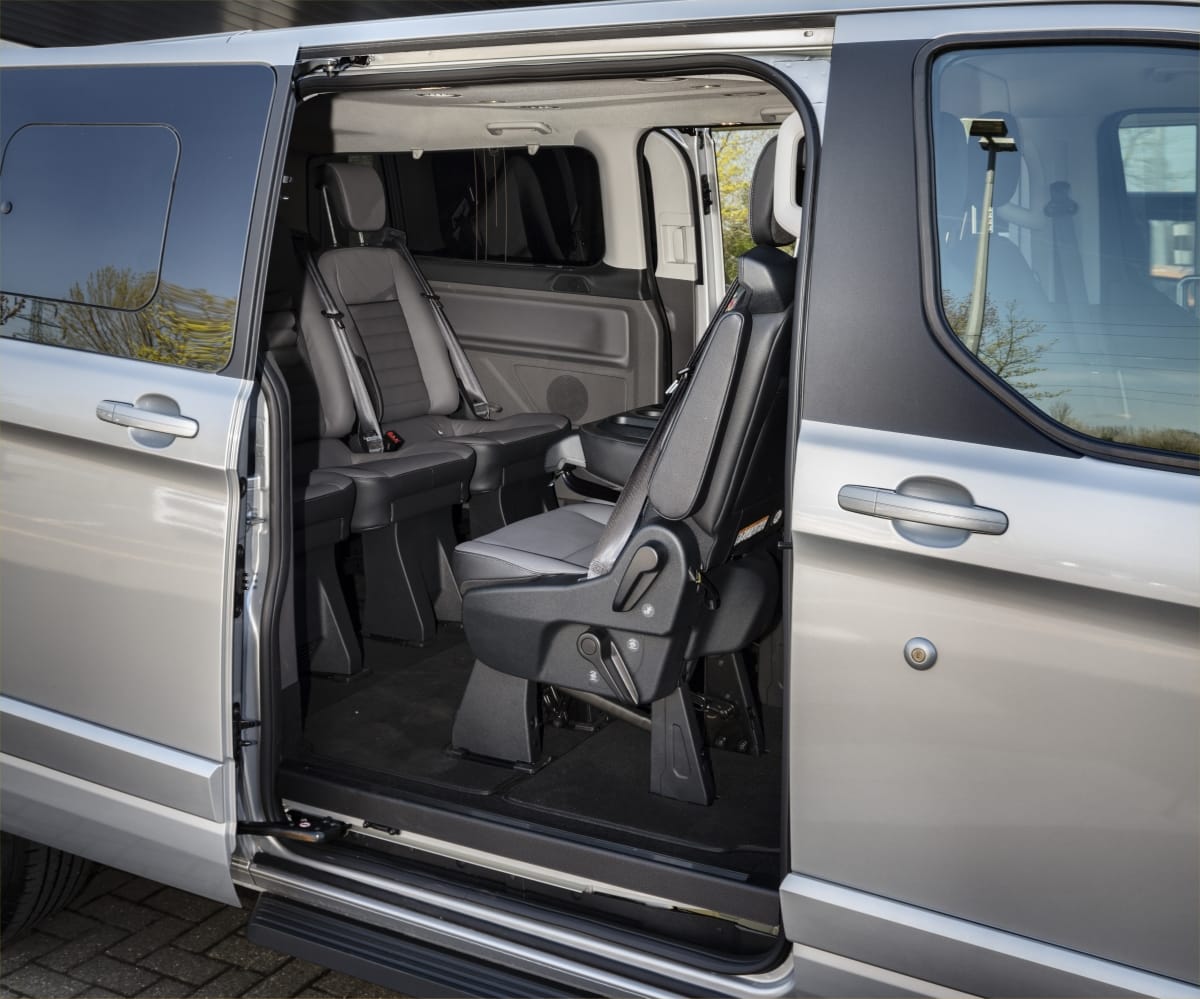 Factor in car-like ride and handling, plus the sort of front-seat features such as electric seats and satnav that wouldn't be out of place in an executive saloon, and nostalgia for big MPVs such as the Chrysler Voyager or Renault Espace is on the wane.
The Transit/Tourneo Custom family received an extensive facelift in 2018. While the basic bodyshell remained unchanged, a huge amount of changes were made under the bonnet, to the front end styling, and especially inside the cabin. More than 2,000 new components have been incorporated, and Ford spent £220 million upgrading the top-selling range.
Styling improvements
The restyled nose features a bold, single Ford family grille, with a special five-bar treatment, to distinguish it from the Transit's three-bar grille, and a large central blue oval badge. Bigger headlights incorporate LEDs, giving a distinctive light signature. There's more chrome and generally better detailing than before.
The new nose is more aerodynamic too, helping fuel economy, and a redesigned lower skirt gives a more purposeful look, as well as being cheaper to mend if the front is damaged on a speed bump or an incline.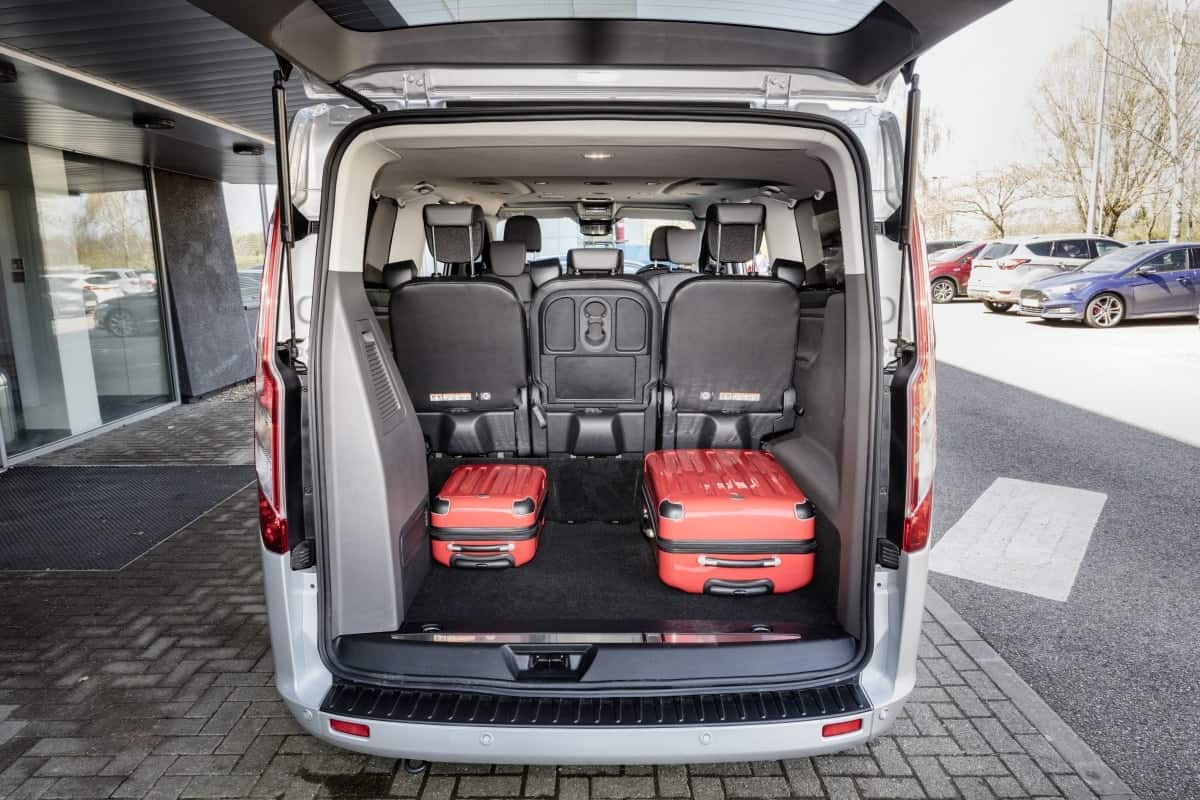 As before, Tourneo Custom comes in two wheelbases – we're testing the longer of the two. The wheelbase stretch means there's a lot more luggage space – it's definitely worth paying the premium to get the extra 367mm, as it bolsters luggage space from 1,180 litres on the standard wheelbase to 1,930 litres on the LWB version. Access is via a tailgate, as before, rather than twin doors. The tailgate is big and quite heavy – and is not powered.
Under the bonnet
A new 2.0TDCI EcoBlue turbodiesel engine replaces 2.2-litre diesels under the bonnet. On our test vehicle, this is the highest of the three power outputs available, 170PS. This gives plenty of acceleration and ample power for comfortable 70mph motorway cruising, with the engine ticking over at just 2,000rpm in the top gear of its six-speed manual box. Fuel consumption on our test drive was a very acceptable 32.5mpg – on an extended run, you could expect to reach 40mpg.
You can also choose 105PS or 130PS versions, also with six-speed manual gearbox as standard. Six-speed automatic is optional on 130PS and 170PS versions.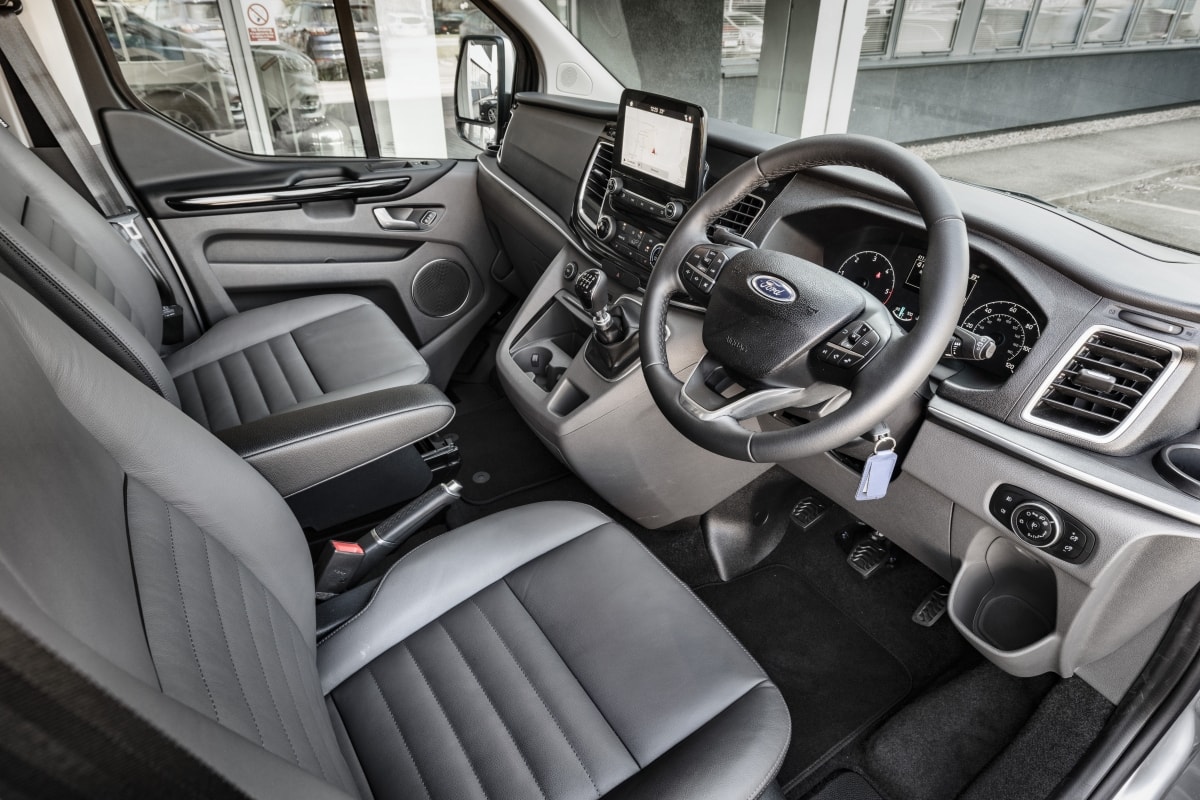 Cabin upgrade
Inside the cab, it's all change. Materials and finishes are greatly improved, with black, soft-touch plastic with aluminium and gloss black highlights. A tablet-style 8in touchscreen satnav screen is mounted centrally.
The dashboard is big and clear, with analogue primary gauges and a central information panel controlled from steering wheel buttons. Radio volume and cruise control functions are also mounted on the steering wheel, rather than on stalks.
The central dash-mounted gear lever is in the same place, and it's a smooth and short shift. A covered compartment is to the left of the lever, containing cupholders and power sockets. Indeed, there is no shortage of cubby holes and storage bins – as well as the regular dashboard glove box, capable of storing hanging A4 files, there are lidded storage boxes on top of the dashboard, There is up to 25 litres of space in the instrument panel alone, as well as extra cup or phone holders at the corners of the dash, and a big bottle-holder lower down the dash. No excuse for a messy driving position!
The car-like feel to the driving position is carried over from the previous Tourneo, but now the dashboard is well up to car standard. Individual driver and passenger seats are electric, and our test car has a full leather interior.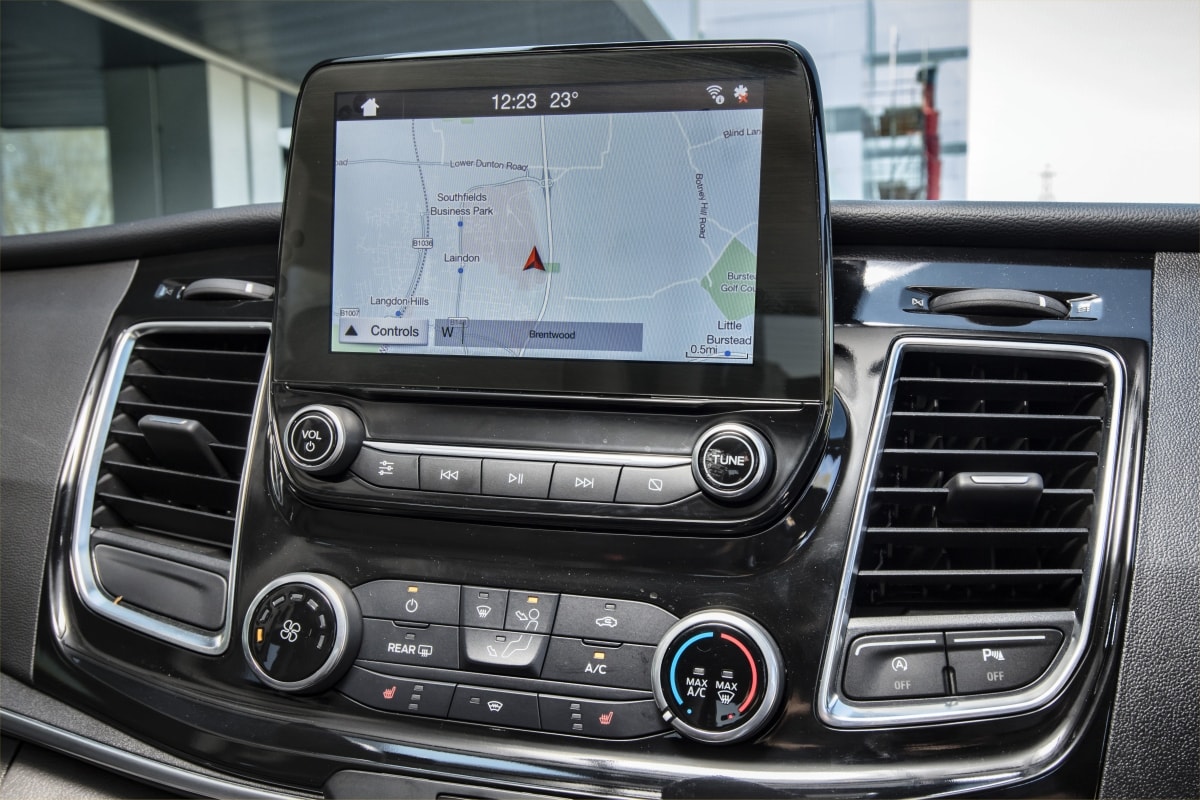 The satnav features Ford's latest Sync 3 communications and entertainment system that can be operated with pinch and swipe gestures. Sync 3 controls audio, navigation and connected smartphones using simple, conversational voice commands., such as "I need fuel", "I need a coffee", or "find an address". This guides drivers to nearby fuel stations, cafés, or the location of their next job. The system is compatible with Apple CarPlay and Android Auto. The screen is clear and readable, and an improvement on the earlier Sync systems of Mondeo and Galaxy, launched in 2015.
On the road
The new powertrain feels quieter and more refined than the the previous 2.2-litre diesel, and with 170PS on tap, it's a comfortable cruiser, accelerating briskly up to the 70mph motorway cruising speed without the revs needing to break the 2,000rpm barrier. The gear ratios of the six-speed manual gearbox are well-matched – and we look forward to driving Tourneo Custom with an auto box.
It feels stable at speed too, and being less slab-sided than its predecessor it seems untroubled by crosswinds, helped by a side-wind stabilisation system as part of the suite of technologies available for the range, including adaptive cruise control, lane-keeping alert, driver alert, auto high beam, and rear-view camera.
In addition, intelligent speed assist, which could help prevent drivers from incurring costly speeding penalties, is fitted. This uses a traffic sign recognition system to detect speed limit signs via a windscreen-mounted camera, and automatically slows the vehicle to the limit.
The Tourneo Custom also has a blind spot information system with cross traffic alert, which uses rear-facing radar sensors to detect when passing vehicles are approaching the blind spot zone, and alerts the driver with a warning light in the corresponding door mirror.
Cross traffic alert uses the same sensors to warn drivers reversing out of a parking space of vehicles that may soon be crossing behind them, alerting them with an audible warning, a message in the instrument cluster, and a warning light in the door mirror.
Tourneo Custom is manoeuvrable around town too, with a 13m turning circle. And although the nose is longer, the front corners are very much more rounded, making the Tourneo Custom easier to park. A reversing camera gives a pin-sharp image on the main satnav screen.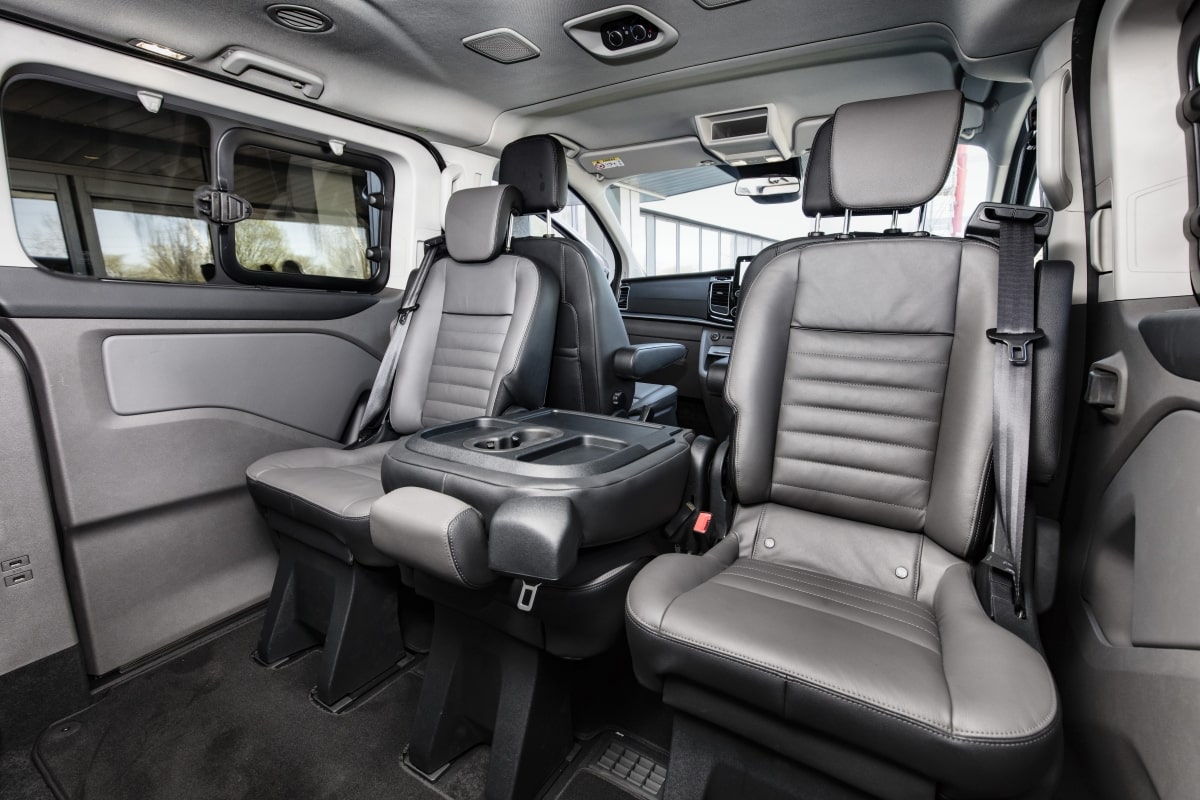 Passenger cabin
Further improvements have been made in the passenger cabin, accessed via big, sliding side doors. These are not power-operated. A built-in side step makes access and egress a little easier too.
Tourneo comes with two three-seater benches, which are removable and reversible, so you can have the seats in two forward-facing rows, or in conference mode, as on our test car.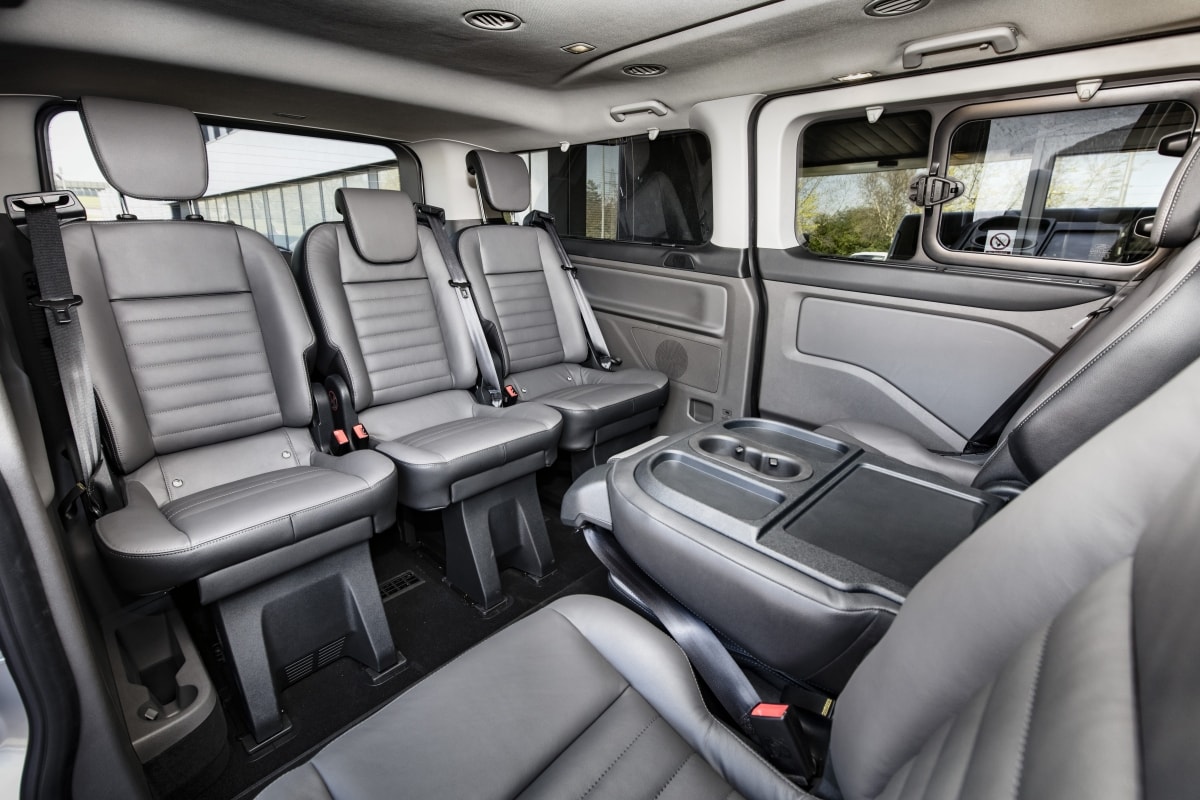 The seat backs of the centre seats fold flat to reveal a durable plastic table surface with in-built cup holders. These take the place of a removable table, as fitted to some competitor cars. The seats are full leather, with manual adjustment. The headliner contains air conditioning vents for the two rows of seats, as well as temperature and fan dials accessible from the rear.
Verdict
The large MPV segment is now dominated by van-derived vehicles, and as a result, quality of finish inside and out is improving across the market.
At the top of the sector, the Mercedes-Benz V-class still stands alone as the market leader for chauffeurs, but the Ford Tourneo Custom is one of a number of vehicles that are getting closer in quality terms to the market-leading Merc.
Our Titanium-spec test car Tourneo is a good deal more up-market than the previous-generation model, which was priced at around £33,500 when we tested it back in 2012. The latest version weighs in at £43,258. Not quite the £52,000-plus for the equivalent V-Class, but a lot closer.
The Tourneo Custom scores heavily for versatility – it's capable of handling both executive work and family holiday airport runs, allowing it to straddle the large MPV private hire and chauffeur sector.
The car scores heavily for the quality of its finish, with an extremely car-like cabin, and comfortable, flexible seats. The availability of a LWB version makes it a genuine seven-passengers-plus-luggage vehicle, increasingly important to have on your fleet.
It's well specified too, and probably the most competent panel van-derived MPV we've driven in terms of ride and handling. And with acceptable fuel economy on a par with an executive saloon, it'll be a profitable revenue earner too.
---
DATA
Ford Tourneo Custom Titanium 310 LWB 2.0TDCI 170PS
| | |
| --- | --- |
| Price as tested | £43,258 |
| Powertrain | 2.0-litre turbodiesel, |
| Transmission | Six-speed manual, front drive |
| Power | 170PS |
| Torque | 405Nm |
| Combined fuel economy | 43.5mpg* |
| CO2 Emissions | 178g/km |
| Length | 5,339mm |
| Width | 1,986mm |
| Height | 1,978mm |
| Wheelbase | 3,300mm |
| Loadspace | 1,930litres |
| Fuel tank | 72 litres |
| Turning circle | 13m |
| Warranty | 36 months / 100,000 miles |
| VED Band | I |
*Figure for equivalent Transit van