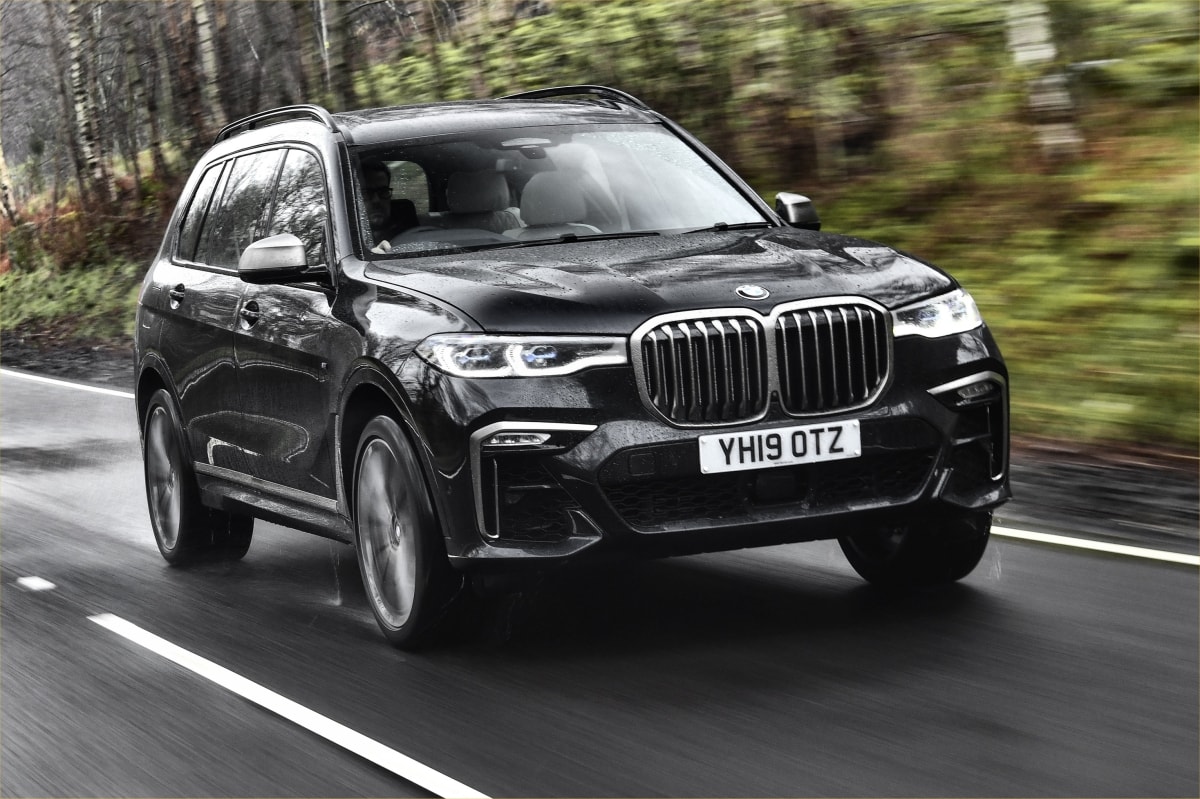 Off-roaders are growing in popularity in our sector, especially at the top end of the market. There are a number of factors driving this trend. One is overseas visitors, especially those from the US or the Middle East, where SUVs are now the dominant big cars. So it makes sense that those people prefer to be chauffeured in something familiar.
Also, there's a cool vibe about SUVs – increasingly, musicians, actors and sundry celebs would rather step out of a big, imposing 4×4 than clamber out of a low-slung luxury limo. And that creates a halo effect around the SUVs – regular customers want a bit of the star quality.
In this sector, Range Rover has ruled supreme for many years. But the German brands have grown wise to this. Last year, Audi entered the fray with the roomy, low-riding Q8, and Mercedes-Benz has just revealed a more refined new version of its biggest off-roader, the GLS.
And into this sector also, inevitably, comes BMW, with the X7. As a six- or seven-seater, it's closer in concept to the standard-wheelbase Range Rover or, especially, the Mercedes GLS rather than the Range Rover LWB or the Audi Q8, which are strictly four-seater models without a third row of seats. Prices start from £72,155, so the X7 is clearly aimed as a 7-series/S-Class substitute.
Exterior styling
Early pre-launch spyshots and artists' impressions suggested a massive, rather brutal design. But in the flesh, it's a much more subtle piece of styling. Yes, it's a bold looking vehicle, with a massive, square version of the BMW kidney grille dominating the front of the car.
But the corners are rather smooth, and the car looks rather elegant for a vehicle of its size – and it is big, at more than 5.1m long and 2m wide. Fully body-coloured wheel arches house alloy wheels of 21in for the X7 xDrive30d we're testing, or 22in for the more powerful X7 xDrive50d.
Adaptive LED headlights and front foglamps are standard, giving elongated headlamps either side of the grille. Laser lights are optional – this system employs a spotlight with Selective Beam delivering a non-dazzling high beam range of 600m.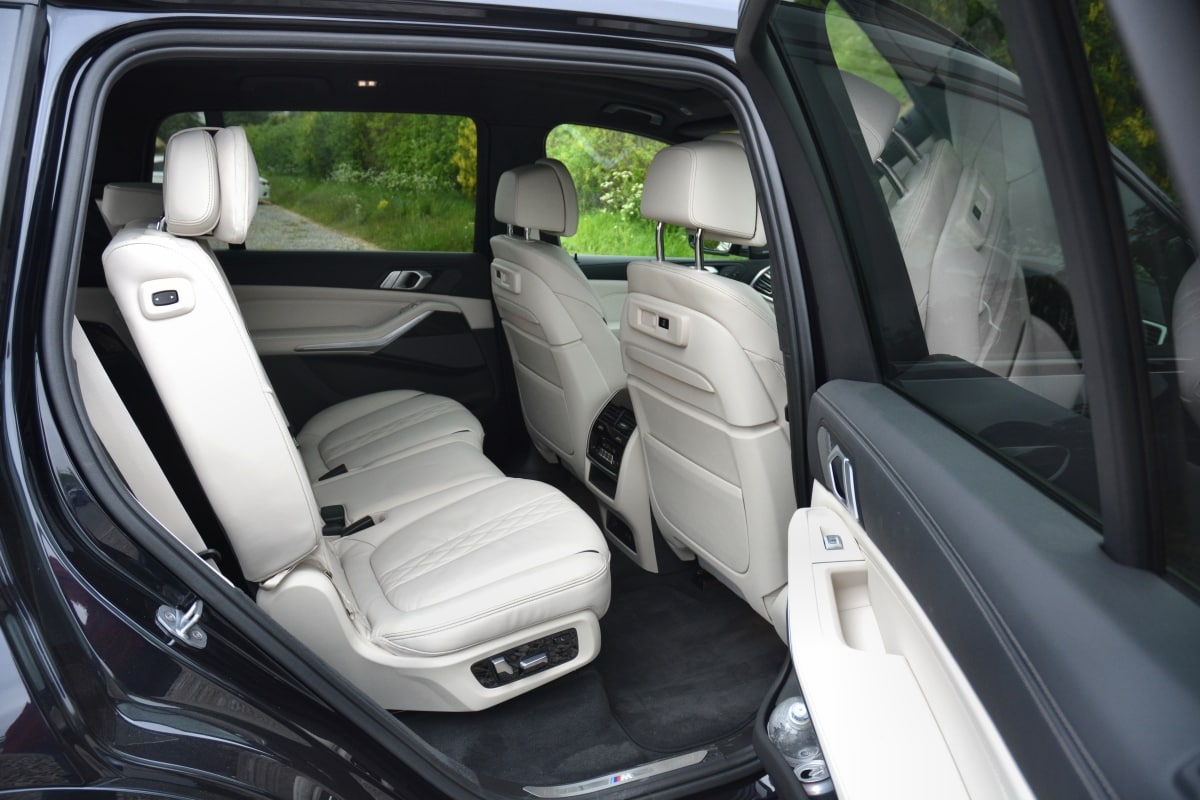 Interior layout
The X7 has clearly been designed for chauffeuring in mind. The rear doors are longer than the front doors making for easy rear cabin access. A standard-fit glass roof adds to the spacious feel. Three rows of seats mean there's room for seven adults to sit comfortably. The third row has two full-size seats with space between them – a first for a 4×4. You should not have any trouble getting the X7 registered as a seven-seater, given that eventful licences the smaller Volvo XC90.
On our test car, the second row was a three-seater bench, although you can specify two individual 'captain's chairs' that offer the same functionality and adjustment range as the front seats, including integrated armrests, comfort cushions and cup-holders extended from the front centre console.
The seating is very flexible. With either the bench or the individual chairs, the second-row seats can slide forward or back by 14.5mm in order to give the third row occupants more legroom, or to maximise the large boot space (750 litres with the third row down, but just 32 litres in seven-seat mode, which is still enough for a couple of cases).
There's no grappling with awkward levers and knobs as all seat adjustment is electric. The backrests in the second and third rows fold down electrically, and the second row seats can also be tilted forward to assist third-row access. The second-row seats can be returned to their upright position at the touch of a button.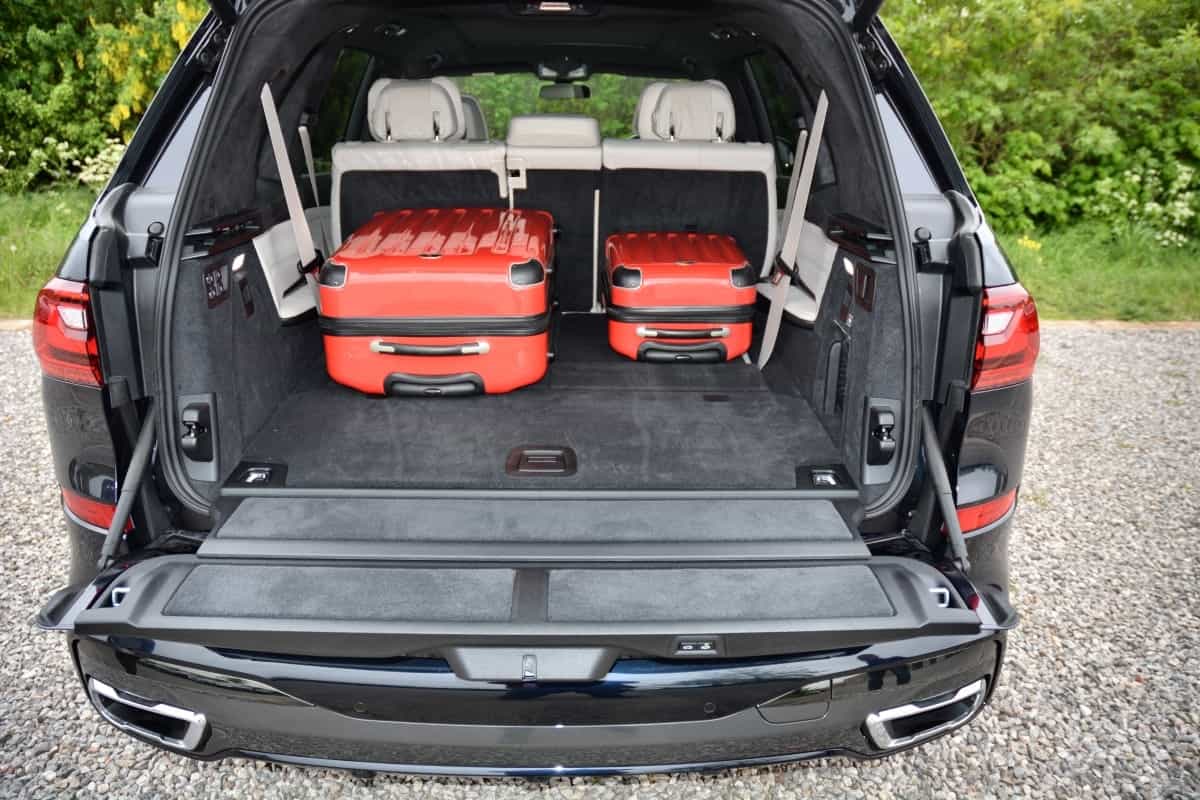 The second row seats can also be moved back and forth using buttons in the driver's door, a neat chauffeur touch. And the backrests of the second- and third-row seats can also be folded down and back up again, using buttons in the boot. And the second-row seats can also be moved fore and aft from the boot, making this a very user-friendly seven-seater.
The X7 comes with air suspension as standard, and another button in the boot allows the car to be lowered to make loading easier. You can also do this via the key or from a rocker switch in the centre console. The boot is accessed via a two-section split tailgate, like a Range Rover, so there's no load lip at all. Both parts of the clamshell door have electric opening and closing as standard.
Instrument panel
The interior is an evolution of the 7-series cockpit. It includes a fully-digital instrument cluster and a central satnav, each with a 12.3in screen. The satnav screen flows from the dashboard screen, and is a bigger unit than that of the 7-series. BMW seems to have missed a trick by not incorporating the X7 cockpit layout on its 7-series facelift. The X7's system is beautiful and clear, with some of the best and most readable maps we've ever seen.
The iDrive Controller is retained, to the relief of those who don't like everything touch-screen. A sports leather steering wheel is also standard, with adaptive cruise controls and infotainment accessed by buttons, just like on the 7-series.
The engine line-up includes a newly developed six-cylinder in-line petrol unit for the 340PS BMW X7 xDrive 40i and a pair of six-cylinder in-line diesels to power the 265PS X7 xDrive 30d and 400PS X7 M50d M Performance models. All versions have eight-speed Steptronic transmission – this is a proven powertrain and will feel familiar if you've driven a 7-series or a 6-series GT. It's smooth and quiet, with plenty of torque.
Our test route was in Scotland, giving us a blend of twisty roads and decent A roads, plus a few towns with narrow streets to pass through. On the country lanes, the air suspension really comes into its own, handling rough surfaces very efficiently – providing you keep the car in Comfort mode, to maximise the soft ride. Optional active steering helps keep a neat line through corners too.
Finally, fuel economy. BMW is already using WLTP figures – 33.2mpg combined (or 43.5mpg on the old NEDC system). On test, we managed something very close to the WLTP figure, at 30.2mpg, at a slightly high average speed of 37.8mph.
That was achieved using all three drive modes for a time – Sport, Comfort and EcoPro. The economy is displayed graphically on screen, and there was a notable spike on EcoPro, so the claimed figure is within reach, providing you settle for a slightly more sluggish throttle response and more aggressive braking.
Verdict
This is a serious contender for the burgeoning luxury SUV sector. It's nimble for such a big car, with the sort of precise steering you'd expect from a BMW. And it feels a lot quieter and more refined than its smaller X5 stablemate.
Range Rover standard? Pretty close – and in many ways, it's better. Those flexible seats are much nicer to operate, and the satnav system is orders of magnitude better than JLR's systems. So that makes the X7 a genuine Range Rover rival, high on practicality, especially if you need a six- or seven-seater. Mercedes' new GLS also looks like a direct rival to the X7.
It's a different beast to its other main rival, the Audi Q8. The Audi is a strictly two rows of seating car, so it scores on luxury if you're only carrying one or two passengers.
On the downside, it's not the cleanest car on the market, with CO2 emissions of 171g/km NEDC, and that rises dramatically to 223g/km on the new WLTP standard, which becomes the industry benchmark standard from April 2020. Tax regimes will need to be adjusted to account for this.
---
DATA
BMW X7 xDrive 30d M Sport
| | |
| --- | --- |
| Price as tested | £74,815 |
| Engine | 2,993cc 6-cylinder 24v turbodiesel |
| Transmission | 8-speed auto, all-wheel drive |
| Power | 265PS at 4,000rpm |
| Torque | 620Nm at 2,000-2,500rpm |
| 0-62mph | 7.0sec |
| Top speed | 141mph |
| Combined economy | 43.5mpg |
| CO2 emissions | 171g/km |
| Length | 5,151mm |
| Width | 2,000mm |
| Height | 1,805mm |
| Wheelbase | 3,105mm |
| Loadspace | 750 litres (5 seats); 326 litres (7 seats) |
| Fuel tank | 80 litres |
| Warranty | 36 months / unlimited mileage |
| VED Band | J |