Hyundai Ioniq Electric Premium SE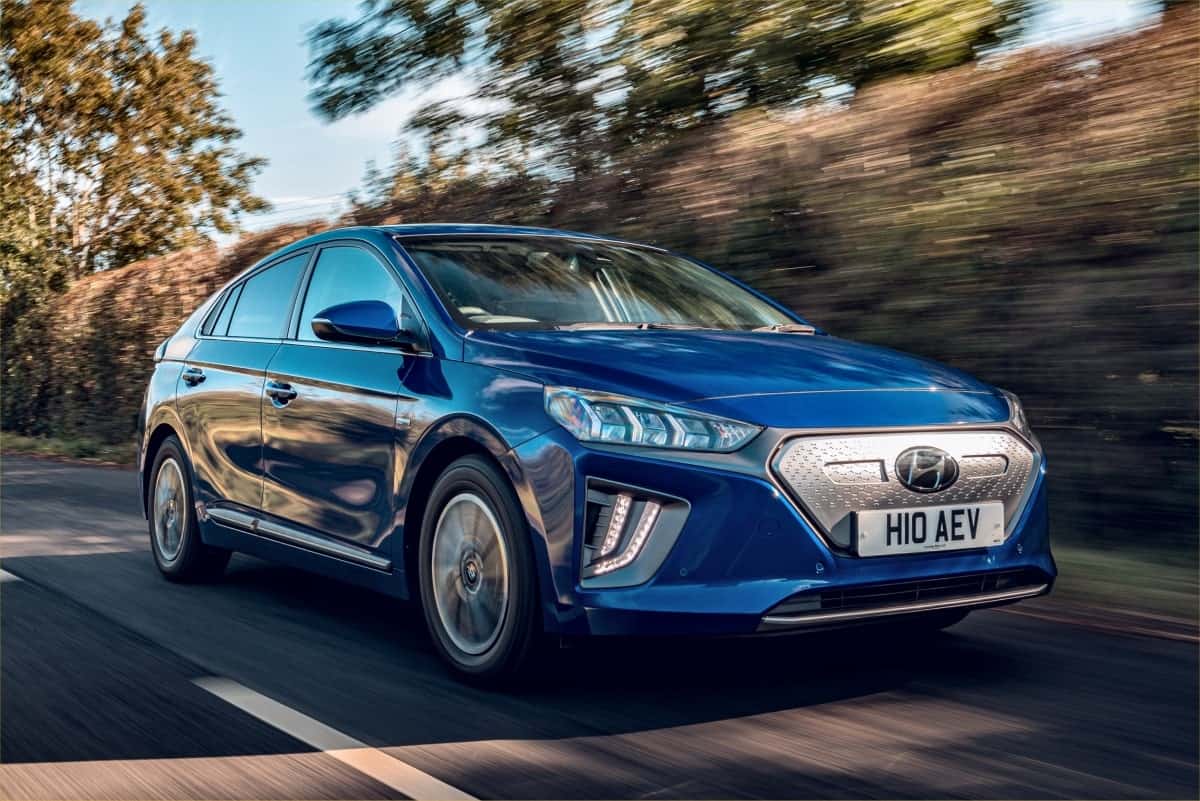 Hyundai launched the Ioniq back in 2016. It came in three flavours: all-electric, a plug-in hybrid and a regular – or "self-charging" hybrid. That was a smart move, and still is. Having different power units in one body makes sense, and Ioniq started taking sales from its clearest rival, the Toyota Prius – especially as the Prius didn't have a pure EV version.
But you can't stand still in the EV market. Stand still long enough, and the competition will catch up with you – and then overtake you if you're not careful. The Ioniq was starting to be outdone by other EVs – especially in terms of range. But spurred by new EV market entrants such as Peugeot's e-2008 and e-208, the Vauxhall Corsa-e and VW's e-Golf, Hyundai has given the Ioniq Electric, a boost in power and smart regenerative braking. It has also had an aesthetic tweak here and there.
The Ioniq Electric is a pleasant-looking, inoffensive, five-door hatchback. Up front, the model has been updated with a pattern on the closed grille and a new bumper design, creating a more dynamic appearance. The car has also been fitted with new LED lights that make the Hyundai stand out from the crowd at night.
Cabin comfort
The five-door Ioniq Electric isn't the biggest car around. It'll seat four adults, no worries, but it'll cope with five, albeit less comfortably. You're pleasantly cosseted in the Hyundai's cabin, although driver and front-seat passenger get the most generous slice of the pie. Headroom is decent, but there's more in the rear of conventional hatchbacks, such as Skoda's Octavia. Mind you; visibility isn't bad, so you don't feel claustrophobic.
Furthermore, with an assortment of storage areas aboard, you won't have any reservations stashing away any odd and ends. Also, the Hyundai's rear seats divide 60:40 and fold to allow for extra loading. With the seats up, there are only 357 litres of boot space, as the Ioniq's batteries eat into the cargo area – making it quite shallow. A substantial load lip makes it a bit of a pain to lift heavy items into the boot, too.
The Ioniq's cabin styling is a tad conservative, but it's still a lovely place to be. The switchgear has a quality, solid feel, and lots of soft-touch materials are used on the hatchback's interior surfaces. Sure, as with many cars, you'll discover some cheap and nasty plastics, but in the Ioniq, these are in relatively obscure areas. Everything is logically arranged, too, and the cabin is easy to get to grips with.
Infotainment upgrade
You should also know that there's been a major infotainment enhancement – in the form of a 10.25in touchscreen unit. It's the same wide display that's in the updated Hyundai Kona – and it's a top bit of tech. It's quick to react to inputs, and it comes with graphics that are bright and clear. Other developments include revamped instruments complete with mood lighting.
On the road, the latest Ioniq rides well over potholes. It's never great travelling across broken blacktop, but we have little choice in our wonderful, but rather congested nation. The pliant ride is thanks to the Hyundai's decent suspension arrangement. Indeed, the system comes into its own even more on motorway drives, where a relaxed, cruising experience is to be had.
On the road
Not only is the five-door electric car a competent one; it also handles appealingly. The steering reacts without delay, although there's little in the way of feel. The hatchback's ability to stay virtually flat in corners makes up for this, though – and it's easy to manoeuvre in constricted areas due to its relatively compact hatchback form. Parking is a pushover, too. Ultimately, there's not a lot to frown on regarding the way this Korean machine behaves.
Safety is something Hyundai doesn't take lightly. The Ioniq Electric is kitted out with features that include: Blind Spot Detection, Autonomous Emergency Braking, Electronic Stability Control, multiple airbags, and Lane Departure Warning with Lane Keep Assist. The Ioniq also scored the full five stars in Euro NCAP crash tests. Security is nothing to be worried about either, because Hyundai fits a Thatcham category 2 immobiliser or category 1 alarm to cars produced for the British market.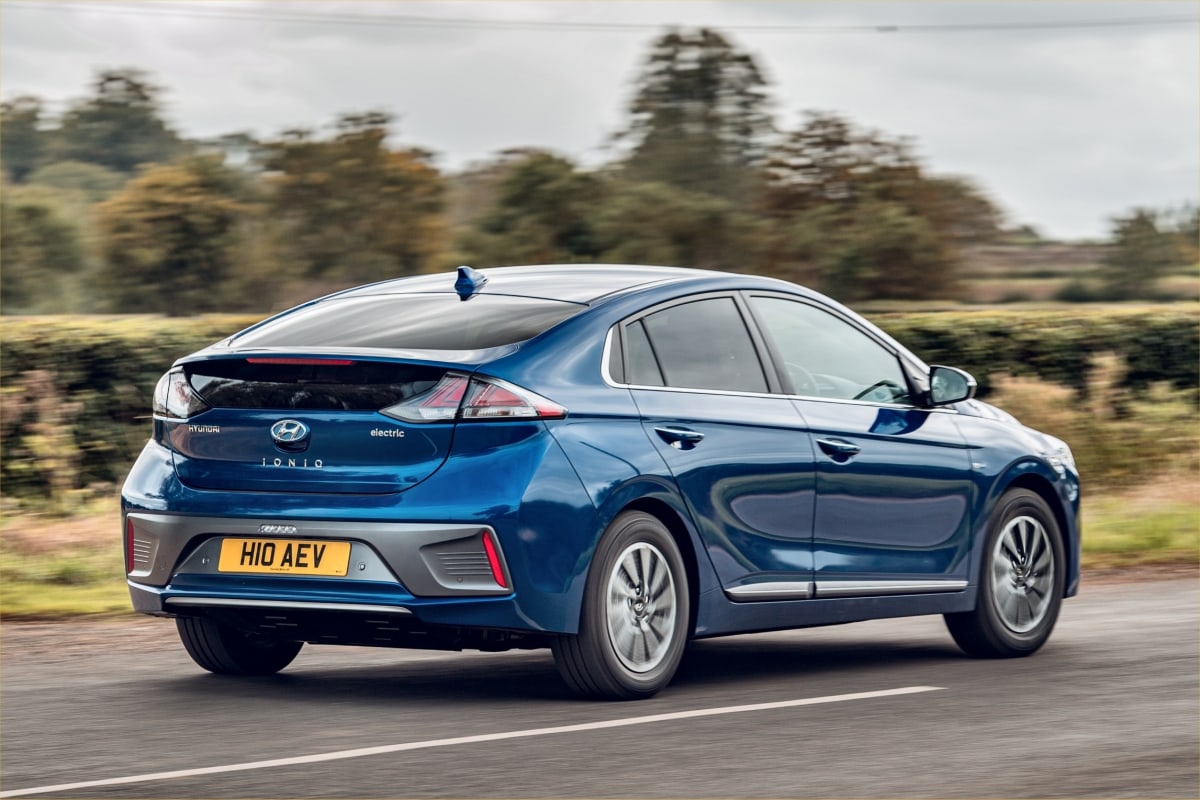 The all-electric Ioniq doesn't hang around, so it can be surprisingly enjoyable. It's particularly nippy from a standing start, so you'll be leaving some motorists well behind at the lights. The zero to 62mph time of 9.7sec doesn't sound that amazing, but, trust me, it feels quick. It's all down to the South Korean's electric motor delivering 136PS. It used to push out only 120PS, so the instantaneous response is even more noticeable than before.
Torque is up, too – rising from 295Nm to 395Nm. Alas, as with pretty much all electrically propelled cars, the response gets less impressive after 50mph. That said, the Ioniq Electric is a cool, silent, motorway cruiser. What's more, with zero carbon dioxide (CO2) emissions, you'll still be doing your thing for our environment. Oh, and some more good news – you'll be immune from the London Ultra-Low Emission Zone (ULEZ) payment.
Indeed, as an all-electric car, it's always going to be more economical than a conventional combustion-engine propelled vehicle. The Hyundai's bigger battery pack and single electric motor now give a range of 193 miles – and you can charge it up at public charging stations or at home. I only managed 168 miles on a full charge, but it was a rainy, cold day, so the windscreen wipers and heating must have taken their toll.
Electric recharging
The time it takes to charge up depends on the power on hand. It takes around six hours for a complete charge with a home wall box, or a yawn-inducing 19 hours if you use a three-pin socket. (This is why Hyundai recommends you get a dedicated charging solution installed at home). But you only need to hang around for 45 minutes if you have access to a state-of-the-art public rapid charger.
You can even summon up some energy without plugging in by using the car's smart regenerative braking tech. This observes gradients and the traffic to best govern the rate of energy recaptured through the Hyundai's braking system. You can also tweak the recapture level manually, so the Ioniq can bring itself to a halt using this method, letting you drive it using only one pedal.
Verdict
There is no doubt that the Ioniq Electric is a relatively refined vehicle. It might have been around for four years, but it still feels up to taking on the fresh decade. The interior looks like it'll handle a battering for eons, and noise, vibration, road and wind roar are not a concern. The only sound to slightly intrude is the drone of the electric motor, but this is the case with many EVs.
The general suppression of the other noises, though, is clearly down to the decent materials in the cabin as well as well-placed insulation. As tested here in Electric Premium SE form, the car comes fitted with leather upholstery as well as goodies such as climate control and heated seats. Overall, the model is a laidback place to be. Its electric powertrain means it's quiet enough for you to have an undisturbed tête-à-tête with your passengers or to indulge in often-undervalued peace.
What's more, Hyundai has a respectable image. Indeed, you still see quite a few older Hyundais motoring about today. That's testament to the Korean firm's engineering and, to some extent, its build quality. Mass-manufactured electric cars are still in their formative years, though. So, at this juncture, it's tough to estimate how reliable the Ioniq Electric's motor and the battery will be. But it benefits from Hyundai's five-year /100,000 mile warranty (for private hire use) and a reassuring eight-year/125,000 miles battery guarantee.
And when it comes to the inside of the Ioniq, the seats are nicely bolstered. Then there are the generally good textures and materials fitted around the cabin. All this taken into consideration, the Ioniq's interior should stand up to years of wear and tear. Only the shallow boot and large load lip rain on an otherwise sunny parade.
---
DATA
Hyundai Ioniq Electric Premium SE
| | |
| --- | --- |
| Price as tested: | £34,950 |
| Engine | 38.3kWh battery, single electric motor |
| Transmission | Single speed auto, front-wheel drive |
| Power | 136PS |
| Torque | 395Nm |
| 0-62mph | 9.7sec |
| Top speed | 103mph |
| EV range | 193 miles |
| Charging Time | 45mins (10-80%, 50kW) |
| CO2 emissions | 0g/km |
| Length | 4,470mm |
| Width | 1,820mm |
| Height | 1,450mm |
| Wheelbase | 2,700mm |
| Loadspace | 357 litres |
| Warranty | 60 months / 100,000 miles |
| VED Band | A |