Kia Soul EV First Edition 64 kWh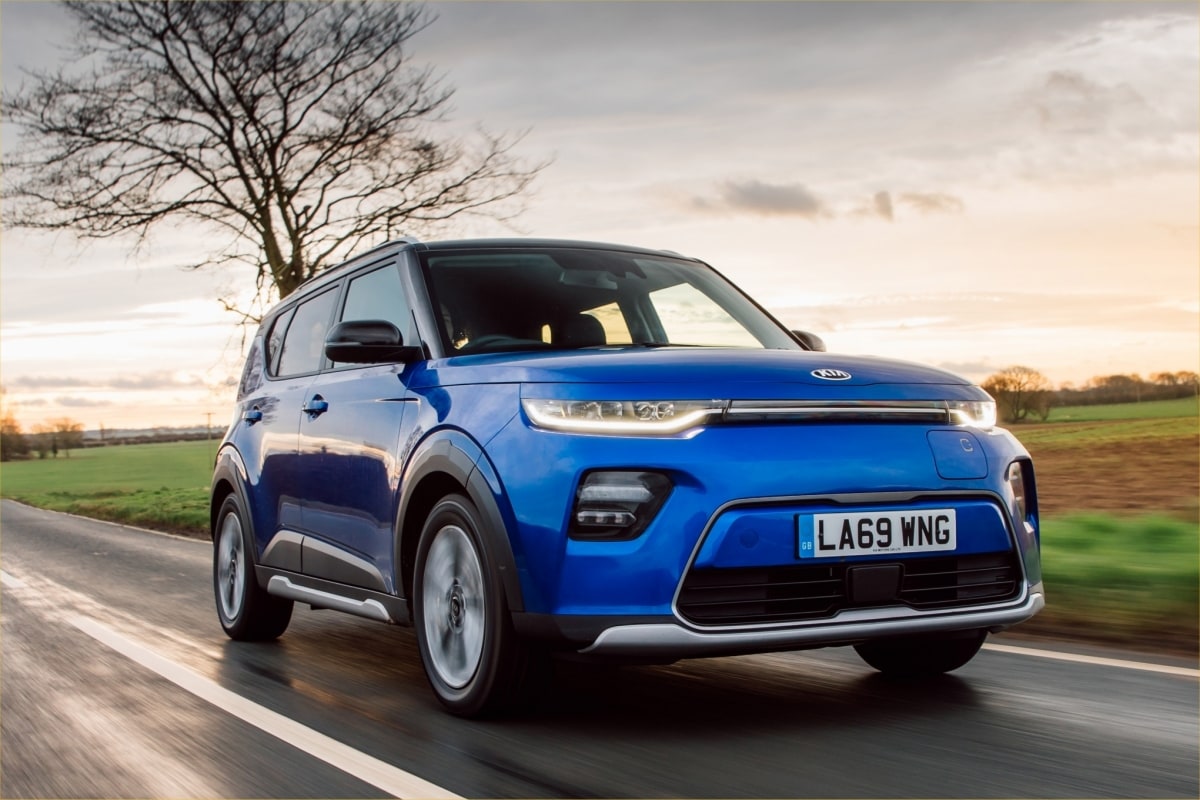 Korean car manufacturers are establishing themselves at the vanguard of moves toward electrification. Helped by a buoyant hi-tech sector, with companies such as LG at the forefront of battery technology, it's no surprise to see Kia, and its sister company Hyundai, among the first automakers to offer practical and competent EVs.
Kia hit the sweet spot last year with its e-Niro, though sales in 2019 were hampered by a lack of supply. That's changing now – Kia has a tenfold increase in volume available, with 8,000 e-Niros heading for the UK in 2020. Now the e-Niro is being joined by a second all-electric model – The Soul EV – as Kia strengthens its presence in the zero-emissions sector. Slightly smaller than the e-Niro, it shares the same powertrain and thus offers similar performance.
A 64kWh electric drivetrain gives the equivalent of 201bhp. The lithium-ion polymer battery pack gives a combined driving range of 280 miles, which rises to a staggering 402 miles in a city environment, Kia claims.
The boxy Soul compact SUV has been on sale for a decade now, and this is the third-generation model. The car is all-new, yet retains the distinctive look and stance of the earlier versions.
Interior space
At 4,220mm long, the new Soul is 80mm longer than the previous version, but 155mm shorter than the e-Niro's 4,375mm. But it's a shade wider and taller, and the squared-off rear means rear seat headroom is extremely good. Rear seat access is very good through wide, square doors, and there's ample legroom too. A 30mm longer wheelbase has aided rear legroom too. The battery pack is mounted beneath the cabin, giving the Soul EV a lower centre of gravity.
The internal compromise is in the boot, where there's less capacity than an e-Niro (315 litres against 451 litres). This does limit the Soul EV's usability for work like airport runs. But as an urban private hire vehicle, it's a comfortable four-seater and a workable five-seater, with comfortable black leather seats.
Electric range
Kia's claimed range will work out a bit less in practice. Realistically, you're looking at around 230 miles of practical range. Colder temperatures and the need to turn on heaters and headlamps all suck up power, compromising range. Same with air conditioning on a warm day.
And as with all EVs, to maximise battery life, it's best to recharge to around 80% most of the time, not 100%. Nevertheless, our experience of testing electric cars in London suggests that 230 miles will keep you going for a couple of days if you're just doing urban work. London's average speed is around 10mph, so it's difficult to bring range anxiety into play, even in a 10-hour shift.
In real-world testing, we took the Soul EV on a 46-mile test drive across mixed roads, including country lanes, some urban traffic and a short stretch of motorway. Conditions were not perfect – it was a cold and rainy day, and part of the route took us through some slushy snow. Nevertheless, the range reduced in line with miles covered – in fact a little more optimistically.
Starting off with 229 miles in the battery "tank", by the end of the route we were down to 185 miles. So 44 miles of range had been used up on a 46-mile trip. Such accuracy is encouraging.
Driving modes
There are four drive modes: Normal, Eco, Eco+ and Sport. An innovative smart regeneration braking system carries over from the e-Niro. This is operated by paddle shifters behind the steering wheel, and offers four regeneration levels (zero to three). Crank it up to the three and there's a lot more rolling resistance – you need to keep your foot on the pedal to stop the Soul EV from grinding to a halt.
The ease of switching via the paddles mean your driving technique will have to change – switching in and out of regen modes depending on whether you want to maximise range or give your passengers the smoothest ride.
As is the way with EVs, there is instant torque under your right foot. The car accelerates from 0-62mph in 7.6sec. Kia has tried to make the Soul EV more engaging to drive by tightening the steering rack, which helps urban manoeuvrability too. It's very quiet, with almost no motor noise, and very little wind noise thanks to a flat underfloor.
Battery recharging
Recharging is simple enough. Combined Charging System (CCS) DC fast-charging capability is standard, and the charging socket is found behind a small panel at the front of the car. The typically bulky charge cable is stashed below the boot floor.
The Kia Soul EV can be recharged to 80% of battery life in 54 minutes using a 100kW charger, or 75 minutes with a 50kW charger. To optimise shifts and driver breaks, it may be easier to opt for a daily 30-minute "flash and dash", which will add about 100 miles of range on a 100kW rapid charger.
At launch, just one model is available – a high-spec "First Edition" version, which we're testing here. Behind the wheel there's a 10.25in floating touchscreen infotainment system, and a 7.0in digital dashboard panel, as well as a head-up display, a new feature on Soul. The main screen also incorporates a reversing camera display.
Android Auto and Apple CarPlay smartphone compatibility as standard, as well as a 10-speaker Harman Kardon premium sound system and a wireless smartphone charger.
Kia's seven-year, 100,000-mile warranty applies, even for private hire use. The warranty is transferrable, and covers the electric motor and battery pack.
Verdict
We know we have to go electric, and it's clear that most manufacturers' next wave of EV offerings are going to be SUVs and crossovers – because that's what the market demands.
The Kia Soul EV is a compact vehicle – if it wasn't an EV, we might consider it a borderline vehicle for PHV licensing. But it does have a tardis-like nature, with much of the overall length being a useable space, with very good headroom and more than adequate legroom. The only drawback is the limited boot.
Crucially, the Soul EV has the range required for private hire use, even for drivers who don't have access to overnight charging and have to rely on available infrastructure. With a practical 230-mile-plus range, you should be able to get by on a recharge every couple of days.
At £34,295 including £3,000 plug-in car grant, it's affordable too. That's only £700 less than the e-Niro at £34.995 (including PICG). The e-Niro has comparable interior passenger space, but a bigger boot, though the Soul EV's more quirky looks might tip the scales for you.
---
DATA
Kia Soul EV First Edition 64 kWh    
| | |
| --- | --- |
| Price | £34,295 (including £3,000 PICG) |
| Specification | |
| Engine | Electric motor, 62KwH Lithium Ion battery |
| Transmission | Single-speed direct front-wheel drive |
| Power | 201bhp |
| Torque | 395Nm |
| 0-62mph | 7.6 sec |
| Top speed | 104mph |
| Electric Range | 280 miles |
| CO2 emissions | 0g/km |
| Length | 4,220mm |
| Wheelbase | 2,600mm |
| Width | 1,825mm |
| Height | 1,605mm |
| Luggage volume | 315 litres |
| Warranty | 7 years / 100,000 miles |
| Insurance Group | 34 |
| VED Band | A |