Vauxhall Grandland X Hybrid4
Ever been off-roading in an electric car? Piloting the new Grandland X Hybrid4 through rutted tracks and muddy pools was a first – and it's one way Vauxhall feels the car can show its capabilities.
And I guess if we're heading for an electric future, even the joy of off-roading will have to be powered by battery rather than diesel. And as its flagship SUV, the Grandland X Hybrid 4 is one of the key steps in Vauxhall's electrification strategy.
A Corsa e battery-electric hatchback has been launched, and this plug-in hybrid gives the marque a ULEZ-compliant car that is the right size for use as a private hire vehicle. And Vauxhall has also just revealed an all-electric version of the Vivaro van and MPV, giving Vauxhall an important electric seven-seater.
The Grandland X arrived in 2017, based on the Peugeot 3008 compact SUV. It was one of the first cars to emerge from the PSA-Vauxhall takeover, and it's taken Vauxhall into the heart of the compact sports-utilities and crossover sector.
As we're seeing, manufacturers are electrifying their SUV models first and foremost – partly because the market demands them, and partly because it's easier to hide a bulky battery pack under the floor of a high-riding vehicle.
As a PHEV, the Grandland X Hybrid4 is ULEZ compliant as a private hire vehicle – you'll be able to register a new one as a minicab until the end of 2021. And its combination of room and refinement might just fit the bill as a replacement for a medium-sized diesel salon such as an Avensis or Octavia.
Interior space
As a load-carrier, it's a good package. Grandland X has a long wheelbase of 2,675mm, and that means decent legroom for three passengers in the back. Inevitably with a PHEV, the battery has to go somewhere, and that compromises the boot, giving a load volume of 390 litres, somewhat smaller than the 514 litres found in the internal combustion-engined Grandland X.
The interior is neat and well laid out. The dashboard has analogue gauges, with a digital information panel in between. Cruise control and radio controls are on the leather-trimmed steering wheel.
The interior is practical, finished in charcoal grey, with black carpets and some piano black and aluminium details. There's a panoramic sunroof, and a grey fabric headliner makes for a light feel inside the car.
Hybrid powertrain
The car's powertrain combines a 200hp, 1.6-litre turbocharged direct injection four-cylinder petrol engine and an electric drive system with two electric motors with a combined output of 109hp. This provides all-wheel drive, with the electric drivetrain powered by a 13.2kWh lithium-ion battery.
The front electric motor is coupled to an electrified eight-speed automatic transmission, while the second motor and differential are integrated into the electrically-powered rear axle, providing all-wheel traction on demand. It's no slouch – Grandland X Hybrid4 achieves 0-62 mph in just 5.9 seconds.
Together, the Euro 6d-Temp-compliant petrol engine and electric motors produce up to 300hp. According to the WLTP bench tests this results in a combined fuel consumption of 204mpg and emissions of 34g/km CO2.
Of course, the reality is somewhat different. On test, the reality is rather different. Over a 98-mile route, using a variety of drive modes, the Grandland X Hybrid4 returned 32.4mpg at an average speed of 27mph. That's not as good as the 40.2mpg at an average 29mph that we achieved on a 1.6-litre diesel Grandland X in 2017.
Clearly the more electric miles you can do, the better the fuel economy. In pure electric mode, the car has a range of 35 miles (according to WLTP), which is pretty good for the class. At London speeds, you can probably drive for three or four hours or so before the battery depletes, especially if you maximise the braking regeneration to steal a few more free electric miles. Vauxhall claims regeneration can increase the electric range by up to 10%.
Drive modes
The Grandland X has four drive modes. Most of the time, the car operates in Hybrid mode, which is aimed at optimising fuel consumption. The combustion engine and electric motors operate together or alternately, depending on driving conditions and driving style.
There is an e-save function that allows the driver to keep battery energy in reserve, so the car can pass through a zero-emissions zone at its destination, for example. The driver can choose to save 6 or 12 miles of range, or reserve all of the battery energy. By then switching to Electric mode, the car runs on the battery alone until it is depleted.
In Electric mode, power is mainly delivered by the rear electric motor but the front motor is activated when required, for example under strong acceleration. The top speed in pure electric drive is 84mph.
In All-Wheel Drive mode, the Grandland X Hybrid4 is driven by the front and rear wheels. Meanwhile Sport mode combines the power of the combustion engine and the electric motor for a dynamic driving style, giving a total power output of 300hp.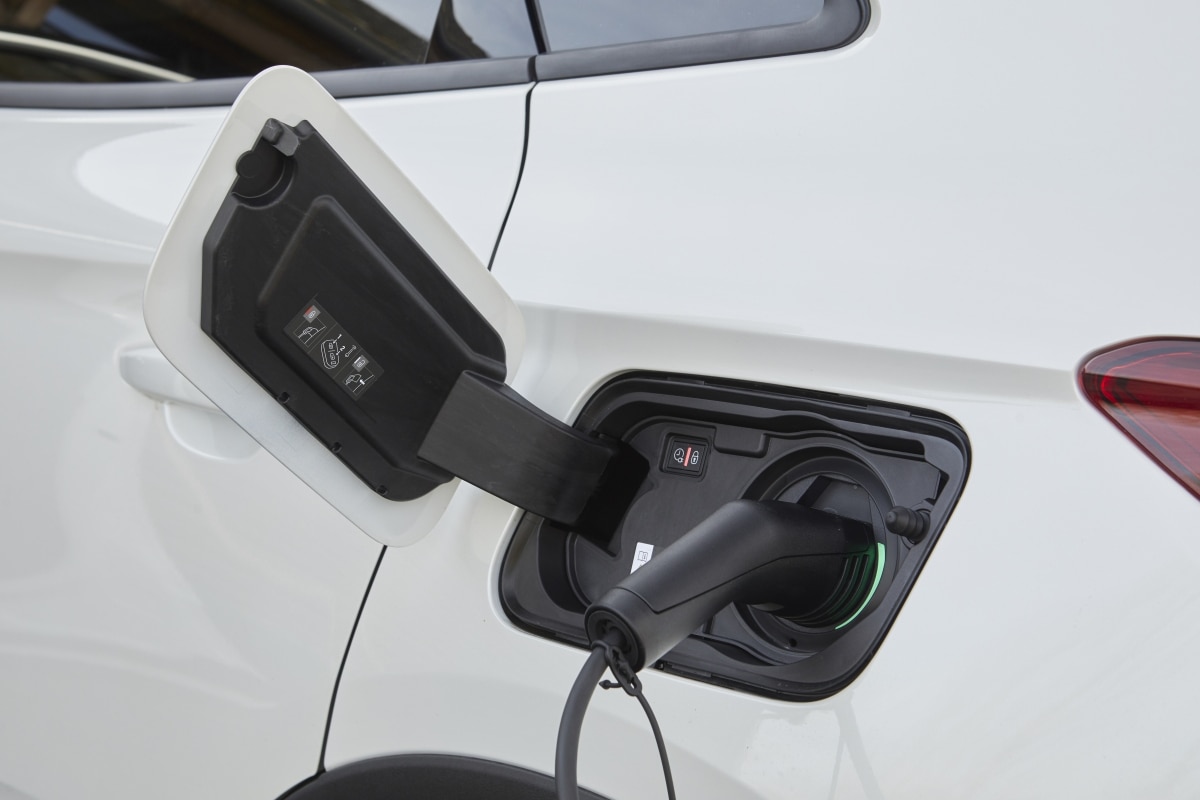 Charging offer
We mainly tested in Hybrid and Electric mode – and All-Wheel Drive for our off-road adventure – and the Grandland X is a smooth and quiet drive at all times. The underfloor battery pack gives a low centre of gravity and the car feels stable when cornering. It's roomy in the back too, with better headroom than most mid-sized saloons.
The Grandland X Hybrid4 comes with a 3.7kW on-board charger, with an optional 7.4kW version also available. With a 7.0kW wallbox, you can fully charge the battery in less than two hours.
Vauxhall also has an exclusive charging offer available on Grandland X Hybrid4, whereby customers will receive a free six-month membership to the Polar charging network, with more than 7,000 charging points nationwide, including over 400 rapid charge points.
Most of the charging points are free to use, while the membership offer allows customers to avoid any service charge and only pay for the electricity consumed. Prices start from 12p per kWh, which is cheaper than the cost of charging at home. After the free six-month period, customers pay just £7.85 per month, and you can cancel at any point.
Verdict
The Grandland X was a great start to Vauxhall's new existence within the PSA empire, and as the world becomes ever-more SUV-shaped, it's becoming a major seller for the brand.
Plug-in hybrids are something of a stop-gap on the journey to electric – the Government's over-ambitious plans to remove fossil fuels from the new car market by 2035 also sees PHEVs get the chop. But for a lot of people they do a good job – a low-mileage commuter could run almost entirely on electricity.
For private hire, it's a bit less simple. A diesel will give you better fuel economy over a typical day. But compliance is all, and this is one of the better volume-brand PHEVs on the market.
---
DATA
Vauxhall Grandland X Hybrid4
| | |
| --- | --- |
| Price | £36,790 |
| Specification | |
| Engine | 1.6-litre 4-cylinder petrol and twin electric motors |
| Transmission | Eight-speed automatic, front drive, electric motors on front and rear axles |
| Combined power | 300hp at 6,000rpm |
| Combined torque | 520Nm at 3,000rpm |
| Combined economy (WLTP) | 204.0mpg |
| CO2 emissions (NEDC) | 34g/km |
| Top speed | 146mph |
| Top speed (electric only) | 84mph |
| 0-62mph | 5.9sec |
| Electric range | 35 miles |
| Length | 4,477mm |
| Width | 1,856mm |
| Height | 1,609mm |
| Wheelbase | 2,675mm |
| Loadspace | 390 litres |
| Fuel tank | 43 litres |
| Warranty | 3 years / 60,000 miles |
| VED Band | B |