Mercedes-Benz S560eL EQ Power AMG Line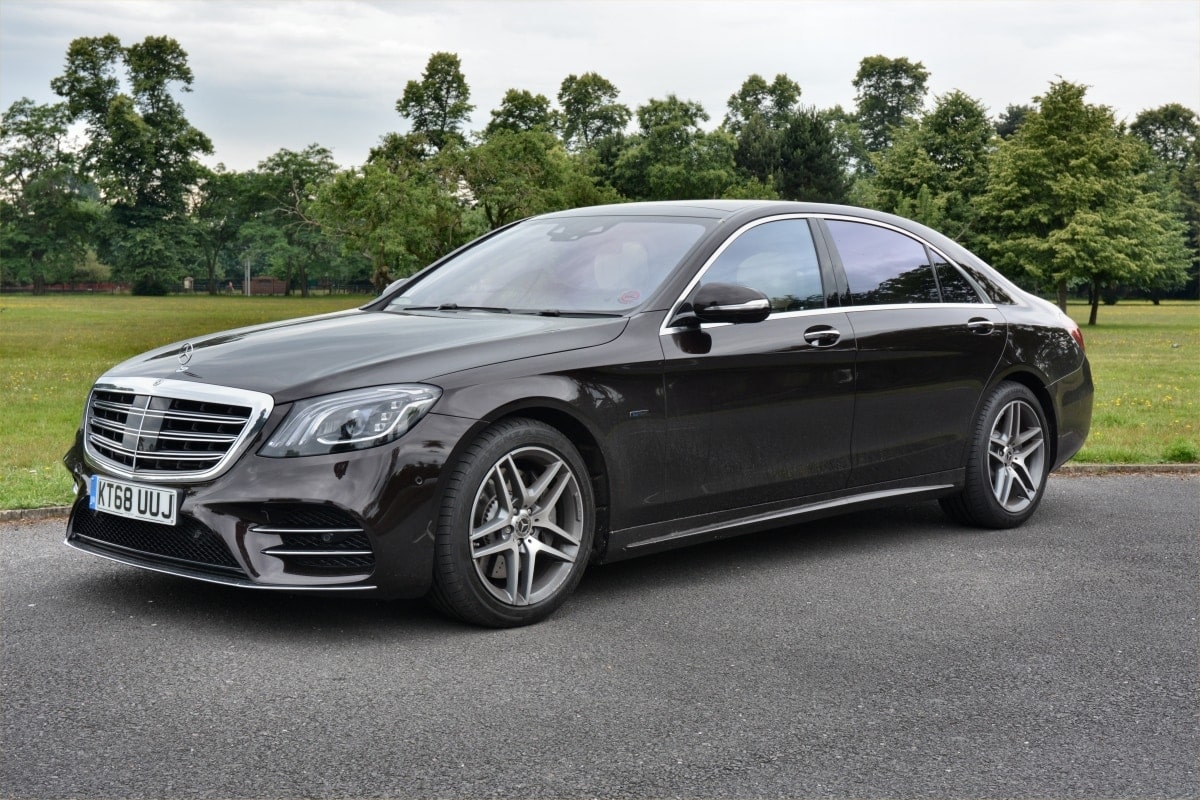 As facelifts go, the 2017 upgrade for the Mercedes-Benz S-Class was a subtle one. A new radiator grille and some super-powerful multibeam LED headlights – but beyond that, it was business as usual for the Stuttgart flagship.
But the big changes are under the bonnet. Not only were petrol and diesel engines upgraded, but a new, second-generation plug-in hybrid S-Class has joined the range, with the new S560eL replacing the old S500e.
Take-up for the S500e was low when it was launched in 2014. The car mated a V6 petrol engine with an electric motor, but only offered about 20 miles of electric range – and it was expensive. And crucially, there wasn't the pressure on operators to buy the car, as the new ULEZ rules were not even on the horizon.
Now Mercedes has launched a news-Class PHEV, the S560eL. It's still not cheap – list price is pushing six figures – and like its rival BMW 745Le, it is as much focused on performance as it is on electric range.
But it is ULEZ-compliant, and alongside the new BMW 745Le, chauffeurs looking to buy new cars that comply with London ULEZ rules – for the next couple of years – have some actual choices. You can now no longer register a new non-PHEV chauffeur car in London – so if you want a new S-Class, the S560eL is the only game in town.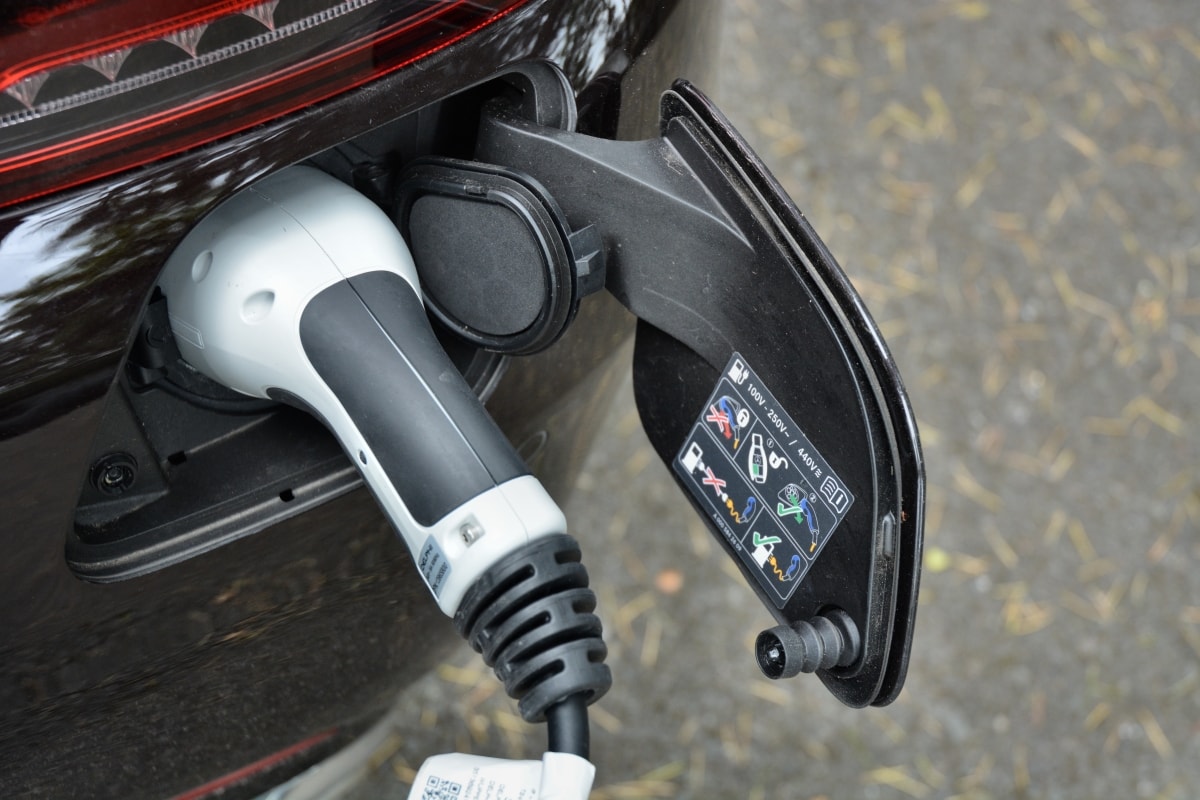 The S560eL hardly reveals its PHEV status. Other than badging, even the electric charge socket is discreet, mounted in behind a small flap on the rear bumper.
Mercedes has incorporated much of the Intelligent Drive autonomous technology, first seen on the E-Class, into the bigger saloon.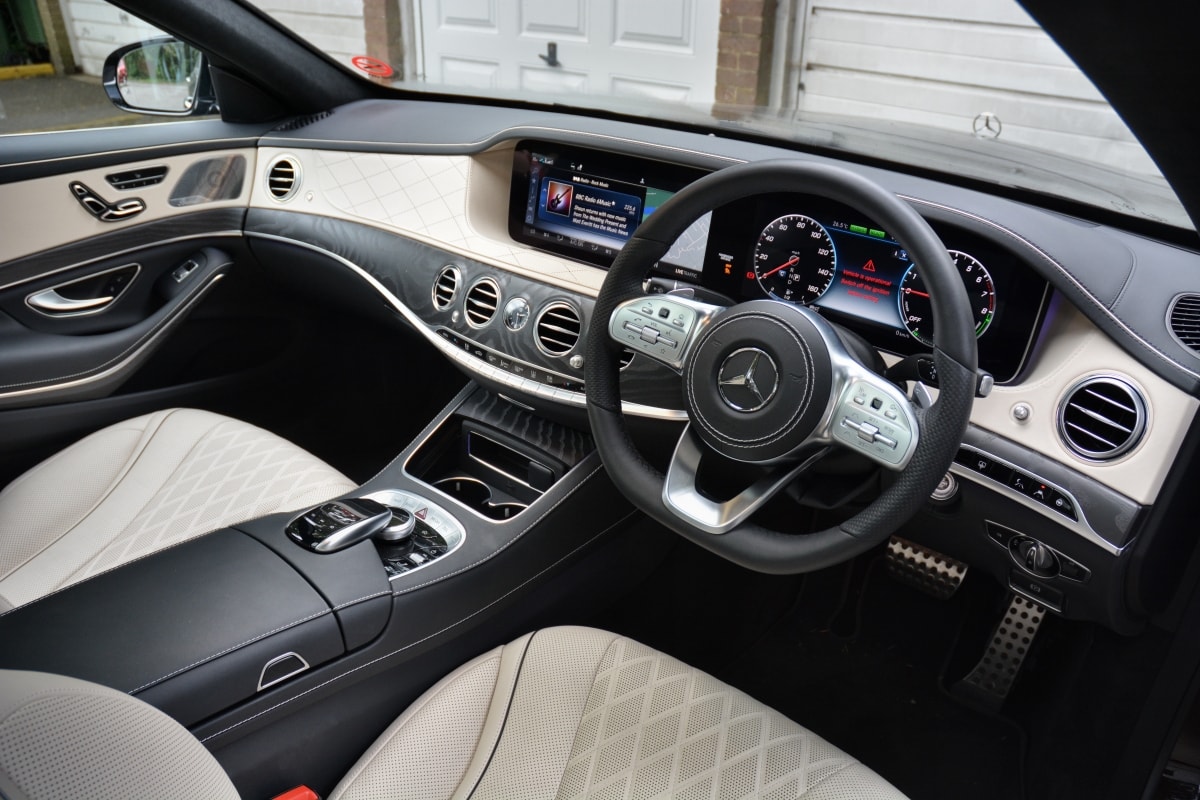 Interior upgrades
The interior retains the wide digital panels, comprising two 12.3in screens, though these are now combined under a single, seamless glass, as on the E-Class. The big screen is the sharpest in the business. The satnav system has been enhanced to give more comprehensive information about traffic problems. We're delighted that the Comand controller has been retained – we much prefer this to touch screen.
As before, LED ambient interior lighting is fitted, but this now offers 64 colours, as in the E-Class. An extended range of trim colours and materials is offered. These include open-pore woods as well as leather-trimmed door linings and waistlines, depending on the equipment level.
Powertrain upgrades
On the road, the S-Class retains its grand, imposing feel – there's something about the car that makes it feel bigger and more impressive than its key rivals.
The S560eL is quite a performer, with a more meaty powertrain combination than before. The old S500e mated a 329bhp V6 petrol engine with a 114bhp electric motor, but the S560eL upgrades to a 362bhp petrol six, and even the electric motor has more grunt – 121bhp. This gives a total system output of 470bhp, and torque of 700Nm. Thus, 0-62mph is achieved in 5.0sec. Not quite Tesla-fast, but as fast as you're ever going to need.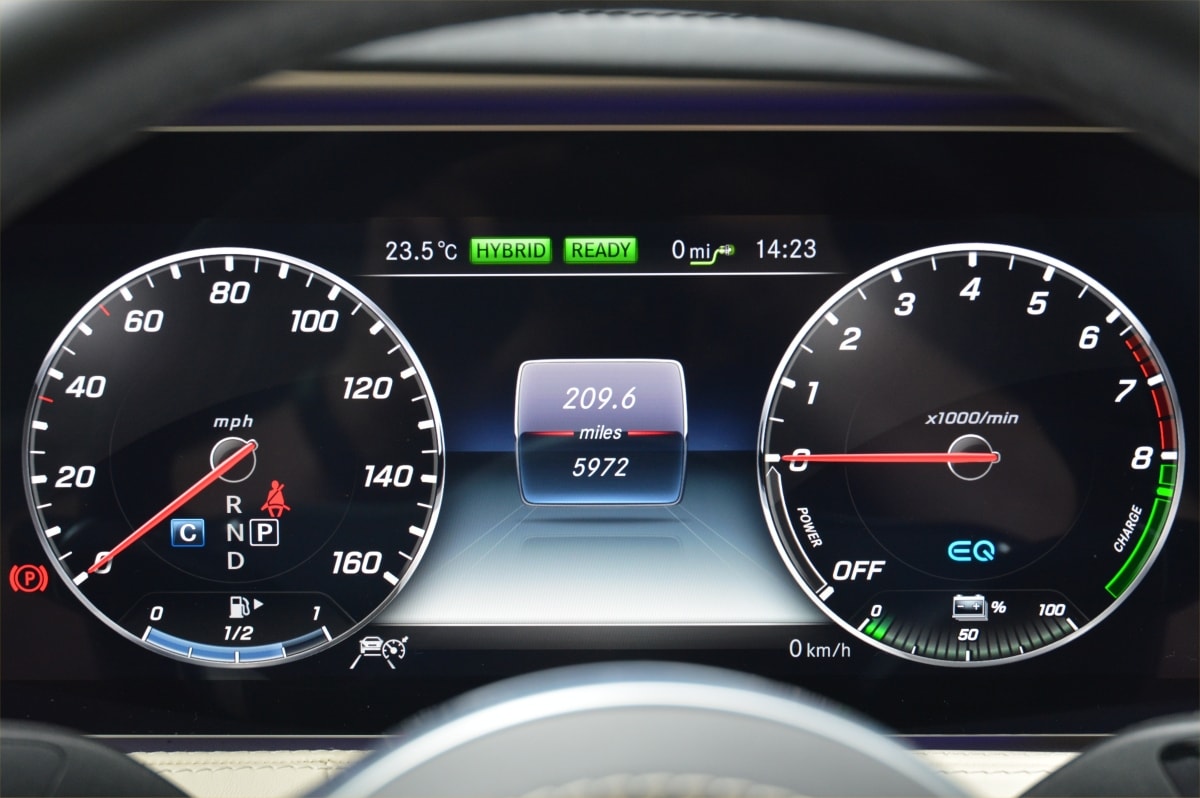 That electric motor is now powered by 13.5kWh battery, as opposed to the older car's 8.7kWh unit, and that boosts the S560eL's all-electric range to 30 miles, at a top speed of 80mph.
It's an exceptionally refined vehicle, with almost no engine noise. Even when the petrol engine switches in and out, you have to check the dashboard to see if the rev counter needle is moving.
Restricted boot
On the downside, the battery pack, which is under the rear seat, does intrude into the boot. It creates a step half-way back, just as it does in the E-Class PHEV models, and that makes getting even our two cases in a tight squeeze.
It's not helped by two bulky charge cables, each housed in a bag, which occupy the space above the "step" and behind the rear seat back. You may find you have to leave the cables at base in order to maximise the boot – and that of course will discourage top-up charging.
On test, we ran the car for 209 miles on a full charge, without replenishing. This was an attempt to simulate a typical chauffeur's day's work, involving urban miles in London and motorway miles. We averaged around 24mph overall, and the vehicle ran entirely as an electric car for the first 24 miles of driving, before the storage battery became depleted.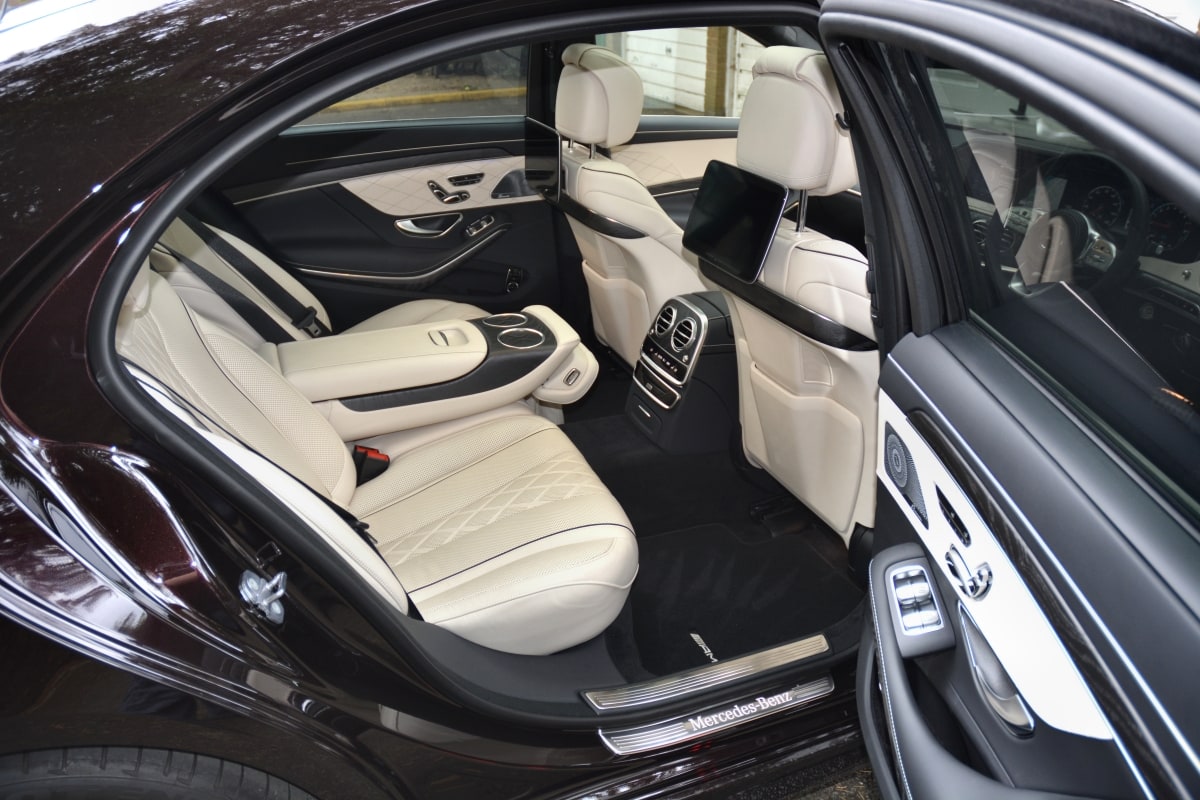 However, that's not the only way to generate electric propulsion. Even after the battery is effectively "dead", the car can regenerate some more electric miles under deceleration or braking. You can't store these, but you find the S560eL switching in and out of electric power as it travels along. So in the course of our 209-mile journey, we regenerated a further 30 miles, giving us a total of 54 electric miles – or more than a quarter of the miles travelled.
Even so, the overall mpg figure is nothing to shout about. We achieved 27.9mpg overall, which is some way short of the 34.9mpg we achieved on the current-generation S400d we tested in January 2018, albeit at a slightly higher overall speed (29mph). In whole-life cost terms, we reckon the S560eL is about 5p per mile more expensive than an S350Ld, but that does not factor in those pesky London ULEZ charges.
VERDICT
Plug-in hybrid is not the long-term answer to pollution problems, but if you're a London chauffeur, you're going to have to go this way until proper all-electric chauffeur cars become available.
So from next January, this petrol-electric PHEV S560eL model is the only Mercedes-Benz S-Class that will be street legal as a newly-registered PHV. It's a bad rule, but unless we can get the intransigent wonks at TfL to change their stance, we're stick with it.
It's an expensive model, and it isn't any cheaper to run than a diesel. But it is astonishingly refined and almost silent inside, and if you do have to increase your prices, you'll be increasing your service standards too.
On the downside, the hybrid system does compromise the boot. The capacity is 100 litres lower than a regular diesel S-Class, at 410 litres against 510, and that makes a big difference, as the inside of the boot now has a stepped floor. And you also have to find a home for two bulky charge cables in bags.
---
DATA
Mercedes-Benz S560eL EQ Power AMG Line
| | |
| --- | --- |
| Price | £97,480 |
| Specification | |
| Engine | 2,996cc inline six-cylinder petrol with electric motor |
| Transmission | 9-speed automatic, rear drive |
| Power | 476PS |
| Torque | 700Nm |
| Combined economy | 104.6mpg |
| CO2 emissions | 57g/km |
| Electric range | 30 miles |
| Length | 5,225mm |
| Width | 1,899mm |
| Height | 1,494mm |
| Wheelbase | 3,165mm |
| Loadspace | 410 litres |
| Fuel tank | 70 litres |
| Warranty | 36 months / unlimited mileage |
| Insurance Group | 49E-T1 |
| VED Band | C |