OBITUARY: Joel Hope-Bell, Veezu CEO, 1973-2018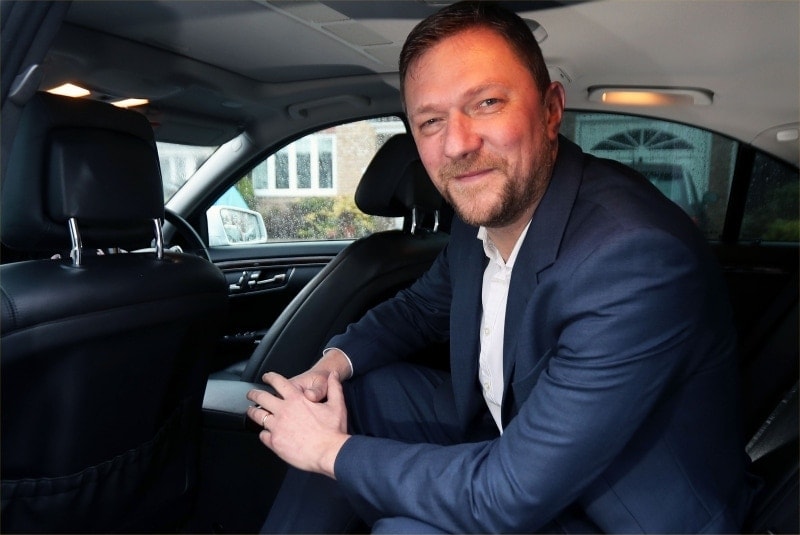 Joel Hope-Bell, chief executive officer of leading private hire operator Veezu, has died aged 44, following a short battle with cancer.
A former investment banker, Joel Hope-Bell gained nearly 20 years' experience in corporate finance at City firms before returning to work in Wales in 2015 to lead prominent roles at Veezu and at another Wales-headquartered business, Smart Solutions, where he served as chairman.
Joel was raised in Llandovery, Carmarthenshire, where he attended Ysgol Pantycelyn, before studying environmental science at the University of Leeds, achieving a first-class degree while raising two young children. He then qualified as a chartered accountant at Arthur Andersen, where he won national awards for his high scoring in professional exams.
He later secured a string of senior roles at the Bank of America Merrill Lynch, DC Advisory, Morgan Stanley and UBS, advising international clients on mergers and acquisitions and capital market transactions, as well as debt financing and restructuring. Before his return to Wales, he was managing director at the global finance advisory and investment banking firm, Duff and Phelps.
Leaving his career at City finance firms, Joel joined two of Wales' fastest growing businesses that operate across the UK: Smart Solutions, an outsourced services provider, and Veezu, the parent company of a number of private hire and taxi operators.
During his time as chief financial officer at Smart Solutions the business grew from £40 million turnover to £98 million, and he implemented new integrated systems and delivered cost improvement programmes.
In 2017, Joel was appointed chief executive officer of Veezu and chairman of Smart Solutions. Within four months of his appointment, he led the biggest acquisition of a regional taxi business in Veezu's history with the purchase of West Country operator V Cars, increasing the number of drivers across the group by 40%. During his time at Veezu, the company debuted at number four on The Sunday Times Fast Track 100.
Speaking about Joel Hope-Bell, the founder of Smart Solutions, Nathan Bowles, said: "When it was first suggested to me that I should meet Joel, I used all of the tools available to us in terms of research. I Googled him, read his biography and asked around. I instantly thought that, this guy who had seemingly achieved so much, so young and was so bright, couldn't possibly be a nice guy.
"However, when I eventually met Joel, with some trepidation, I was at ease within seconds; very rarely do people walk into your life and you have an immeasurable instant respect for them. I knew from the first meeting we would go on to work together closely and successfully.
"Joel was the calmest and brightest person to have around. He was liked and respected by everyone who he met – he made time for everybody. His intelligence was paramount, yet he was one of the most humble men I have had the pleasure of knowing. He will be sorely missed."
Outside of his professional career, Joel Hope-Bell was a dedicated and passionate family man, husband to Eleanor and father to six children – Joshua, Bethan, Ewan, Evelyn, Emilia and Elisabeth. He was also a keen supporter of charities, in particular the NSPCC, so much so that both Smart Solutions and Veezu have donated more than £40,000 to the charity in the past 12 months.
Professional Driver magazine interviewed Joel earlier this year, and his passion and knowledge of business was hugely impressive. He will be greatly missed in the industry, and we would like to offer his family, friends and colleagues our deepest condolences.