DS7 Crossback Prestige BlueHDi 180 Automatic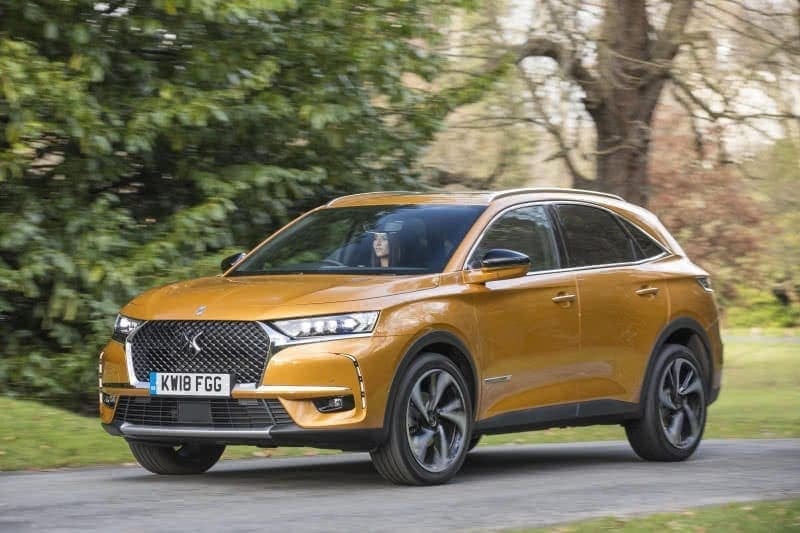 How France must envy the German luxury car industry. Chic brands such as Christian Dior and Yves St Laurent rule the high-class end of the fashion industry, but French cars remain workaday volume models.
There was a time when French brands such as Delahaye and Facel Vega were up there with Bentley and Maserati – but that was 60 years ago – back then, BMW was still building bubble cars.
Since then, seen the automotive luxury pendulum has swung firmly to the east of the Rhine. But that hasn't stopped the French car companies from dreaming of competing in the prestige market. And now PSA is having another go at creating a French luxury car brand – DS.
DS isn't completely new – in fact it's been around since 2010. Originally a sub-brand of Citroen, drawing inspiration from the legendary Citroen DS saloon, launched in 1955, it did well with the pretty DS3 hatchback, a plausible competitor to Mini.
Further offerings – the DS4 crossover and the oddball DS5 large hatchback – were less well received. At best, they're "marmite cars". And they're a good way short of what's required. The wallowing ride and lurching gearchange of the first DS5 models was truly unpleasant.
Now DS has lost the Citroen branding, and has become a stand-alone brand, complete with its own 60-strong UK dealer network. And here is the first all-DS car – the DS7 Crossback. It's certainly on message as far as sectors go. Pitched squarely at the likes of Audi Q5 and Volvo XC60, it looks good – well-proportioned and a lot less quirky than the DS4 and DS5.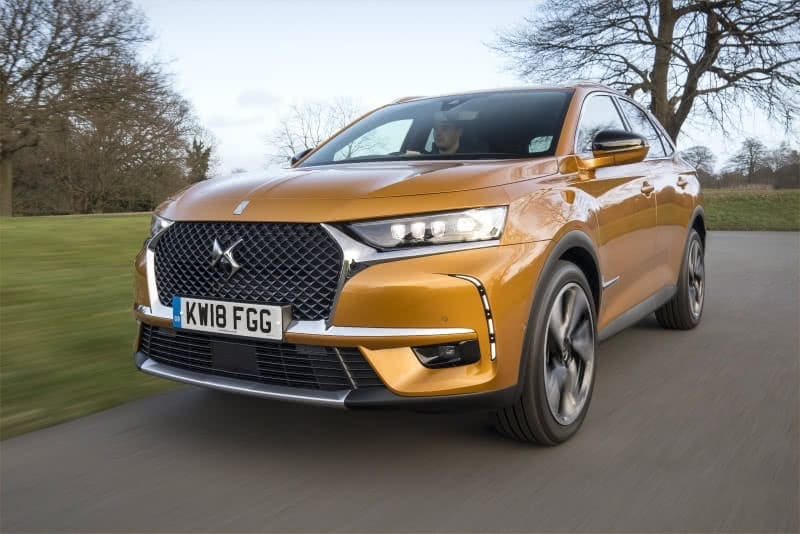 Exterior styling
There's a distinctive chrome grille, and a lot of diamond-shaped detailing to echo the new DS badge. Though if you taped over the badges, it's hard to imagine a potential buyer thinking this was a German car. With lots of shiny chrome and geometrical shapes, it's closer in styling terms to a Lexus or Infiniti, without copying either.
There's very little "Citroen DS" DNA – only the outline shapes of the LED headlamps echo those of the classic limousine. Instead, DS executives claim the car is designed to capture the "avant-garde spirit" of the original. It's a claim that doesn't stand up to much scrutiny – any comparison to such a landmark car as the Citroen DS is going to feel underwhelming.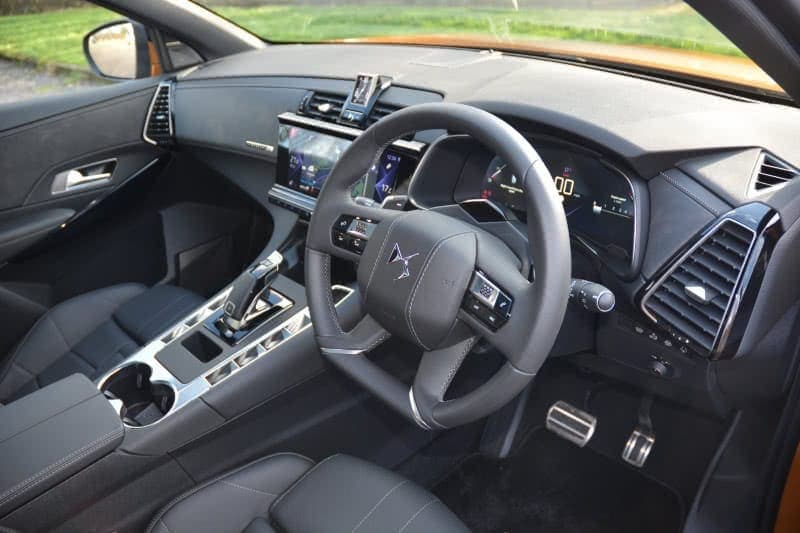 Interior finish
Inside, the fit and finish is of a high standard, and again, the look is highly detailed. Again, there are lots of diamonds and triangles on switches and handles, plus ornate stitching. An elaborate and rather over-styled clock pops out of the dashboard when you press the ignition button. It's a long way from the stark, minimalist Germanic interiors of BMW or Audi, or the cool, Swedish style of Volvo.
There's a feeling that the designers are trying just a little bit too hard to make the DS vision of luxury a distinctive one. If you like the bling-tastic Versace end of the fashion world, you'll probably take delight in the DS's design details. But if you're a Hugo Boss enthusiast, it'll probably be a bit too much. As an attempt at creating an individual look for the DS brand, it works.
Satnav system
The basic charcoal cockpit is offset by different patterned insets for different trim levels. At the centre is a big, 12.3in glass panel touch-screen display. It's a little blocky and simple, but readable and does include useful traffic information integrated to the display, so you can avoid the jams. Useful buttons below the display access menus, and low you to switch the display without having to go through touch screen menus.
The 12.3in primary display panel is digital, and is as quirky as the rest of the interior. Speedometer and rev counters are expressed as diagonal lines, while most of the display is given over to map displays, or a Tesla-style graphic showing the car's position relative to the road.
It's autonomy-ready, and a lane-assist package is available, though it seemed more fussy and less confidence-inspiring than some we've sampled – notably the very accurate system in Volvo's XC60. Professional Driver's 2017 SUV of the year, and very much the benchmark car for the sector.
Interior comfort
Seats are very comfortable and supportive, and come with a massage feature on Prestige trim and above – something you wouldn't expect at this price point. The dashboard and door caps use soft-touch materials, with up-market trim versions appointed rather lavishly with alcantara or nappa leather, depending on spec. The overall feel is of a high-grade, well screwed-together car with very few squeaks or rattles in the cabin on rough roads. It's different, but certainly no less comfortable than its main German rival, the Audi Q5.
Like the Q5, the DS7 is a five-seater – expect an extended seven-seat version in the future, as the car uses the same PSA EMP2 platform as the Peugeot 3008 and 5008, and is built in the same factory. In wheelbase terms, it's somewhere between the two Peugeot SUVs, which makes it a roomy five-seater, in the same way that the Volvo XC60 has more rear legroom than the XC90.
The rear seats can take three people, but the car's more comfortable with two, especially as this gives access to the large fold-down central arm rest. There's ample knee room and like most SUVs, headroom is not an issue.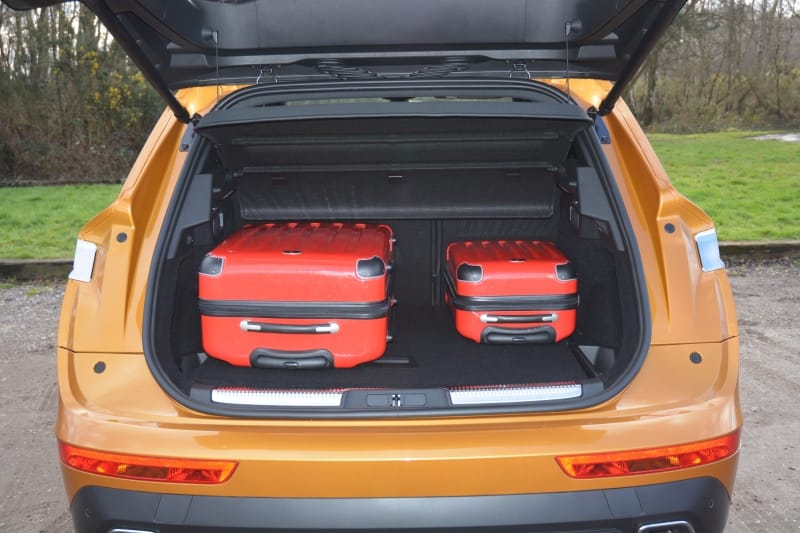 Boot space is 555 litres – the shape of the space is long enough for two big cases and some room to spare, but the space is rather shallow – the floor is lower on a Q5, for example.
On the road
Under the bonnet, you have a choice of petrol or diesel engines, with a plug-in hybrid due in 2019. There are two turbocharged 2.0-litre diesel options: BlueHDi 130 with 300Nm of torque at 1,750rpm and a manual gearbox, or BlueHDi 180 with 400Nm of torque at 2,000rpm and 8-speed automatic. Claimed combined fuel economy is 70.6mpg and 57.6mpg respectively.
On test in the higher-powered of the two diesels, we achieved 32.0mpg, but at relatively low speeds and mainly on country roads and urban conditions. We'd need to give the car a more thorough test with more motorway miles, and experience of these 2.0 PSA diesels suggests that a figure in the 40s is entirely achievable.
The petrol-electric PHEV version arrives in mid-2019, billed as a high-performance "E-Tense 4×4" model. This will have a 300hp powertrain that combines a 200hp petrol engine with two 80kW electric motors, a four-wheel-drive system and a 35-mile driving range in zero emissions mode (on WLTP cycle) with a battery output of 90kW.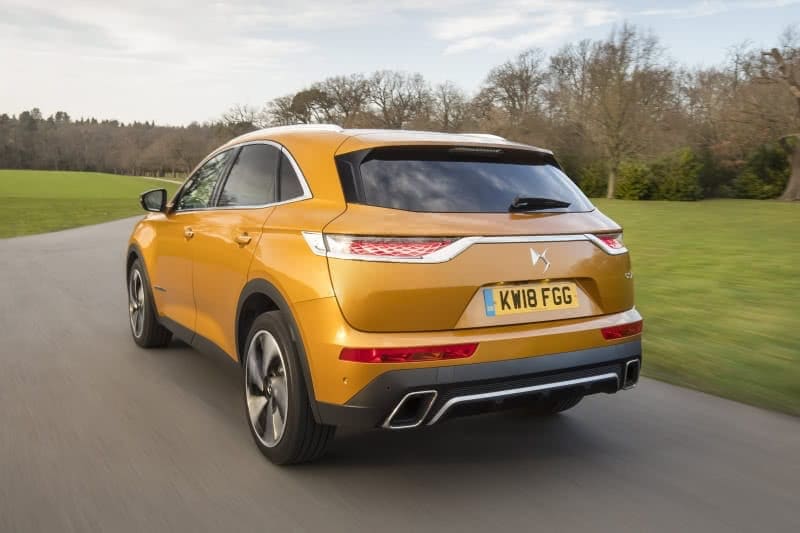 For chauffeuring work, active scan suspension is a worthwhile addition. It comes as standard fit on Prestige and Ultra Prestige trim levels and a £1,000 option on Elegance and Performance Line versions with BlueHDi 180 engine. This suspension anticipates defects in the road through a camera that detects bumps and potholes 5m ahead of the car, and continuously controls the four shock absorbers to make them firmer or softer before the car hits the affected road surface.
The DS7 Crossback is more refined than its Peugeot sisters, with low-revving diesels remaining unobtrusive in terms of noise, unless pushed. It's not really a "driver's car", but feels solid and unhurried, with smooth automatic gearshifts and low, sub-2,000rpm cruising at 70mph.
Safety and comfort features
Prestige trim level, on test here, is very comprehensive, including front parking sensors, a reversing camera, wireless phone charging, electric massage front seats and nappa leather upholstery, as well as an advanced safety pack. Range-topping Ultra Prestige trim adds 20in alloy wheels, a panoramic sunroof and adaptive cruise control.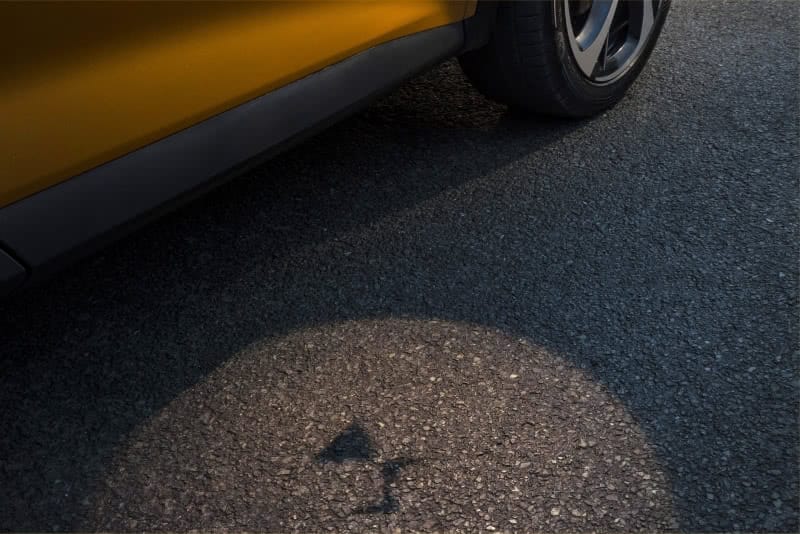 The safety pack features include a night vision system that displays an infra-red display on the dashboard screen after dark. It's very useful on dimly-lit roads, highlighting people, cyclists and animals. The headlights on the DS are extremely powerful, and can swivel when cornering – a nod to the Citroen DS, which introduced an analogue version of cornering lights in 1967. We also liked the DS logo-enhanced spotlights that light the pavement next to the doors. An up-market touch!
Verdict
Large SUVs are increasingly becoming a viable alternative to executive chauffeur saloons. Even without seven seats, operators are finding the roomy rear cabins and decent luggage compartments make the likes of Volvo XC60 and Audi Q5 attractive, especially at sub-£40,000 price points.
PA's attempt to conquer this sector is, as you'd expect from a French luxury car, somewhat quirky. The reinvented DS brand is trying to find a foothold in a crowded luxury market, and in order to stand out it is perhaps trying a little too hard.
As the first of the second-generation DS cars, the DS7 takes a different approach. The DS5 tried to be conceptually different – and hasn't really worked. DS7 Crossback adds a lot of detailed styling touches to what is basically a pretty simple car – it's a zhuzhed-up Peugeot SUV in a fancy gold frock and some statement jewellery.
But that makes for a distinctive and comfortable interior which is likely to get people talking. It's different, and in a good way.
Under the skin, it has tried-and-tested powertrains, and these work fine. There's a fair bit of vale-for-money in the spec, especially safety equipment – which it needs to have given the strength of Volvo and Audi's offerings in this department.
So as a new beginning for the DS brand, it's a solid start. It's distinctive and different, which might not be to everyone's taste. But if you were the operator with these cars on your fleet, you might find their rather ostentatious interiors have the right sort of appeal to fashion-conscious folk.
It'll be interesting to see how DS develops. If it is to compete with Audi, it will need a broad range of saloons and SUVs. PSA is big in China, and large cars are still in demand there.
Finally, give the Citroen DS back to Citroen, please. The "new" DS is not a retro brand, and that's a good thing. Whatever the brand does, it'll never scale heights of innovation and style like that, and it's best not to make too much of the association.
---
DATA
Prestige BlueHDi 180 Automatic
Price as tested: £39,335
Specification
| | |
| --- | --- |
| Engine | 1,997cc four-cylinder turbodiesel |
| Transmission | Eight-speed auto, front drive |
| Power | 180PS at 3,750rpm |
| Torque | 400Nm at 2,000rpm |
| Combined mpg | 57.6mpg |
| CO2 emissions | 128g/km |
| Top speed | 134mph |
| 0-62 mph | 9.9sec |
| Length | 4,570mm |
| Width | 1,895mm |
| Height | 1,625mm |
| Wheelbase | 2,738mm |
| Loadspace | 555 litres |
| Fuel tank | 55 litres |
| Warranty | 36 months / 60,000 miles |
| Insurance Group | 30E |
| VED Band | G |