Toyota Camry Excel Hybrid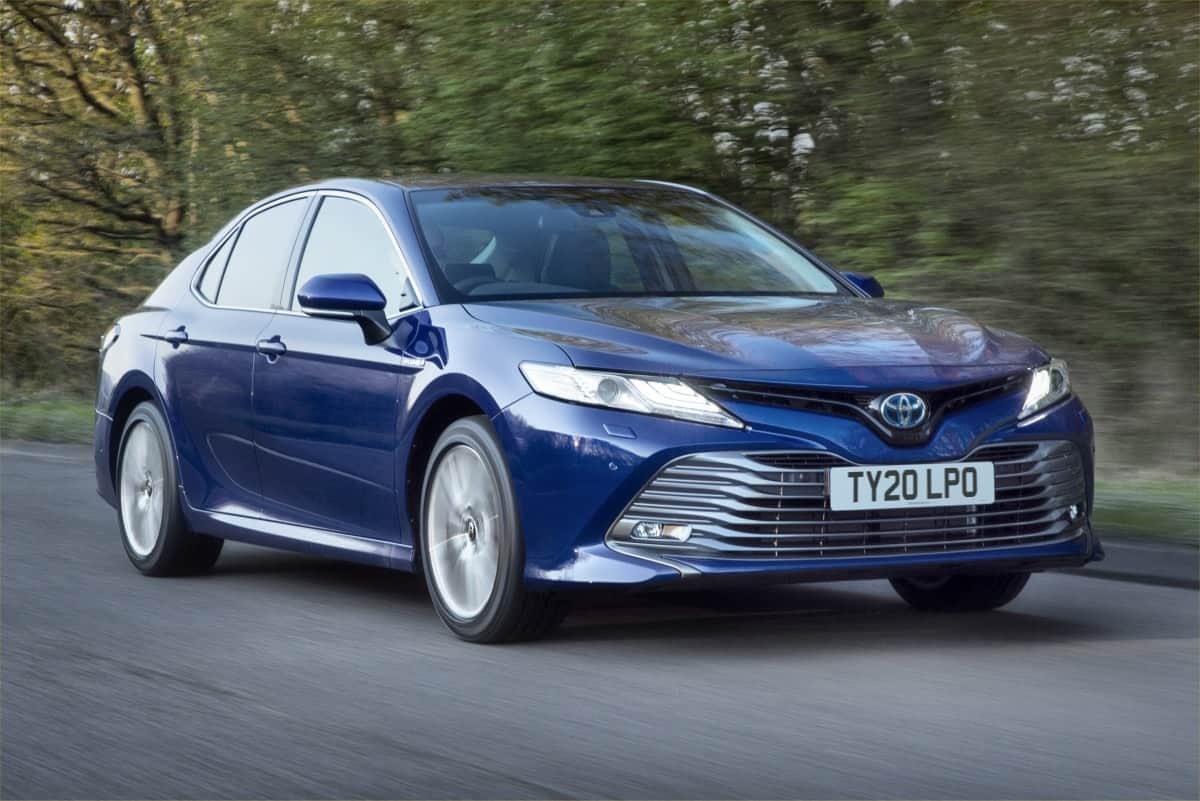 It wasn't that long ago that mainstream volume manufacturers all offered big, luxurious range-topping saloons. And inevitably those Ford Scorpios, Rover 800s and Vauxhall Omegas found favour among 1990s chauffeurs.
Factor in Japanese reliability and you had a winning formula – and of course Toyota was a player in this sector with its Camry, a big cruiser that topped the US car sales charts in the 1990s. Of course, the world changed and the luxury brands came to dominate the big saloon market in the 21st century. The Camry quietly slipped away from European markets in 2005.
But now, the Camry is making a comeback. The car continued evolving in Japan, and with the demise of the European Avensis saloon last year, another victim of changing tastes, there was once again a gap, albeit a low-volume gap, in the Toyota range for a big saloon.
And in its 14-year absence, Camry has grown into a rather fine car. Now powered, as you'd expect from Toyota, by a petrol-electric hybrid powertrain, it's lost none of the presence and practicality that the old car used to have. And what has been added is a touch of global style, especially inside the car, that is a step up from the old grey plastic interiors of Camrys past.
Interior comfort
It's especially impressive from the back seat, where rear legroom rivals that of the big private hire saloon market leader, the Skoda Superb. It doesn't quite have the headroom, though a low floor makes up some of the difference. Rear seats are soft and comfortable – a cut above just about every other car in this sector.
From the driver's seat, the layout is logical. A leather-covered steering wheel features switches to operate the multi-information display and driving support controls. It has extensive reach and rake adjustment, powered on Excel trim. Plenty of thought has gone into the design of the seats in order to maximise comfort – and it works. It's a very relaxing place to be on a long drive.
The audio system, air conditioning control panel and 7in touchscreen are integrated into a triangular piano black centre console. The dashboard is partially digital too, with another 7in multi-information display in the driver's instrument binnacle, between the speedometer and rev counter.
The satnav is a big improvement on previous Toyota offerings, though still not quite up to the standard of BMW or VW Group offerings. It's touch-screen only, sadly, and we found it a little slow to react to conditions – for example a missed exit from a roundabout. A rear-view camera is fitted as standard to all Camry models.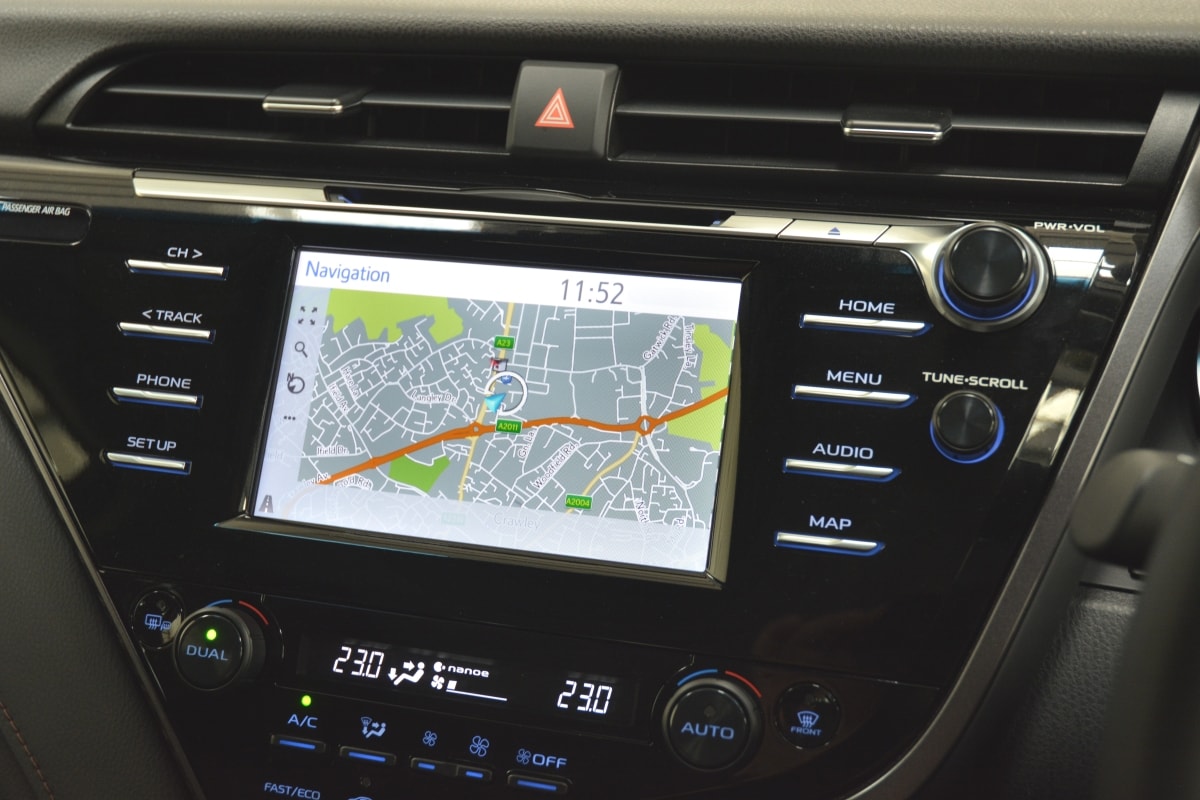 Hybrid powertrain
Under the bonnet, the new Camry uses a new 2.5-litre Hybrid powertrain with a combined 215bhp output. As it's not a PHEV, there's no large Lithium storiage battery. Instead Camry has a new, compact nickel-metal hydride (NiMH) battery that is fitted beneath the rear seats, freeing up more load space and also helping lower the vehicle's centre of gravity.
Eco, Normal and Sport driving modes using the Drive Mode Select switch. Each of the three modes can also be used when an all-electric EV mode has been selected. A new Auto Glide Control (AGC) allows the vehicle to decelerate more slowly in normal driving, for example when coasting with the driver's foot off the accelerator pedal towards a stop light, giving better fuel economy.
It' smooth and very quiet, as well as being responsive under acceleration. The full hybrid system will accelerate the car from rest to 62mph in 8.3sec. Top speed is 112mph, and maximum torque of 221Nm is available between 3,600 and 5,200rpm.
CO2 emissions are 98g/km for the Camry Design and 101g/km for the Camry Excel (with 18in wheels); combined cycle economy is from 50.4 to 53.3mpg for both models. On test, we came very close to this figure, achieving 47.9mph at an average speed of 35mph. Impressive for a petrol-hybrid, and better than many comparable diesels.
As with all Toyota hybrids, Camry has a CVT transmission, though it includes Sequential Shiftmatic technology that allows the driver to make 'shifts' using a console-mounted lever, mimicking the operation of a conventional, six-speed automatic.
Exterior styling is aimed at making Camry look low and wide. Wheel arches are flared and athletic accents and creases in the body panels are "on trend". The nose styling eschews the current trend for massive grille for a more subtle, slender nose with slim LED headlights and a prominent Toyota logo. The grille is wide, and positioned at the lower part of the nose – function over form.
Alloy wheels are 17in on the £29,995 Design trim option, with 18in on more up-market Excel trim, which costs £31,275. The Camry is carefully pitched as a fairly basic specification so as not to compete with its related Lexus stablemate, the ES range.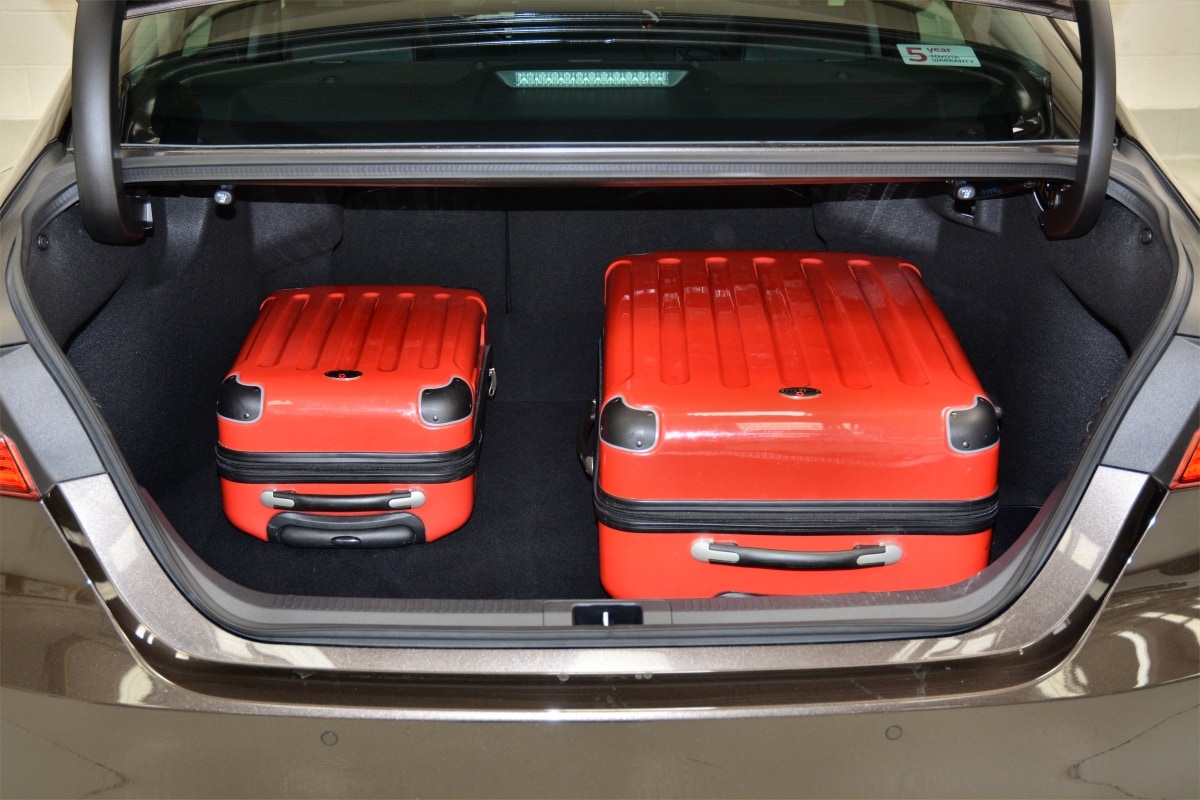 Boot space is a generous 524 litres, with a flat floor thanks to the double wishbone rear suspension, which avoids any intrusion into the load space. Another nice touch is a standard-fit wireless phone charging tray, located in front of the shift lever. This will charge devices compatible with the WPC (Wireless Power Consortium) Qi wireless charging standard.
Safety features include an effective Adaptive Cruise Control which is also capable of low-speed following, including stop-start driving, at speeds between zero and 25mph. This is standard on both trim levels; indeed Excel doesn't add much – mainly bigger wheels and a few extra gizmos such as Blind Spot Monitor and Rear Cross Traffic Alert.
Verdict
It's refreshing to see a major manufacturer doing something against the grain – and introducing a large saloon into a seemingly SUV-obsessed world is most welcome, giving private hire operators another choice in a market that has been dwindling in recent years.
New Camry is big, handsome and roomy. It's well-packaged and extremely comfortable, with fuel economy every bit as good as diesel rivals. Our only real beef was with a somewhat glitch satnav.
Sadly, as a non-PHEV hybrid, Camry does not qualify as a London ULEZ-compliant PHEV. But it offers low ownership costs, excellent fuel economy and low CO2 and Toyota claims it is capable of covering up to 50% of the average commuting journey with zero emissions – which does rather make a mockery of TfL's "zero emissions capable" demand.
---
DATA
Toyota Camry Excel Hybrid
| | |
| --- | --- |
| Price as tested | £31,275 |
| Engine | 2,487cc 4-cylinder petrol with electric motor assist |
| Transmission | E-CVT auto, front-wheel drive |
| System Power | 218hp at 5,700rpm |
| Torque (engine only) | 221Nm at 3,600-5,200rpm |
| 0-62mph | 8.3 sec |
| Top speed | 112mph |
| Combined economy | 50.4-53.3mpg (WLTP) |
| CO2 emissions | 101g/km |
| Length | 4,885mm |
| Width | 1,840mm |
| Height | 1,445mm |
| Wheelbase | 2,825mm |
| Loadspace | 524 litres |
| Fuel tank | 50 litres |
| Warranty | 60 months / 100,000 miles |
| VED Band | E |