In the race for the most convincing zero-emissions solution, battery-electric cars have been the front runners. With the latest Lithium Ion battery packs giving cars a range well in excess of 200 miles, the electric car is touted as the long-term solution to air quality.
But EVs are not without their problems. Battery technology is expensive, and, whisper it, not very clean when you factor in the processes required to make a battery pack.
Lithium has to be extracted from the ground in a process not dissimilar to the controversial and much-criticised "Fracking" gas extraction. And cobalt, another essential component, is mined, usually in third world countries with scant regard for workers' rights. Then there's disposal of the batteries – another whole can of worms.
Is there an alternative? Well, yes there is. Coming up on the rails is our old friend the Hydrogen Fuel Cell. If the battery-electric car is the hare, then the FCEV is the tortoise. Manufacturers, including Hyundai, have had prototypes running for well over 20 years. But only now is the technology actually available to buy.
But the technology has a number of advantages over battery power. You can refuel an FCEV in no more time than it takes to refill your diesel or petrol car, using a traditional pump, on a forecourt. So refilling takes four minutes, not 40. And there are many ways of creating hydrogen – including reforming from clean sources such as bio-ethanol.
On the downside, there are just 12 Hydrogen filling stations in the UK, around half of them in or around London. That's partly a function of supply and demand – right now there are just two FCEVs on sale. The Toyota Mirai, which is in service with a small number of operators including Green Tomato Cars, and this car, the Hyundai Nexo.
From an operational point of view, Hydrogen has a lot going for it as a fuel compared to the electricity that powers pure EVs. Firstly, there is no need to have half your boot space taken up with bulky charge cables. And refuelling takes a matter of minutes, not the best part of an hour.
Exterior styling
Immediate first impressions are favourable. Nexo looks a little different, but not drastically different from the SUV-shaped cars that currently dominate consumer demand. Blue highlights on the trim, plus distinctive narrow headlights, hint at "EV" in some way, but the car has a large grille, so it doesn't look that different to an internal combustion engine car – in the same way that the new Audi e-tron does.
It's nicely detailed, though. Door handles are flush, and pop out automatically when you unlock the car, like they do on a Tesla. There's a purpose to this – with the handles retracted, aerodynamic drag is reduced. There's a lot of this on Nexo, including a clever D-pillar air tunnel, aerodynamically optimised wheels, hidden rear wiper, air curtains and a full body undercover.
Refuelling in operation
We took the Nexo to one of the UK's first Hydrogen stations, at Cobham services on the M25, to find out how easy it is. The pump is a big and imposing structure positioned away from the main petrol and diesel pumps, though eventually it could easily be incorporated into multi-fuel pumps, just as LPG is today.
You'll need a fuel card to access the pump – that allows the hose to be free. Behind the filler cap is a pipe-like socket – you have to locate the hose nozzle on to it and secure it with the built-in lever on the nozzle, which locks the nozzle on to the car. The gas won't dispense without this.
You can walk away while it's filling, as the hose is now locked on. The pump beeps when it's finished, allowing you to unclip the hose and get your receipt from the automated terminal. We only did a brief fill, which cost £5.40 for 0.45kg. At the pump, Hydrogen costs £12 per kg, and Nexo's three gas tanks hold 6.3kg of Hydrogen. So a fill from empty would cost around £75.
Nexo is Hyundai's second commercially-available FCEV, and the first to be marketed as a separate model. It's SUV-shaped, like most of the new BEVs entering the market, and it's an impressive size, a lot bigger than the earlier Hyundai ix35 FCEV compact SUV.
There's no question that it would be highly suitable for private hire or even executive work, with plenty of rear legroom and headroom, and a generous boot. The Hydrogen is contained in three pressure tanks, two below the boot floor and one behind the right-hand rear wheel, where the fuel tank would normally be.
Hydrogen capacity is 156 litres and the gas is now stored at 700 bar. This gives an impressive range of 414 miles on the new WLTP cycle.
The futuristic feel is replicated inside the car, where instead of the Tesla approach of having all controls on a large touch screen, Nexo goes completely the other way.
A large, wide centre console resembles the bridge of the Starship Enterprise. It contains a bewildering array of buttons and dials – 45 of them – with a further 8 on the driver's door and 12 more on the steering wheel. It's very touchy – and while it takes some time to work out where everything is, it's actually a lot easier to change the suspension settings, or turn up the heater, by using a tactile button rather than jabbing away at a screen with your left hand.
The interior is grey, matching the semi-matt silver-grey external finish Materials are soft and the car is well made, though. Seats are very comfortable, though they need to be as the ride is a little harsh, even in "comfort" mode. That aerodynamic efficiency has a price.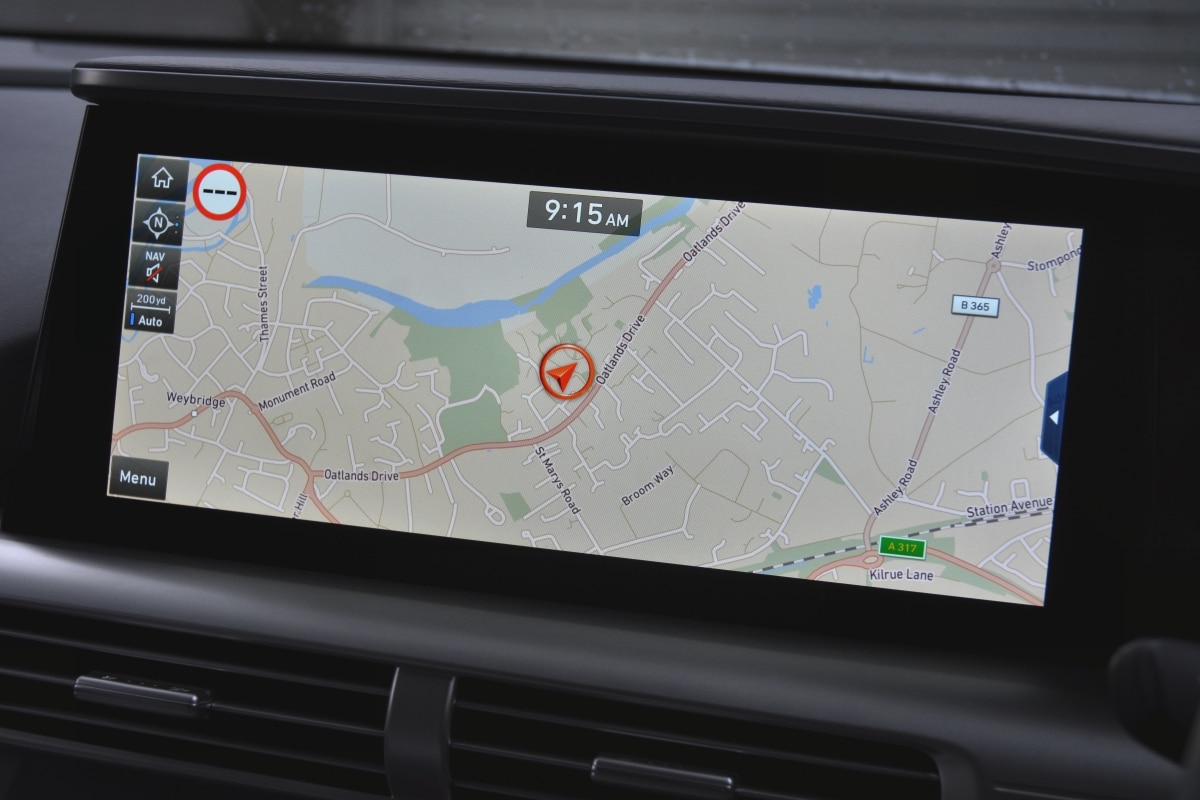 The digital dashboard is easy to read, and the satnav screen is massive, with graphics that rival class-leading systems from the likes of Mercedes-Benz and Audi. We like the fact that a manual rotary input device is fitted, rather than just having a touch screen. One nice touch is the rear-view cameras mounted in the door mirrors, which project the Mirror image on to the dashboard, so you can see your blind spot without turning your head.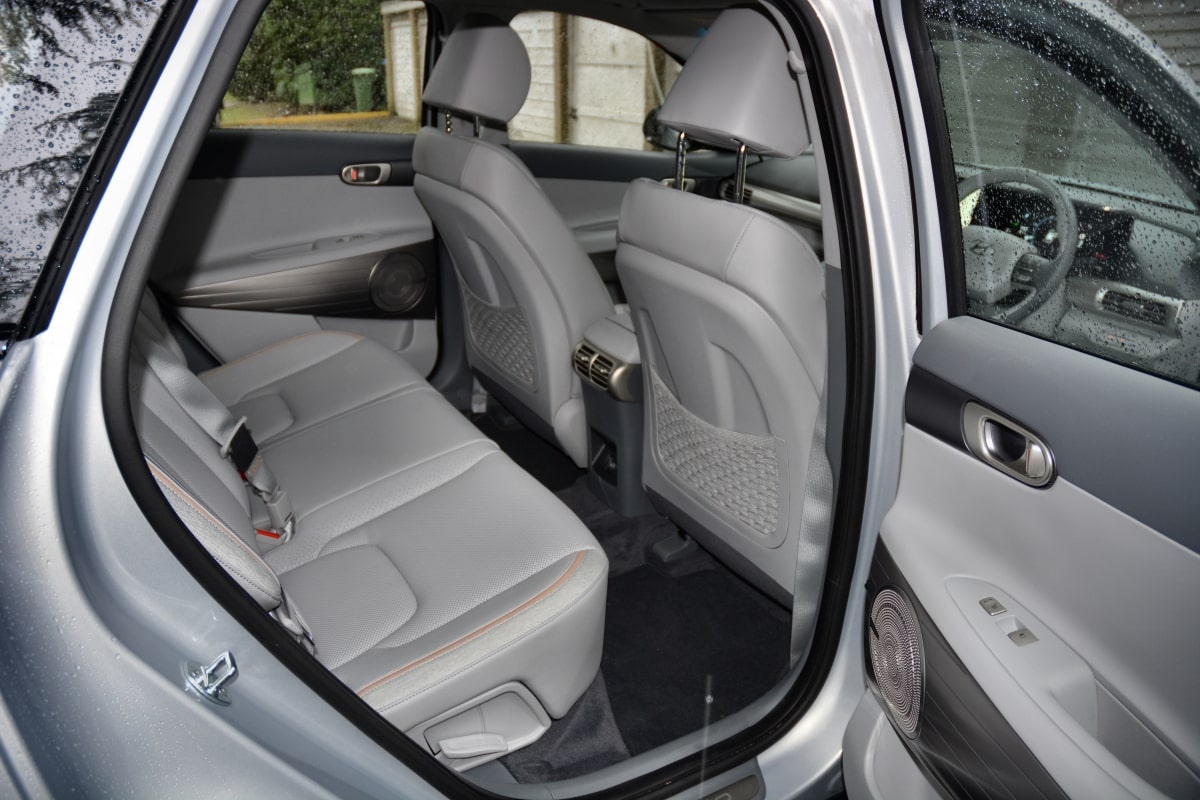 Extra storage is available underneath the bridge-like centre console, where there are extra USB and 12v power sockets. There is a roomy storage box in the armrest, though door pockets are relatively small.
Headroom both front and rear is generous, as is leg, knee and foot space in the back. The seats are comfortable too, unlike some EVs where materials are scrimped on to save weight.
The 461 litre boot is a good size, helped by a super-low loading sill. Rear seats split 60:40, though, they don't fold down completely flat. There is extra storage under the boot floor too – always useful for chauffeur essentials.
The gear selector is a group of buttons on the console. Press D and you're off. And the performance is impressive – a FCEV is still an electric car, and it has all the instant torque and rapid acceleration that we're getting used to with EVs. It's quiet, though there is a slight whine from the motor. At least you know something's happening!
Electric motors drive all four wheels, and there's a hefty 181bhp available, giving sparkling overtaking potential. Four settings for the brake regeneration system can be rated from slight to aggressive, and in level four, you'll rarely need to use the brakes, though acceleration is more of a struggle. Steering, but it's accurate and precise, and flat handling and an absence of body lean makes the Nexo great fun to drive on country roads – if the ride is a little harsh at times.
There's a wealth of driving information available through the system, and on test it reported that we averaged 54.3mpg. It also informed us how much CO2 we'd saved and how much air cleaning we'd managed to carry out!
Verdict
Is the Hyundai Nexo a game-changer? It's certainly very, very impressive. We're fortunate in having a relatively local Hydrogen station at Cobham services on the M25, so the car would be a practical proposition (providing, of course, that the pump is always serviceable).
With a range of more than 400 miles on a full gas tank, Nexo thrashes even the best of the current EVs for range. And the ability to refuel just as you would a regular car gives it a massive advantage for operators who cannot afford to have their car laid up for 40 minutes every few hours. And it's a real boon for drivers who live on terraced streets or in blocks of flats with no access to off-street charge points.
The car is a quantum leap ahead of the previous Hyundai FCEV, and it's more impressive than the Mirai in terms of looks, features and refinement. And you can actually buy one – though it comes at a price. £69,495 on the road – roughly on par with the Mirai's £65,412, and almost on par with the £71,520 Audi e-tron.
Nexo doesn't quite match the e-tron for luxury, but it's certainly as roomy and comfortable as the Audi, and the science lab interior is highly individual, which will make the car stand out when it's offered to clients who demand the cleanest and newest technology.
We'd like to see this technology catch on, and more manufacturers hop aboard the Fuel Cell Train to Hydrogen-town. Greater volumes will bring down the cost of the expensive fuel cells that turn the hydrogen into electricity and water (at the end of the journey, the Nexo has a little wee on the road as excess water generated is dumped).
And more FCEVs on the road will encourage fuel companies to install more pumps on their forecourts too.
---
DATA
Hyundai Nexo FCEV
| | |
| --- | --- |
| Price | £69,495 |
| Engine | Hydrogen fuel-cell, electric motor and lithium-ion battery |
| Transmission | Single-speed automatic, all-wheel drive |
| Power | 163PS |
| Torque | 395Nm |
| Max speed | 111mph |
| 0-62mph | 9.5sec |
| CO2 emissions | 0g/km |
| Electric range | 414 miles (WLTP) |
| Length | 4,670mm |
| Width | 1,860mm |
| Height | 1,630mm |
| Wheelbase | 2,790mm |
| Loadspace | 461 litres |
| Warranty | 60 months / 100,000 miles |
| Insurance Group | 27 |
| VED Band | A |