Road Test – MG5 SW EV Exclusive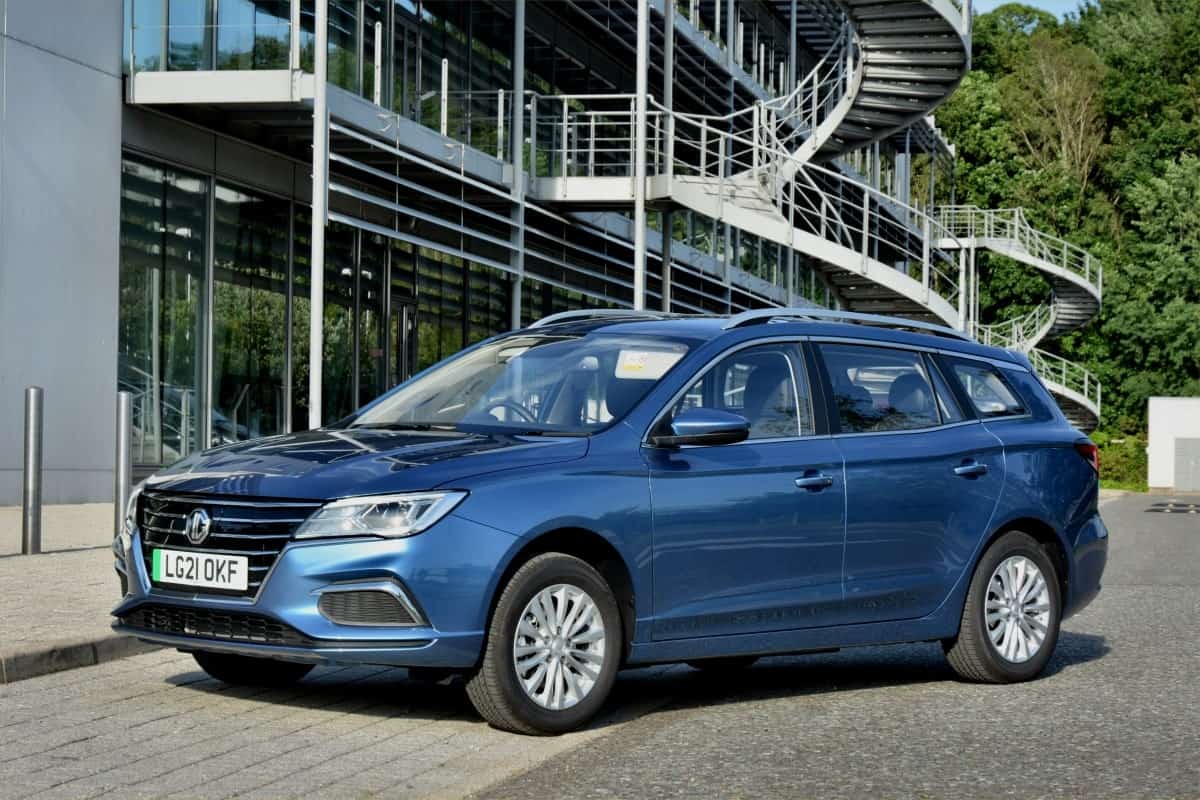 Every once in a while, a new car comes along that just hits the sweet spot for the private hire sector.
The Chrysler 300C gave executive chauffeurs a winning and affordable combination of Mercedes reliability and Bentley looks. The Toyota Prius Mk2 ticked corporate clients' "green" boxes back when hybrids were the cleanest game in town, while delivering reliability, low running costs and distinctive looks.
Neither of these cars were designed for taxi work, but once operators started using them, everyone wanted one, and sales took off. Now here's another new car that might just repeat the same trick. And it's from a completely unexpected source.
The MG5 EV is a battery-electric estate car that could prove to be the breakthrough car that private hire drivers and operators who want to go electric are looking for. It's a practical and roomy estate car of similar size to a Toyota Corolla estate, with an electric powertrain that offers more than 210 miles of range on a full charge.
Yes – it's a conventional estate, rather than an SUV. So many EVs are SUV-shaped because the taller stance allows battery packs to be stashed under the floor. On the MG5, the water-cooled battery pack is integrated into the car's chassis, giving it an extremely low centre of gravity, and allowing a car-like stance.
More importantly – it doesn't carry the price premium attached to so many electric cars. Including the Plug-in Car Grant, the MG5 starts from below £25,000 – less than the price of a Prius, and around £10,000 cheaper than rival electric cars of similar size, such as the Hyundai Ioniq or the Kia e-Niro.
Already the MG5 is gaining traction in London, with ride-hailing drivers and local minicab firms alike. Rental or rent-to-buy companies such as WeFlex, Splend, Ottocar and Ram Automotive are supplying increasing numbers of MG5s to the trade. WeFlex, founded by former Climatecars boss Nicko Williamson, has ordered 200 MG5s as part of a repositioning as a 100% electric vehicle supplier, and it plans to supply more than 1,000 MG5s over the next couple of years.
The good news is that MG is aware of the demand, and is likely to keep the supply pipeline flowing as it attempts to rebuild a presence in the UK. MG has had a stuttering restart in the market since the brand was acquired from the collapsed Rover group by Chinese auto giant SAIC.
But now, with a broader and improving range including EVs and PHEVs, MG is starting to make inroads. Geraint Isaac, national fleet sales manager for MG Motor said: "Ride hailing services such as Uber are ideal for the MG5 EV as the combination of the car's pricing and range is unbeatable. As services such as Uber move towards a zero-emissions future we're delighted that MG is going to play a key part and believe we have the perfect vehicle for the job."
Fit and finish
Low build costs in China mean a low sales price – but that doesn't mean a drop in quality. Far from it. The MG5 not only looks good – it feels decently built too. Fit and finish is good, and our metallic blue test car certainly didn't give the air of a budget car.
The blue paint – called Piccadilly Blue – is one of five available colours The others are Westminster Silver, Dynamic Red, Black Pearl and Arctic White.
Electric powertrain
Crucially, the numbers make sense. The MG5 is powered by a 115kW electric motor (equivalent to 156PS), giving acceleration of 0-60mph in just over eight seconds, and a WLTP combined range of 214 miles in normal use. This rises to 276 miles if the car is used solely for urban driving, as confirmed by the WLTP City driving cycle.
The car's 52.5kWh Lithium-Ion battery pack can be charged from zero to 80% in just 50 minutes using a rapid charger, complete with CCS charge socket that uses both AC and DC "holes" in the car's socket (mounted in a neat way in a door behind the front grille's MG badge). A full charge at home using Type 2 fast charging takes around eight and a half hours.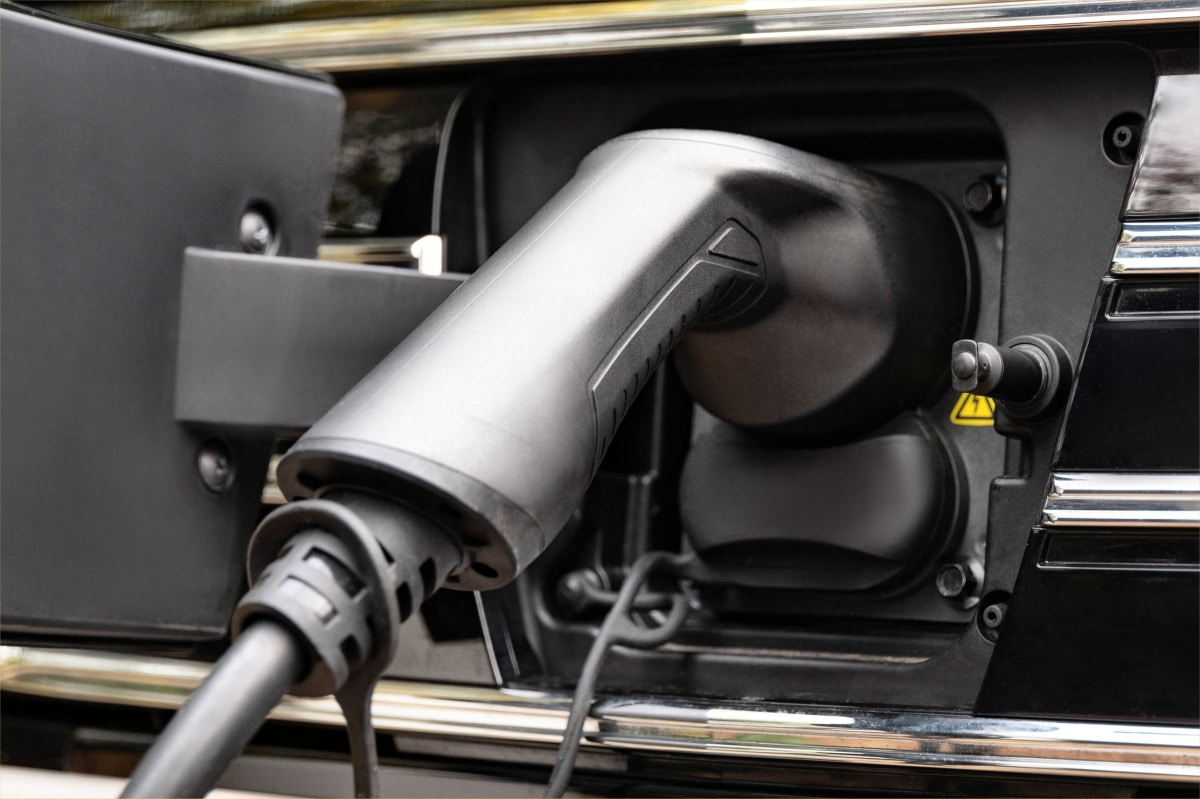 And all that comes for an entry price of just £24,495 after the £3,000 Plug-In Car Grant for the entry-level Excite trim, or for £26,995 for the Exclusive trim level on test here. What's not to like?
Interior comfort
It's comfortable, too. Behind the wheel the seats are supportive and the driving position is good. The controls are simple – a rotary gearshift is mounted on the centre console – rotate left for reverse, right for drive and push the centre for park.
There are two buttons above the transmission selector which you need to use. One selects the three drive modes – Sport, Normal and Eco. Normal is the default, but switching to Eco gives a range boost – so it should be an automatic action once you start the car.
The other button sets the level of braking regeneration – there are three levels, and the switch toggles through them. To maximise range, set the regen to 3 – it means you'll decelerate more quickly, but as you do this, you'll see on the dashboard that you're recuperating energy and bolstering your range even further. And you'll not need to brake so much – strong regen means less brake wear, reducing brake dust particulate emissions and lengthening the intervals between new sets of brake pads.
On the road
The MG5 has plenty of power, like all EVs, but range maximisation is king, and a light foot on the throttle is necessary if you're going to hit the "official" range figure. Likewise, it's better to stick to 65mph on the motorway, as you'll get a markedly better range than if you drive at 70mph.
An easy-to-use cruise control, operated by a separate stalk on the steering column, makes it easy to keep speeds under control. Remember, the flat torque curve of an EV means that if you put your foot down, it accelerates, whatever speed it's doing.
The 8in touch-screen sat-nav is clear and simple, though destination entry is a little random, with suggestions popping up like predictive text on a smartphone as you try to plumb in the address. The system is compatible with both Android Auto and Apple CarPlay.
Body practicality
The estate car body means square rear doors, so getting in and out of the rear is easy. Rear seat passengers have ample head room and plenty of legroom, even when seated behind a tall driver. The large boot – the car's true USP – is accessed from a wide tailgate opening. You get cloth seats on Excite trim and leather on Exclusive; front seats are heated on Exclusive too.
With the rear seats up and load cover in place there are 464 litres of boot space, or with the load cover retracted that extends to 578 litres with the rear seats still in place. There's no spare wheel, and nothing in the way of underfloor storage, so you're stuck with two bulky cables taking up boot space. The smaller one – a 3-pin plug cable for home charging – fits in a neat bag that tucks into a side area of the boot space. But the other, housed in a circular bag, has to be accommodated among the luggage.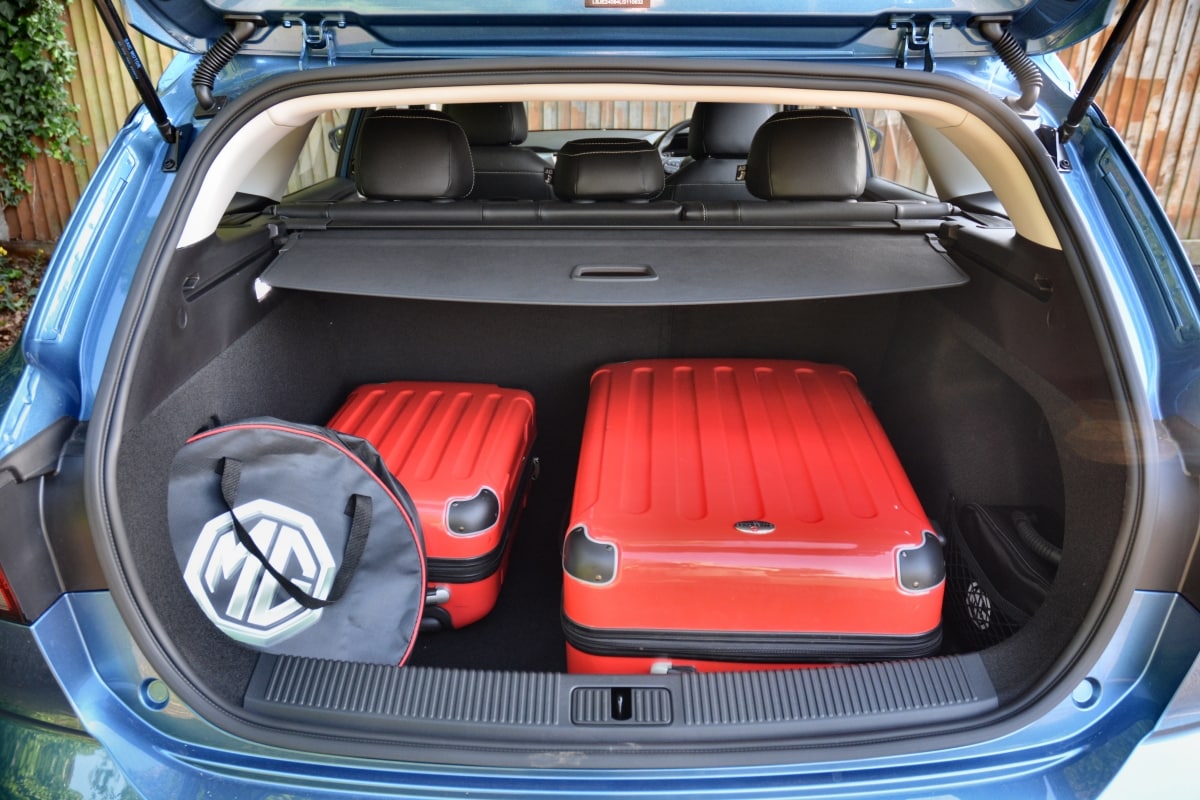 Standard features
Standard specification is high: MG5 comes with 16in alloy wheels, a six-speaker 3D audio system, DAB radio, 4 USB ports, electric windows all-round, air conditioning, regenerative braking, cruise control with speed limiter, an auto-hold electric parking brake, rain-sensing wipers and push-button starter.
Active and passive safety systems include front, side and curtain airbags, electronic brake assist, ABS with EBD, twin ISOFIX points in the rear, a tyre pressure monitoring system, hill start assist and seatbelt warnings for front and rear passengers.
Verdict
Out of the blue, MG has hit the sweet spot for the electric car sector. While most car companies have focused on either small city cars or SUVs – or high-performance sports grand tourers – as their initial EV offerings, MG has developed a very standard estate car body that does everything a private hire driver might want.
It has a useable range – 214 miles, rising to 276 around town. And certainly any London driver should be able to get at least one full day's driving out of a single charge, if not two days. It'll charge quickly on a modern rapid charger – we added 100 miles in half an hour on one of Ionity's charge points.
Build quality is surprisingly good, and the level of comfort for both driver and passengers is excellent. Compared to obvious rivals such as Toyota Corolla Tourer or Skoda Octavia estate, the MG5 doesn't feel out of place. And remember – neither of those has an EV option.
Compared to other volume battery-electric cars such as Nissan Leaf or Hyundai Ioniq, the MG5 offers more loadspace, almost as much range (an upgrade is on the way too, we understand) – but crucially, for a price in the region of £10,000 lower. And that's where the MG really rams home its advantage – and changes the game.
---
DATA
MG5 SW EV Exclusive
Price as tested: £26,995 (including £3,000 PICG)
| | |
| --- | --- |
| Engine | Electric motor |
| Transmission | Single speed, front-drive |
| Power | 156PS |
| Torque | 260Nm |
| EV range (WLTP) | 214 miles (276 miles urban) |
| Battery capacity | 52.5kWh |
| Recharge (0-80%) | 50 minutes (CCS) |
| Recharge (0-80%) | 8hr 30 min (Type 2) |
| CO2 emissions | 0g/km |
| Top Speed | 115mph |
| 0-62 mph | 7.7sec |
| Length | 4,544mm |
| Width | 1,818mm |
| Height | 1,536mm |
| Wheelbase | 2,665mm |
| Loadspace | 464 litres |
| Warranty | 84 months/80,000 miles |
| VED Band | A |