Seat Alhambra SE Lux 2.0 TDI auto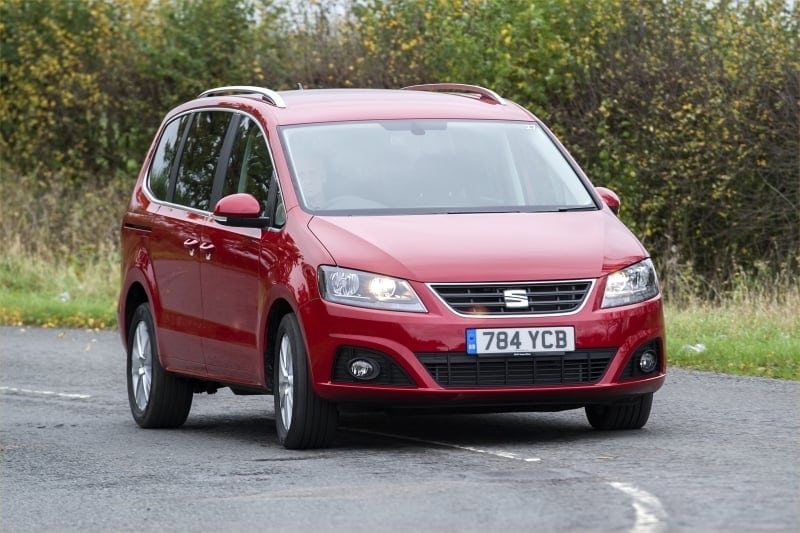 The Seat Alhambra was born out of convenience in the late 1990s, to boost capacity at the Portuguese plant that makes the VW Sharan and, at the time, the Ford Galaxy. Ford soon split from the venture and made its own Galaxy, but the remaining twins have survived, with an all-new range launching in 2010.
This latest version is more an evolution of the second-generation Alhambra/Sharan. It retains the basic shape and the sliding side-door access, and gains the new Euro 6-compliant powertrains that we've seen in the Passat and Skoda Superb.
External styling
Externally, little has changed. The Seat grille gains some horizontal bars and an updated logo, but otherwise you'd struggle to tell old from new.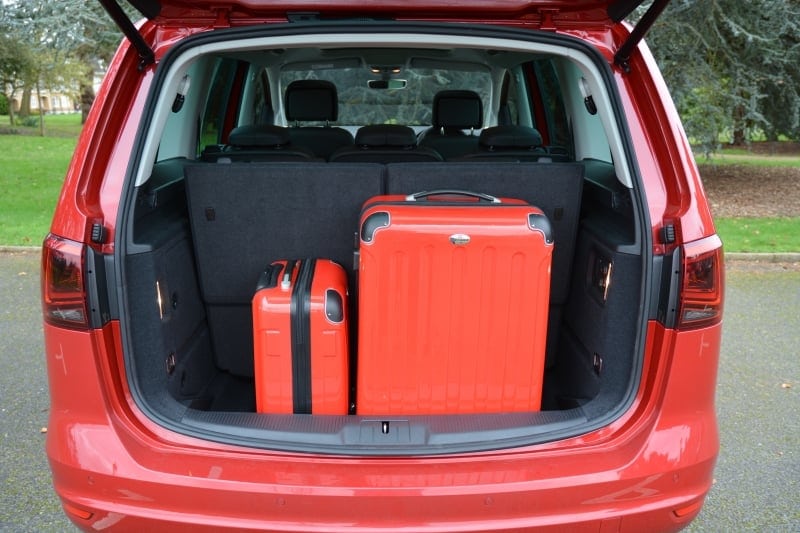 As before, all UK Alhambras come with seven seats – a five-seater without the third row is available in Europe, but won't be coming here. Both the second and third rows will fold flat into the floor. In seven-seat mode, luggage space is limited – you can accommodate our test suitcases, but only just, and 267 litres won't accommodate a holidaymaking family's luggage.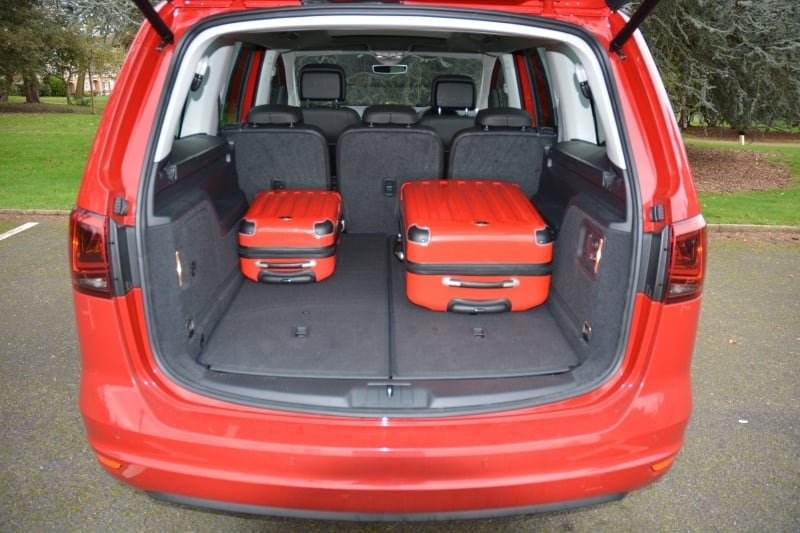 But with the third row down, luggage space soars to 658 litres, giving ample room for bags. Effectively, Alhambra is a very practical five-seater for airport runs and suchlike – as a seven-seater it's only really suitable for urban work.
Flexible seating
The seats are flexible, though. The rear seats fold individually, so there are compromise positions with, say, six seats and increased baggage room. The second row of seats moves back and forth by up to 16cm, adding to flexibility. You can fold down all the rear seats to give a hefty 2,297 litres of cargo space – handy if you also carry out courier work – Alhambra makes a good van.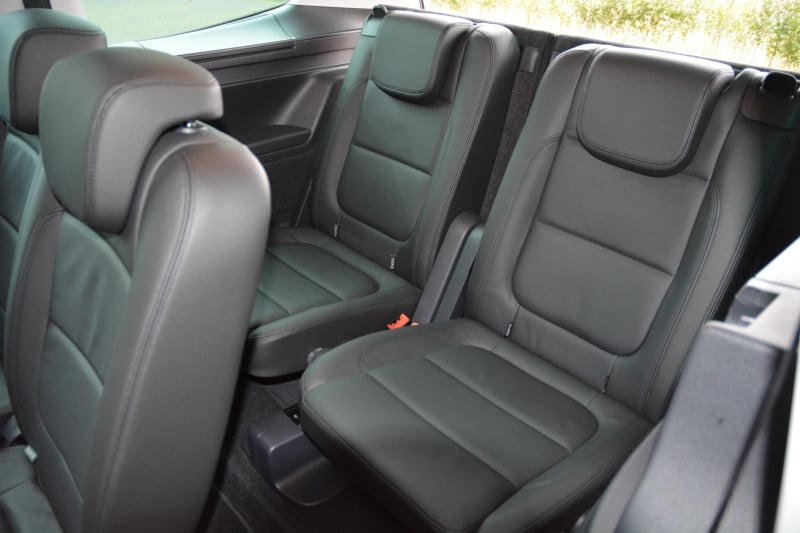 The third row is very easy to fold too – just fold back a couple of solid carpeted mats and pull a toggle on the backs of the seats to retract or raise them again. Even the headrests automatically tip forward when the seat back moves, so there's no need to remove them to make the seats fold.
The second row tips forward to a vertical position, giving excellent access to the third row via the wide, square sliding door apertures. The doors are manual, and require a bit of heft to move them. Second row legroom is extremely good, and rear seat access is as good as any vehicle currently on sale.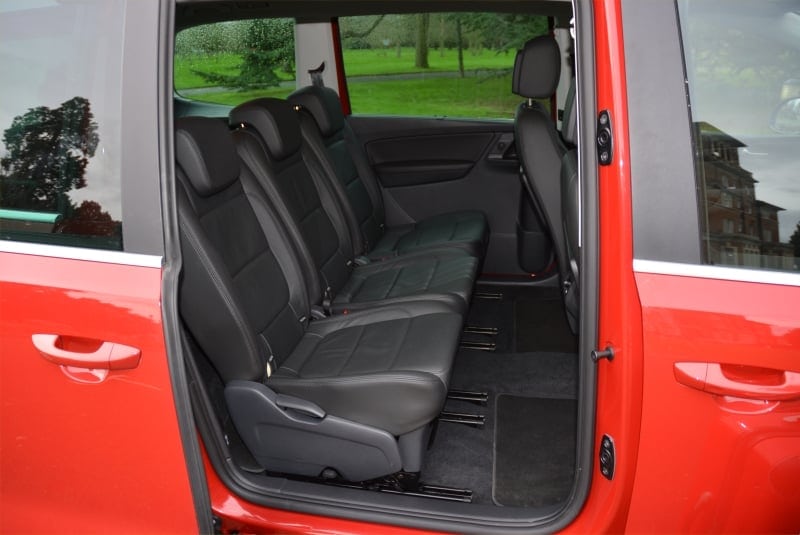 New powertrains
The most significant change is under the bonnet, where new Euro 6 engines from last year's new Passat transfer across. These are more economical than before – the 150PS 2.0-litre TDI is 9.1% more fuel-efficient than the old 140PS engine it replaces.
The 2.0 TDI engine range also includes a more powerful 184PS version, which is fitted to our bright red test car along with automatic transmission. This has a gain of 7PS over the previous Euro 5 engines. Claimed combined fuel economy is 53.5mpg – a little less frugal than the 150PS manual's 56.5mpg. All models are fitted with Stop-Start and brake energy recovery systems.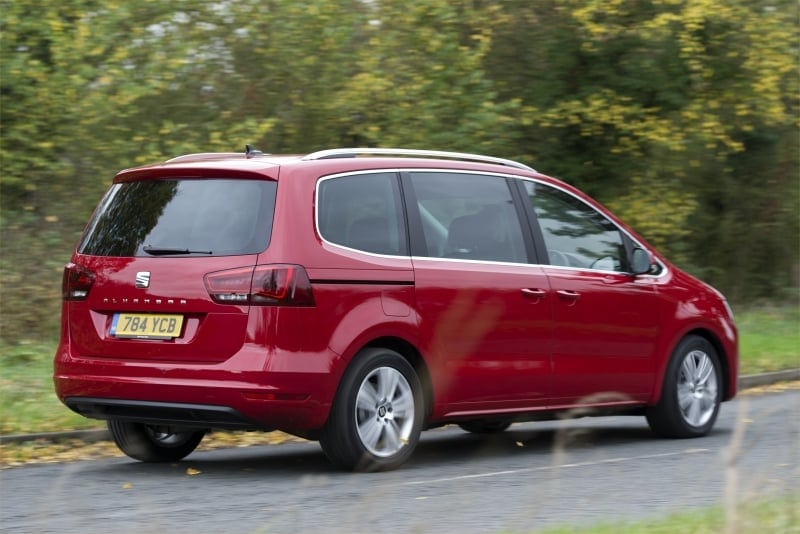 Transmission is a choice of six-speed manual or, on our test car, a six-speed dual-clutch DSG automatic gearbox. We've always been very impressed with VW's DSG boxes. CO2 emissions are in the 130-139g/km bracket for all models, with 150PS manual achieving 130g/km and our 184PS auto coming in at 139g/km.
The DSG box now provides a "coasting" function, which decouples the engine when lifting off the accelerator, which helps give an additional fuel saving.
On the road
On test, we returned 36.7mpg – very acceptable considering a high proportion of urban driving was involved. Expect mpg returns in the mid-40s in everyday use.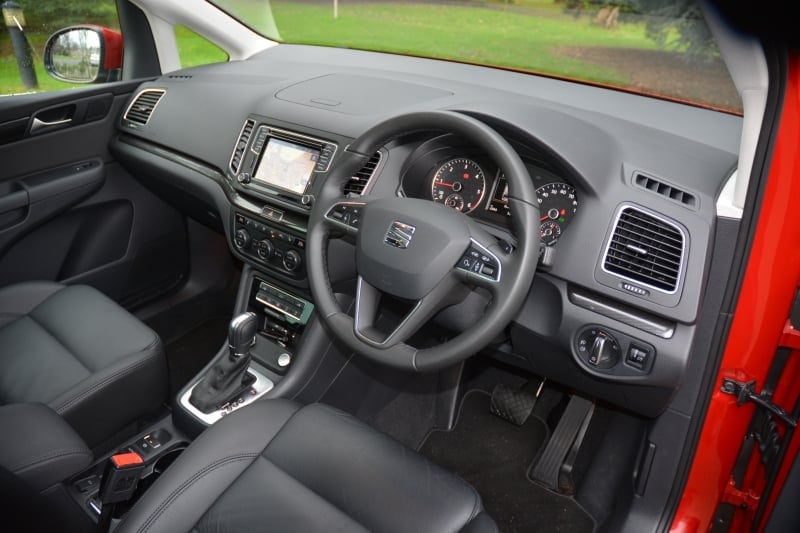 Driving position is good and the alcantara-covered seats are firm and comfortable. The dashboard again is broadly unchanged, apart from an upgraded satnav and infotainment system. The satnavs now have much improved graphics, as well as gesture recognition that brings up a menu when you move your hand toward the screen without actually touching it.
On the road, the car is as stable and solid as before, especially on motorways, with very few squeaks and rattles on urban roads with speed humps. Throttle response is good, though there is notable engine noise under hard acceleration.
Verdict
New engines and a much-improved satnav make for the mildest of facelifts for Seat's popular MPV. All the cabin features from the 2010 model have been retained, giving a versatile load carrier with plenty of room for five people with luggage, or seven people travelling light.
Engines have been cleaned up and improved – expect 40mpg-plus economy, though you'll need to keep the AdBlue tank topped up. Flexibility is enhanced by sliding doors – it's now the only MPV in its class that offers these – apart, of course, from its near-identical VW Group stablemate, the Volkswagen Sharan.
Times have changed in the private hire sector – but there is clearly still room for a seven-seater MPV that isn't van-derived. With the likes of Chrysler Voyager and Kia Sedona now gone from the market, the Alhambra is almost in a class of its own. Its traditional foe remains the Ford Galaxy; alternatives are few apart from the lower-cost option of the SsangYong Turismo. And neither of these offer sliding doors.
---
DATA
Seat Alhambra SE Lux 2.0 TDI auto
| | |
| --- | --- |
| Price | £35,890 |
| | |
| Specification | |
| Engine | 2.0-litre common-rail turbodiesel |
| Transmission | 6-speed DSG auto, front-wheel drive |
| Power | 184PS at 3,500rpm |
| Torque | 380Nm at 1,750-3,000rpm |
| Max speed | 135mph |
| 0-62mph | 8.9sec |
| CO2 emissions | 139g/km |
| Combined fuel economy | 53.3mpg |
| Luggage volume | 658 litres (3rd row folded) |
| | 267 litres (3rd row up) |
| Overall length | 4,854mm |
| Overall height | 1,720mm |
| Overall width | 1,904mm |
| Wheelbase | 2,919mm |
| Turning circle | 11.9m |
| Fuel tank capacity | 73 litres |
| Warranty | 36 months/60,000 miles |
| Insurance group | 22E |
| VED Band | E |