Toyota Prius 1.8VVT iHybrid
It's hard to believe that 20 years have passed since the world took its first glimpse of the Toyota Prius. Within two years, a 1995 Tokyo Show concept would be a production reality, and the hybrid revolution was under way.
With six million units sold worldwide since 1997, Prius has been one of the great automotive success stories of the 21st century. But you wonder if even the most visionary Toyota engineer imagined that the car would have such enormous and lasting appeal as a taxi.
Even Toyota's UK managers express their disbelief at the numbers. In London alone, according to TfL figures, there are around 12,500 Prius cars in service as private hire vehicles. Considering that Toyota's average UK sales of the model has hit around 3-4,000 a year in recent times, an awfully high proportion of the cars sold in Britain have found a home as hire and reward vehicles.
It's favoured by big fleets such as Greentomato Cars, GLH and yes, Addison Lee. And for self-employed drivers looking to get in on the Uber action, the Prius is the car of choice – just take a trip round central London on a Friday night to see how popular the car has become.
The third-generation Prius in particular seemed to hit the spot. Bigger and roomier than the second-gen Prius, it offered sub-99g/km CO2 emissions, 60mpg-plus fuel economy and typically robust Toyota reliability.
And it came at a time when corporate clients were demanding not only less ostentatious executive transport – they had a need to tick the "green" box for compliance with environmental policies. The distinctive hybrid Prius became shorthand for a more responsible corporate transport approach.
Exterior styling
Now Toyota has reached a critical point – the launch of an all-new fourth-generation Prius. And it looks a little different from its two predecessors. For a start, it appears lower and significantly more sporty. Gone is the cut-off tail, replaced by a distinct spoiler that wraps around the side of the car's rear quarter. The distinctive "hump" of the cabin roof has been reduced too, with the apex of the cabin roof further forward, above the driver's door rather than the rear passenger entrance.
This potentially doesn't bode well – so often automotive engineers become entranced by giving the driver an engaging experience that they start to neglect the rear passenger. Thankfully, this is not really the case here. The roof is lower because the entire car is lower – and the height reduction has been made at the floor of the car rather than inside the cabin.
This is partly down to a relocation of the battery pack – rather than under the floor, it's now 10% smaller, and positioned under the rear seat. This in turn has freed up boot space, giving a 110mm lower boot floor and an increase in luggage capacity from 445 to 457 litres when a temporary spare wheel is carried and 502 litres with a tyre repair kit. A new double wishbone rear suspension system also helps maximise boot space.
Rear seats
Rear passenger access isn't quite as good, though. The reprofiled roof line means the rear doors are less tall, and the roof wraps round the side of the car rather than maintaining a flat profile, as on the Mk3.
In fact, compared to the Mk3 Prius the overall height has been reduced by 20mm to 1,470mm. The peak of the roof has been moved forward by 170mm, and the belt line has been dropped and angled forward and lower, emphasising the car's stronger dynamic qualities. The new model retains the 2,700mm wheelbase of the current Prius, but is 60mm longer overall at 4,540mm.
Once you're inside, however, there's no lack of headroom, especially with a scalloped-out headliner over the rear seats. It feels cosy, but it's comfortable enough. And the car is 15mm wider than the Mk3, so it's not quite so snug with three rear-seat passengers. The central part of the rear bench is hard, however – it's a more practical four-seater.
The revised roof profile makes for extra headroom in the front, and the leather seats of our test car were supportive and comfortable.
Dashboard design
The new Prius retains the slim, central display panel just below the windscreen and this now boasts a high-resolution colour display showing speed, energy flow, consumption and other data.
In addition, Prius now comes with a colour LED head-up display, showing sat-nav instructions as well as speed, cruise control information and speed limit warnings.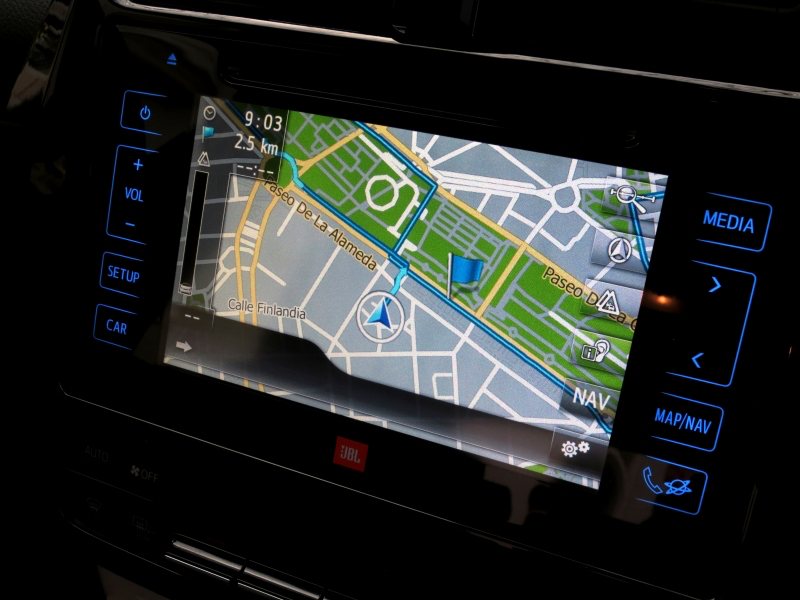 Below the display panel is the central satnav screen. This is a much-improved system from that used in the MK3, which was showing its age toward the end of the model's lifecycle.
The new colour display has excellent graphics and readable text. It seems to be a generation advanced from the system we first saw of last year's new Avensis. It's touch-screen, as is the current trend, but appears to be logical in use.
Below the screen you find the familiar gear selector – though it's now protruding horizontally from the dash – the bulky central console has been reduced, in order to leave room for an inductive phone charge pad – which allows suitable phones to recharge without a cable.
Powertrain refinements
Under the bonnet there are refinements, but the powertrain is not radically different. Toyota has even retained the Nickel Metal Hydride battery pack, rather than switching to Lithium Ion, which is believes is more suited to plug-in vehicles.
And yes, there will be a new plug-in Prius next year, which will offer 31 miles of all-electric range – a big improvement on the 12 miles or so that the old plug-in gave you.
Meanwhile, the "regular" Mk4 Prius offers a significant improvement in CO2 emissions. With 15in wheels (a down-spec option from standard 17in wheels as fitted to our test car) it can achieve 70g/km on the current EU standard bench test. This has a significant tax implication – vehicles below 75g/km qualify for 100% write-down allowance (as opposed to 18%). With the 17in wheels, it only achieves 76g/km, hence the 15in option for business users. And as business customers will account for 80% of sales, it makes sense.
On the road
The latest generation of Toyota's full hybrid powertrain is still based around a 1.8-litre petrol engine with integral electric motor and CVT transmission. But revisions give the new Prius a significant advance in fuel economy (combined cycle of 94.1mpg against 72.4mpg on current Mk3 Prius T3) and improved driveability. And it's a smaller unit, which has helped make a lower bonnet and a smaller frontal area, thus improving drag.
Certainly it feels more eager, with sharp acceleration in electric mode and when the petrol motor kicks in. It's smoother and quieter, and the transmission is better – there's less "CVT boom" from the engine when you kick down for overtaking.
The battery charges faster as the car is being driven, so the electric motor does more work. That accounts for much of the fuel economy improvement. The electric motors are smaller too, and provide a better power-to-weight ratio.
Updates to the hybrid system software help too. This allows the new Prius to draw more on its electric drivetrain, allowing it to accelerate in a low engine rev range. It has also permitted the speed range of the electric motor (the range in which the electric motor can be used exclusively) to be increased by 60 per cent, compared to the current model. This means there is less dependency on the petrol engine at higher speeds, further improving fuel economy.
On test, we achieved 55.4mpg on a mix of Spanish roads, including urban traffic jams, motorways and twisty country roads. Nowhere near the 85.6mpg bench test on 17in wheels, but encouraging results from a brief drive in "standard" mode.
The car handles well, thanks to its lower centre of gravity, another bonus of the reduced height. The body is 60% more rigid than before thanks to extensive use of high-strength steels and additional reinforcement to the centre pillars' lower structure and the panel connection. Conversely, the A-pillar is slimmer than before, and coupled with a lower bonnet line, it gives excellent frontal visibility.
Safety features available as standard across the range include adaptive cruise control, lane departure warning and pedestrian automatic braking at low speeds. Rear reversing cameras are fitted too.
UK sales started at the beginning of March, with a four-trim line-up: Active, Business Edition, Business Edition Plus and Excel trim levels all have the same powertrain. On-the-road prices start at £23,295 – a £1,200 increase on the base-model T3 Mk3 (£21,995).
You need to go to Business Edition Plus to get a satnav, while only top-line Excel trim offers leather seats as standard. Dual-zone air-con, DAB radio and LED lights are standard on all models.
Verdict
Following up a smash hit car in the private hire sector isn't always easy. Buyers are fickle, and if the manufacturer messes with a successful formula, sales can disappear– Chrysler 300C, anyone?
Many have private hire fleets have been loyal to Prius for more than a decade, though, and it still hasn't really got a serious competitor – Honda came closest with the Insight, but that model is no longer sold. So Prius remains the go-to hybrid for operators wanting to cultivate a "green" aura.
The Mk4 Prius risks this by adopting a more sporty stance – but fortunately it hasn't departed too far from the template, The lower stance is there because of a structural redesign, and really, interior space hasn't been compromised. Door openings are perhaps smaller, but there's more boot space and the cabin is a tad wider.
It's a livelier drive, and the electric motor will do more of the work, especially at low speeds. The CO2 reduction is impressive, and the 100% write-down allowance will encourage operators to buy their own cars.
It's the cleanest Prius yet, and this just highlights the absurdity of TfL's "zero-emissions capability" demand that means this car won't actually meet the proposed 2020 rules. In four years, we'd expect a lot of those 12,500 Mk2 and Mk3 Prius PHVs to be replaced by Mk4s. Surely that should be welcomed, not discouraged?
Above all, it's still recognisably a Prius, and the numbers look like they'll add up even more than on the outgoing model. Those hybrids will be here for a few more years.
---
DATA
Pricing
| | |
| --- | --- |
| Model | OTR Price |
| Prius Active | £23,295 |
| Prius Business Edition | £24,195 |
| Prius Business Edition Plus | £25,995 |
| Prius Excel | £27,450 |
Specification
| | |
| --- | --- |
| Engine | 1,798cc four-cylinder petrol with electric motor |
| Transmission | Electric CVT, front-wheel drive |
| Battery | 1.1kWh Nickel Metal Hydride |
| Power | 121bhp |
| Max speed | 112mph |
| 0-62mph | 10.6sec |
| Combined fuel economy | 85.6mpg (17in wheels) |
| | 94.1mpg (15in wheels) |
| CO2 emissions | 76g/km (17in wheels) |
| | 70g/km (15in wheels) |
| Length | 4,540mm |
| Width | 1,760mm |
| Height | 1,470mm |
| Wheelbase | 2,700mm |
| Luggage volume | 502 litres (with tyre repair kit) |
| | 457 litres (with temporary spare wheel) |
| Fuel tank capacity | 43 litres |
| Warranty | 5 years /100,000 miles |
| VED Band | A |