Volkswagen Arteon Elegance 1.5 TSI EVO 150PS manual
Volkswagen's CC four-door coupe turned out to be a surprise hit in the executive chauffeuring market. A stylish, low-roofed derivative of the previous-generation Passat its good looks won it some orders – though in truth, it was a little restricted in the back seats.
Volkswagen's replacement for the CC is the Areton, which was launched late last year. It follows the same basic formula of a lower roof line and frameless doors, but it very successfully addresses the CC's shortcomings.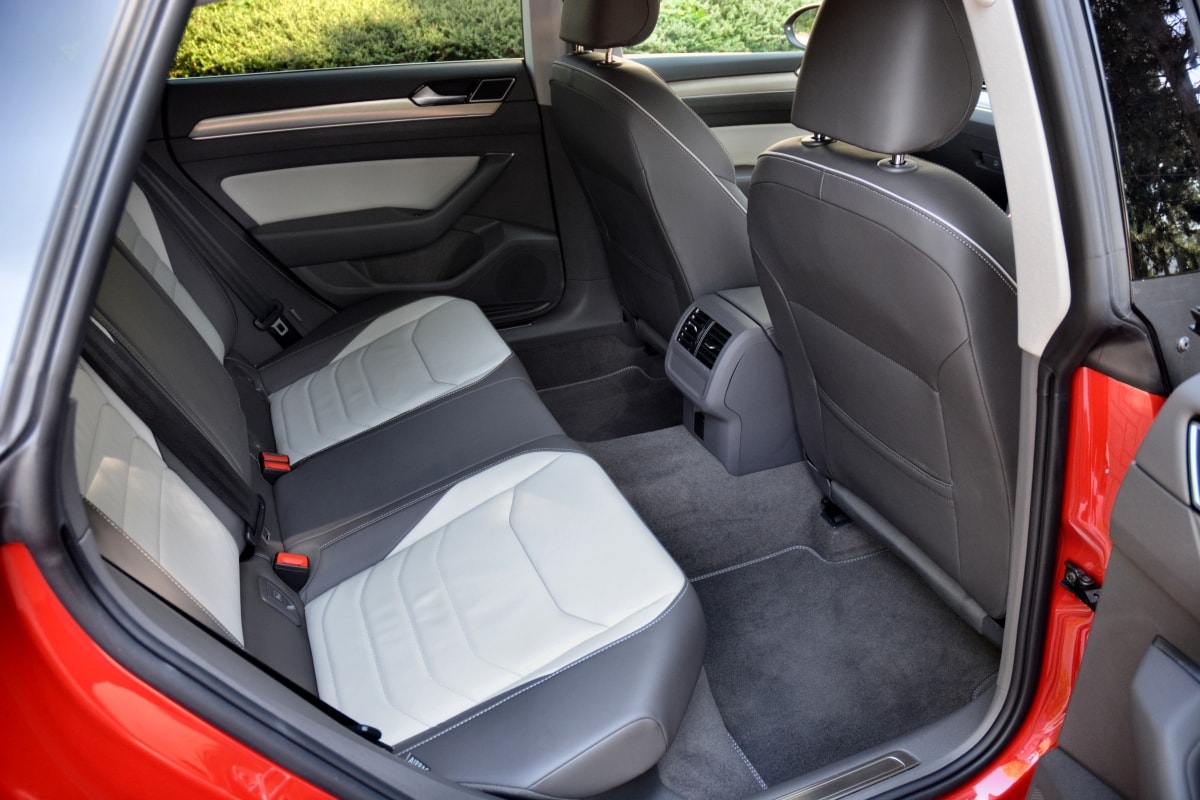 Indeed, it does this to such a degree that it's considerably roomier in the back than the latest Passat, on which it is based. OK, the roof is still lower, but the legroom is among the best in its class.
How has it achieved this magic trick? Simple. Instead of using the standard Passat running gear, the Arteon uses the 2,837mm wheelbase of the Skoda Superb, 51mm longer than the Passat, and a whopping 131mm longer than the CC. That means you get best-in-class legroom of 1,016 mm, comparable to the capacious Superb, as well as a voluminous hatchback boot – 563 litres with the rear seats in place.
With a length of 4,862 mm, width of 1,871 mm and a height of 1,450 mm the Arteon is proportioned to carry five people in considerable comfort. The rear interior width of 1,481 mm is among the best in the sector.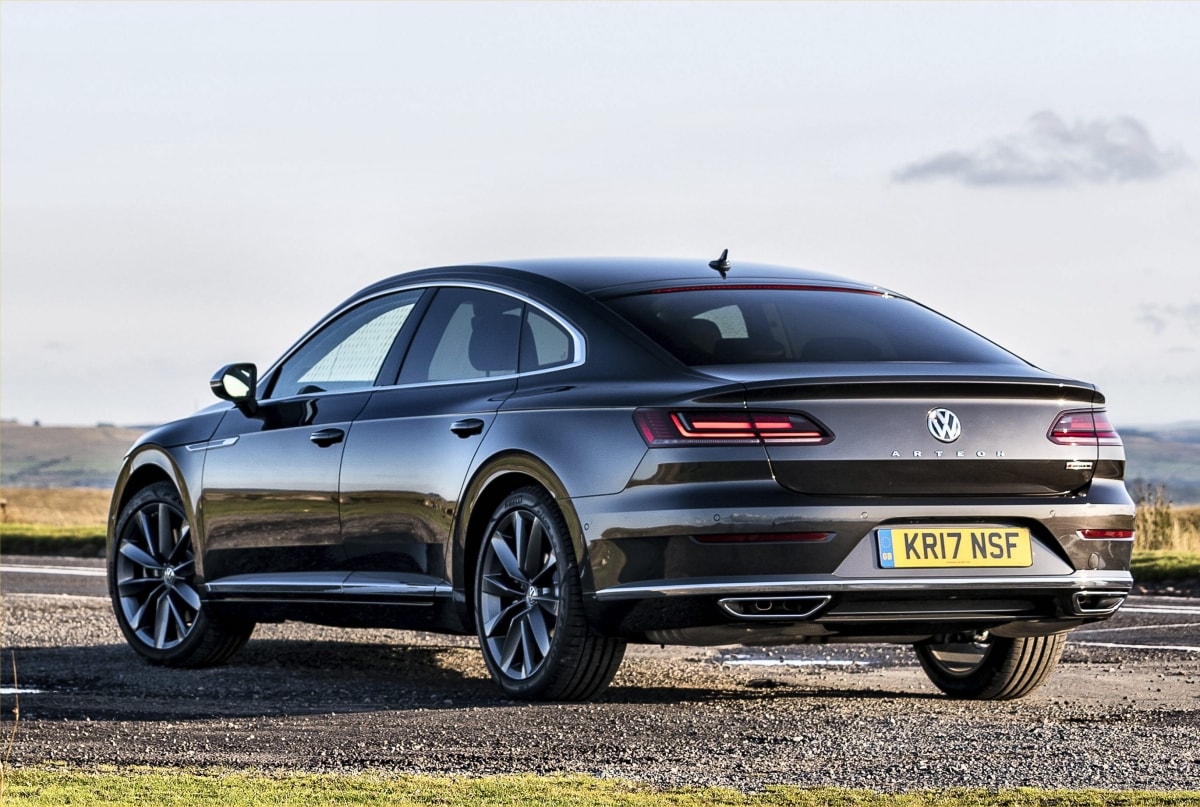 The Arteon is a hard car to categorise. It's the perfect tool for "business class" executive work, where something a bit less prestigious than a Mercedes, BMW or Audi is required, and something a bit better than a standard minicab. Volvo territory, perhaps, and upscale sub-brands such as Ford's Vignale or Skoda's Laurin & Klement trim levels are obvious rivals.
VW maintains the Arteon is a rival to the likes of the Audi A5 Sportback, BMW 4-Series Gran Coupe, Mercedes-Benz C-Class and Jaguar XE. And while it may lack a little of the prestige of those brands, it's a much more roomy car – where many of those are a little marginal for chauffeur work, the Arteon is one of the most suitable in its size and price bracket.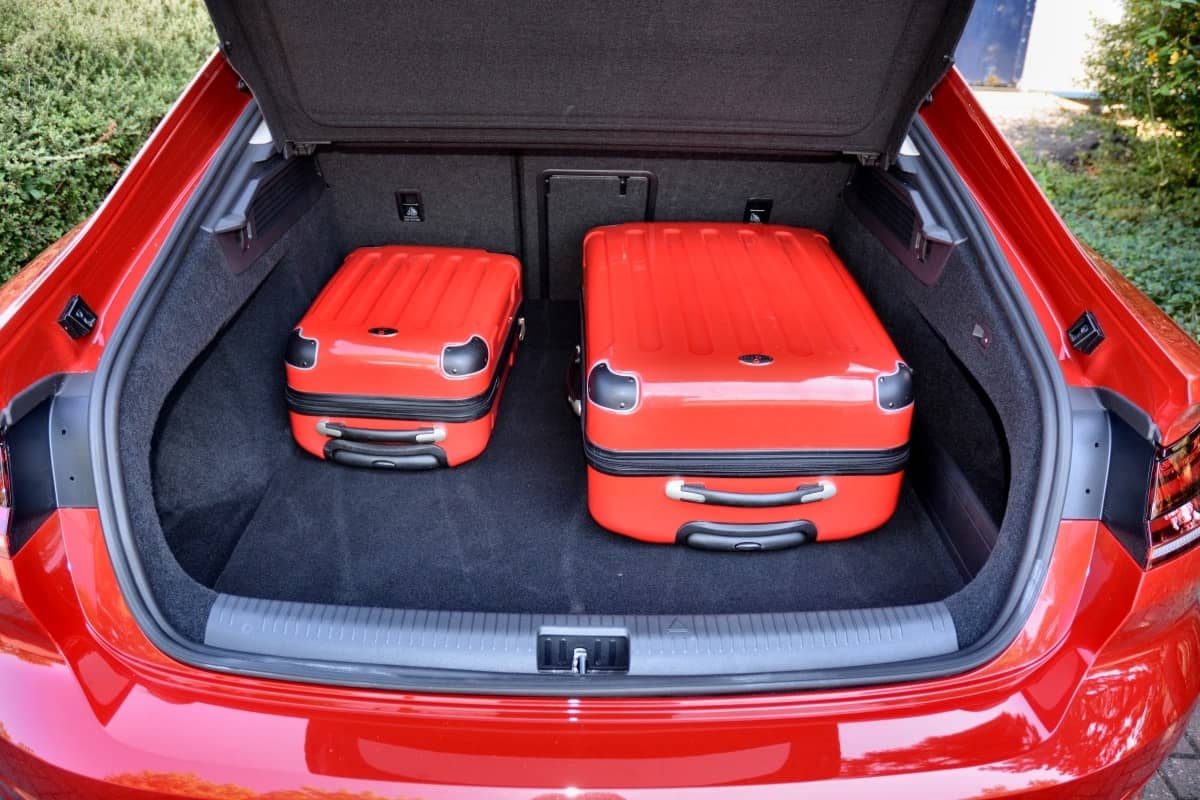 With the Phaeton now gone from the Volkswagen range, the Arteon is now the flagship four-door saloon in the range. It's nicely made, with the Arteon badge spaced in chrome letters on the boot, just like on the old Phaeton. At the front, a wide grille emphasises the car's large footprint. It feels wider than it is.
Engine options
There are a number of engine choices: turbocharged direct injection engines: a 2.0 TSI petrol unit with power of either 190PS or 280PS; 2.0 TDI diesel engines with outputs of 150PS, 190PS and 240PS; and a newly designed 150PS 1.5 TSI petrol Evo unit, featuring economy-boosting cylinder deactivation technology, which we're testing here.
With transverse-mounted four-cylinder engines, front-wheel drive is standard, except on the 280PS 2.0 TSI and 240PS 2.0 TDI, which have Volkswagen 4Motion all-wheel drive as standard. The 190 PS 2.0 TDI is also available with optional 4Motion. Higher powered units have seven-speed DSG automatic transmission, though all 150PS and 190PS models have the option of a six-speed stick-shift, as on our 150PS 1.5 TSI test car.
Trim levels
Arteon comes in just two trim levels – luxury-focused Elegance, on test here, or more sportily styled R-Line. On both trim levels, a broad range of advanced equipment as standard. The latest Discover 8.0in colour touchscreen satnav system is standard fit, along with a digital dashboard using a 12.3in display. All Arteons have Bluetooth audio and telephone connectivity.
Even the most basic model has 18in alloy wheels; LED self-levelling headlights; LED tinted rear light clusters with dynamic indicators; plush Nappa leather upholstery; and three-zone electronic air conditioning with automatic air recirculation. Options include a head-up display, and a larger 9.2in satnav screen and gesture control. This might be a worthwhile investment, as the touch screen is positioned a little distantly and data entry is a little fiddly.
Interior
The interior will be familiar to Passat owners, with a similar dashboard with full-width ventilation grille and central analogue clock. Everything is dark grey and aluminium – very Germanic. Seats are comfortable, though they comprise an odd combination of manual and automatic functions – manual slide, but automatic back recline.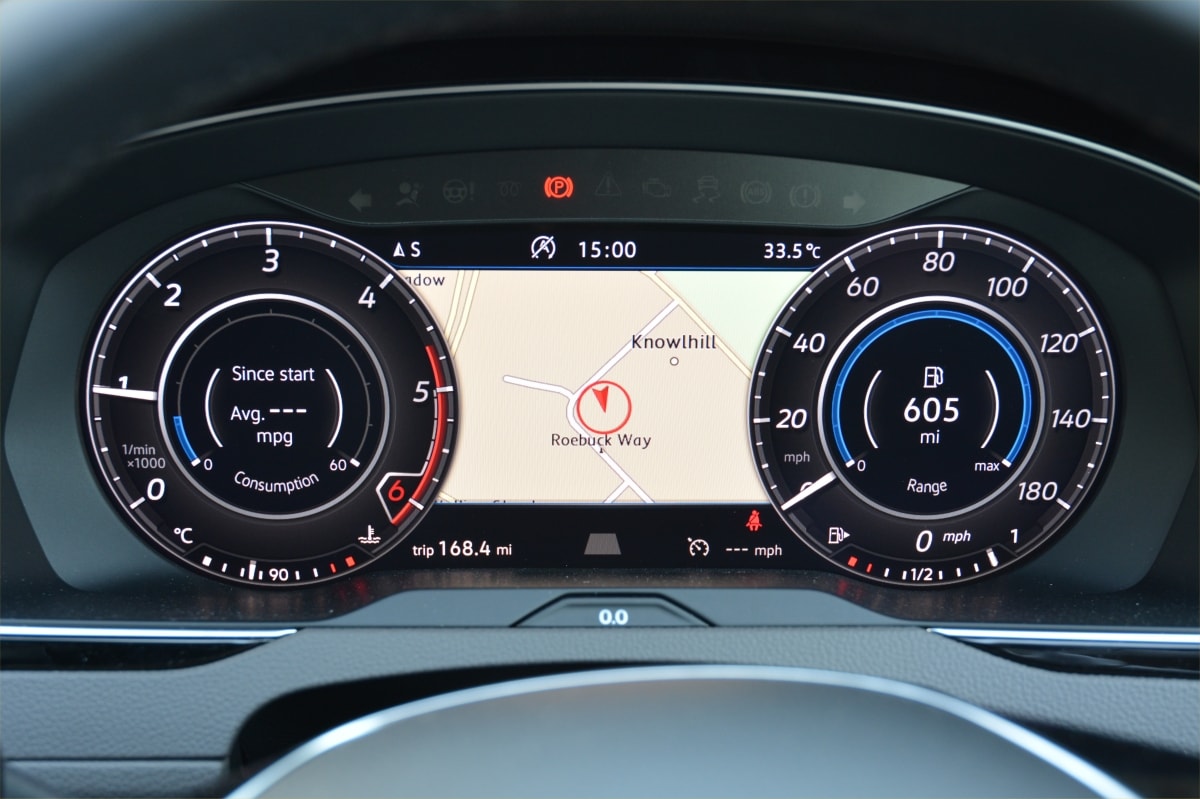 The car is wide, and feels wide. The interior lines certainly enhance that feeling, but there is genuine room for three passengers in the back – something that rear-drive rivals struggle to emulate.
The roof is lower, but the rear doors are much bigger than those of the old CC, making rear seat access a lot easier. Scuplted headliners work well too – only the tallest customers might struggle with the low roof. In fact rear headroom is 940mm thanks to the long roof, not far short of the 1,008mmin the front.
Safety systems
Safety systems in every Arteon include adaptive cruise control with predictive cruise control; city emergency braking; front assist; speed assist; traffic jam assist; lane assist and a driver alert fatigue warning system.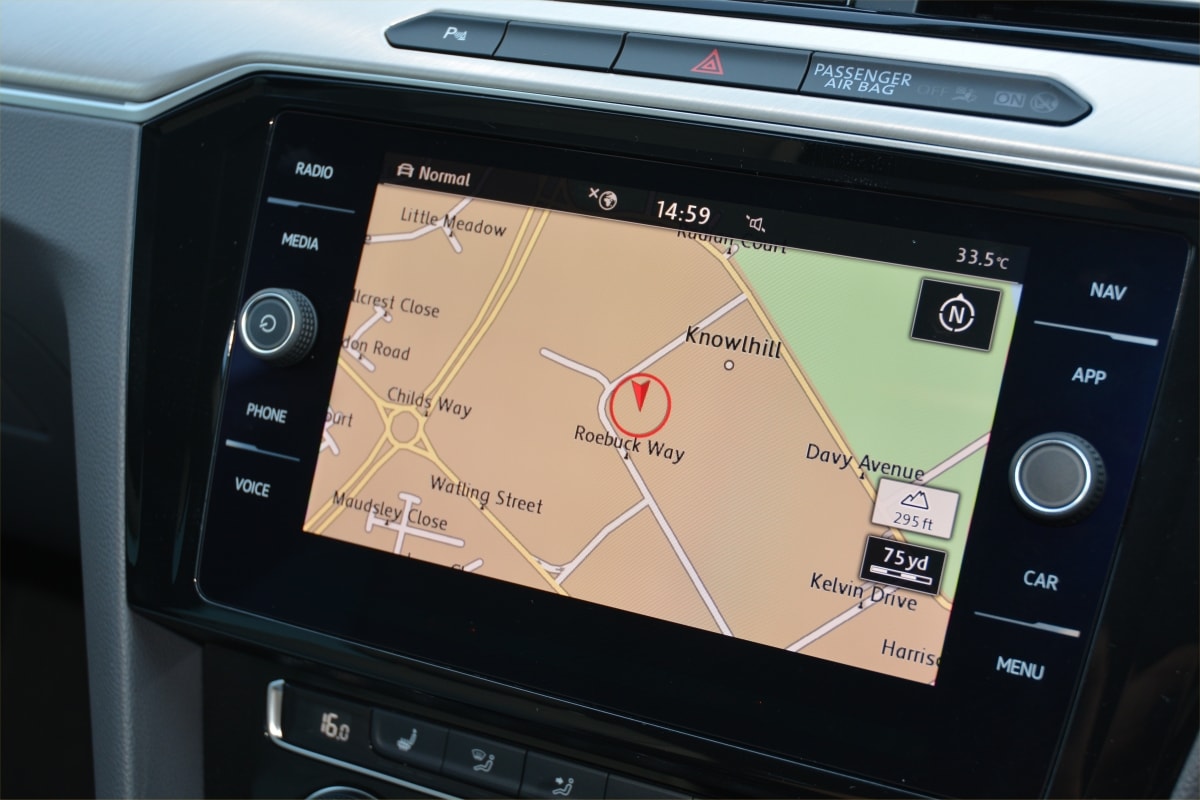 The ACC system uses GPS-based road data to 'see' speed limits, and adjust the car's speed as appropriate. Meanwhile Road Recognition, using the front camera and route information from the navigation data and working within system limits, predictively adjusts the vehicle's speed prior to bends, roundabouts and junctions. The ACC is active from 0 to 130mph.
Performance and handling
On the road, the Arteon handles well, thanks to progressive gearing of the electro-mechanical power steering. This makes steering more precise on twisty roads, and has the added benefit of reducing steering effort in town.
It feels a little unusual to be testing petrol rather than diesel, but that's the way the world is going. A highly efficient, smaller petrol engine may be a way forward – unless zero-emission capability is mandated. But the Arteon's 1.5-litre engine has surprising reserves of torque, albeit at slightly higher revs than you might expect from a 2.0-litre motor.
This is a highly efficient engine that switches off two of its four cylinders when coasting, thus becoming highly fuel efficient. A claimed 54.3mpg is well on a par with the best diesels in the class. On test, we returned 38.1mpg on general driving, though on a run the figure climbed well into the mid-40s as the engine worked in maximum efficiency mode.
Verdict
The new Volkswagen Arteon has not just replaced the old CC model – it has supplanted the defunct Phaeton as VW brand's flagship saloon. Is it up to the task?
The new model is certainly big enough to be a flagship. It is 60mm longer, 16mm wider and 10mm taller than the CC and comfortably longer than key market rivals such as BMW's 4-Series Gran Coupe and the Audi A5 Sportback.
This is particularly evident inside – neither the BM 4 nor the A5 are really convincing in rear seat terms – and don't cut the mustard as executive chauffeur transport. But despite its low roof, Arteon leverages its close ties with Skoda's Superb, the class leader for interior space, to provide a very convincing executive transport. Legroom is excellent and headroom is acceptable. It'll take three in the back, and their luggage in the boot.
With "dieselgate" taking its toll on VW, it's interesting to see that the company has a highly acceptable petrol alternative- this is something you might need to bear in mind. There is a level of hysteria about diesel that doesn't seem to be going away.
And on our test, the smallest petrol engine in the range,1.5-litre 150PS, gives highly acceptable returns, especially on a run, when the engine's clever technology allows it to run on just two cylinders. You might still want to look at the diesel, though. VW reckons the 150PS 2.0-litre TDI with seven-speed DSG auto will be the best seller.
It's a lot more expensive than the old CC, but a lot more competent. It's not really a direct replacement – rather, it's an alternative Passat with better looks and more legroom, as well as a more sporty stance. And as a "business class" car, that's a good combination.
---
DATA
Volkswagen Arteon Elegance 1.5 TSI EVO 150PS manual
| | |
| --- | --- |
| Price OTR | £31,100 |
| Specification | |
| Engine | 1,498cc 4-cyl 16 valve petrol |
| Transmission | Six-speed manual, front drive |
| Power | 150PS at 5,000-6,000rpm |
| Torque | 250Nm at 1,500-3,500rpm |
| 0-62mph | 9.0 sec |
| Top speed | 138mph |
| Fuel economy | 54.3mpg |
| Combined CO2 | 119g/km |
| Length | 4,862mm |
| Width | 1,871mm |
| Height | 1,450mm |
| Wheelbase | 2,837mm |
| Loadspace | 563 litres |
| Fuel tank capacity | 66 litres |
| Warranty | 36 months / 60,000 miles |
| VED Band | G |