Volvo S90 2.0 T8 Inscription Pro Auto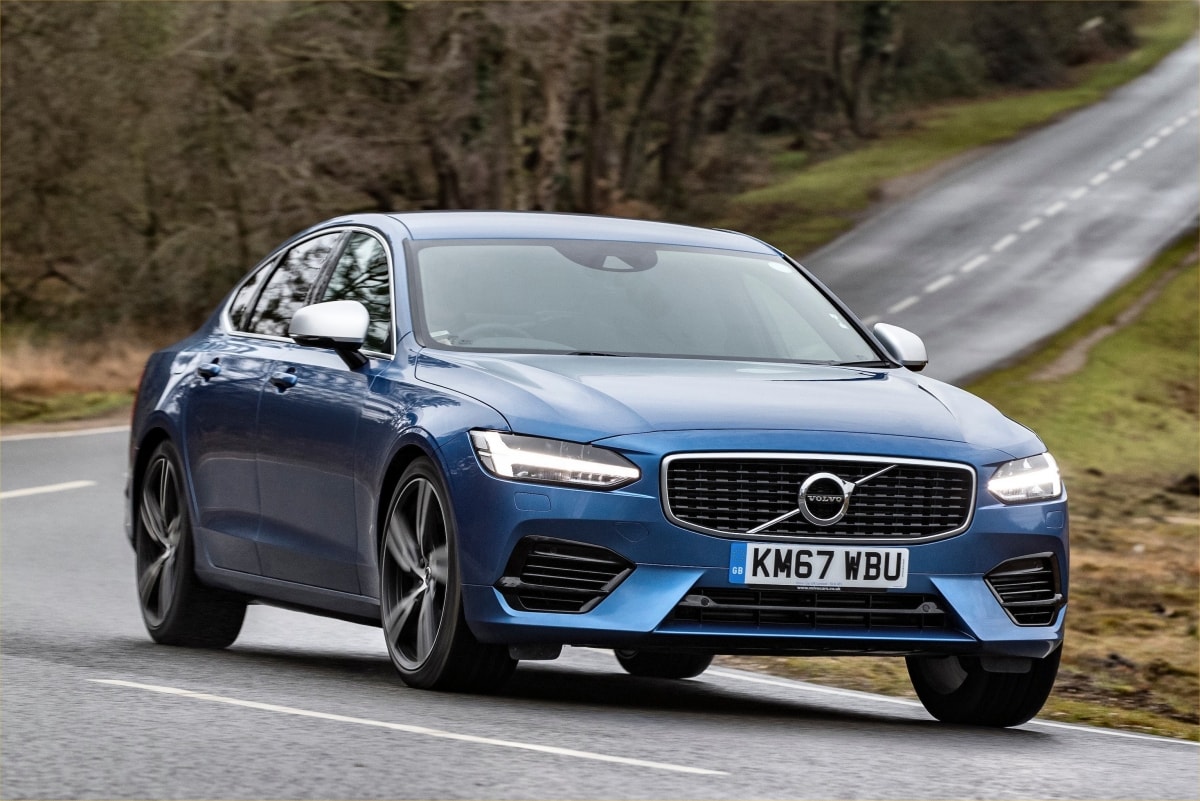 Air quality is undoubtedly a major issue, and it's one of the key drivers behind moves toward electric cars rather than petrol or diesel. Hybrids, especially plug-ins, are seen as an important staging post on that route, as they're not totally dependent on inadequate electric charging infrastructure.
But to get the most out of a plug-in hybrid, you'd need to be the sort of motorist who makes relatively short journeys with frequent top-up recharges. It's unlikely that a chauffeur would fit that bill – even if you could find a charge point.
But unless Transport for London has a rethink about its ULEZ rules for private hire, a plug-in hybrid is the least you're going to need in order to avoid the £12.50 a day ULEZ charge in London. Most of the day, you'll be driving around in essentially a petrol-engined car, but crucially, you'll tick TfL's ULEZ-compliant box. Happy days.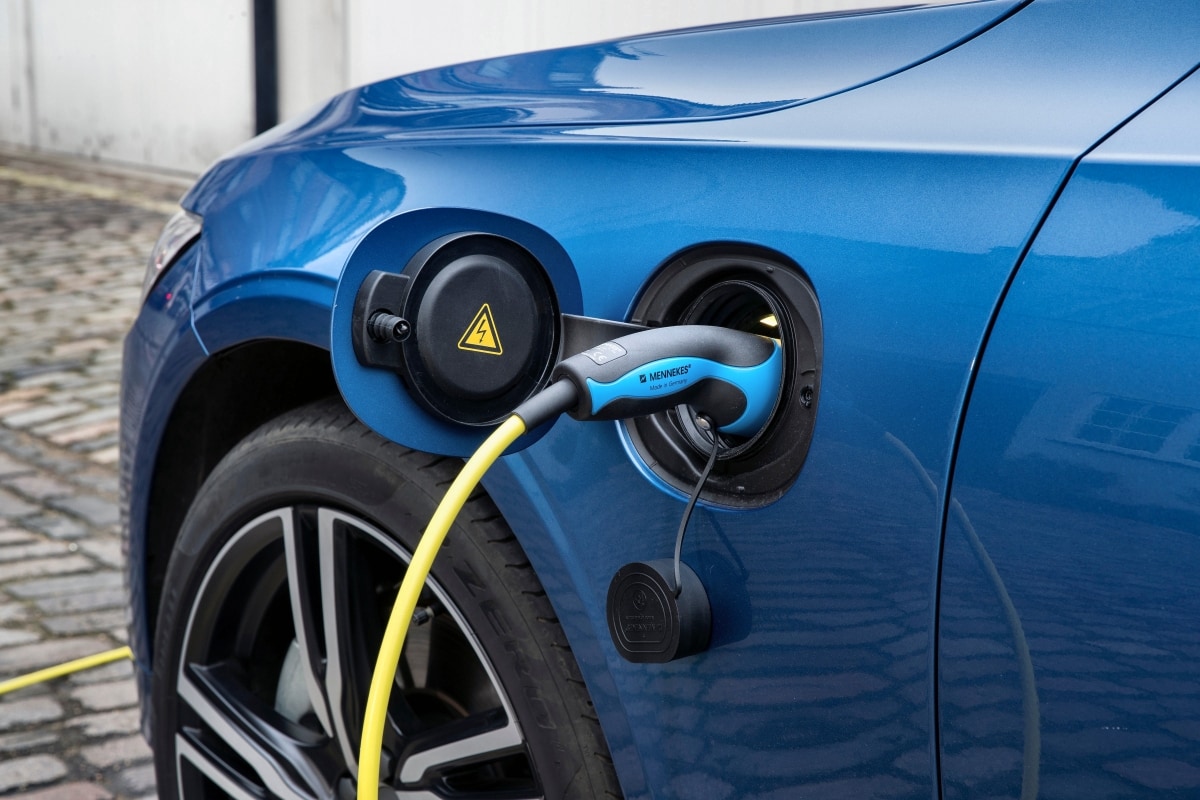 Among the relatively limited supply of plug-in hybrids, currently available, Volvo has been ahead of the curve. Its XC90 T8 Twin Engine SUV was Professional Driver's Green Car of the Year in 2016. And last year, Volvo added the same petrol-electric plug-in powertrain to its S90 and V90 saloon and estate models.
The Volvo S90 replaced the worthy S80 in 2016. It's bigger than its predecessor, with distinctive, clean Scandinavian styling. It looks long and very elegant, with an unfussy design.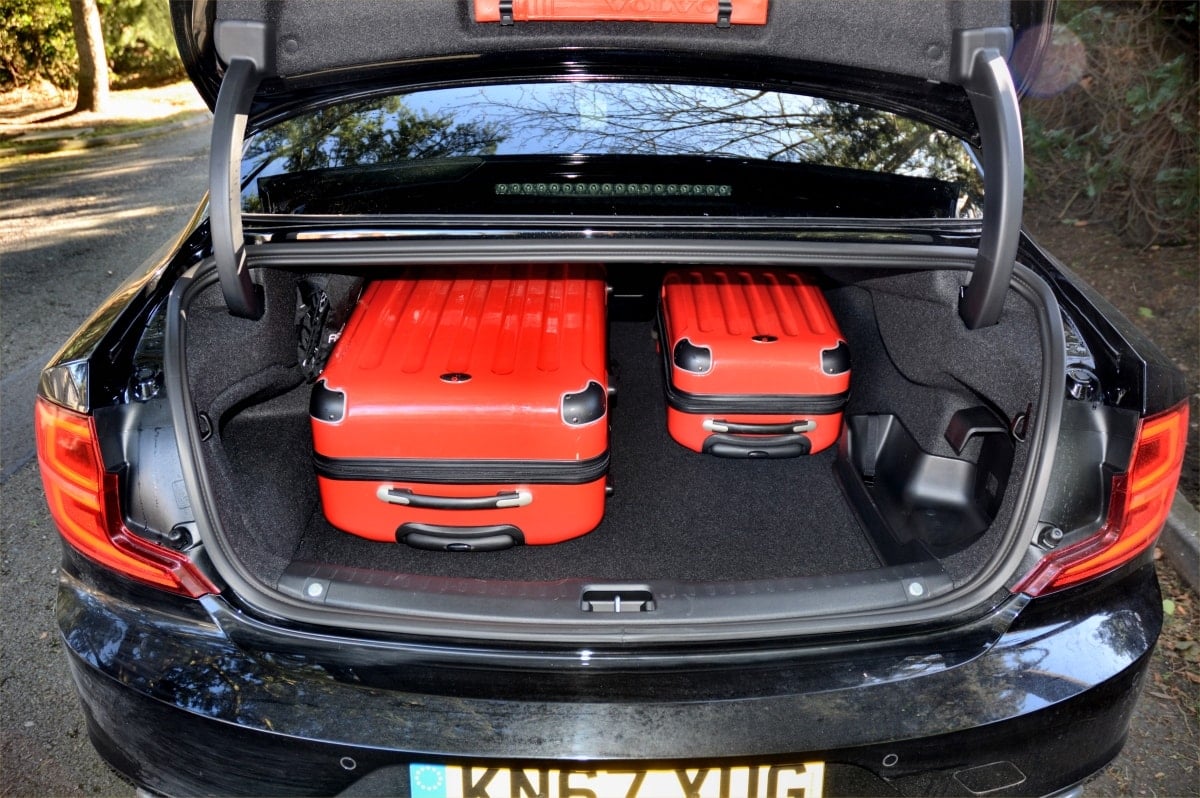 Rear seat and boot
Rear legroom is as good as anything in the sector, and we were equally impressed by the 500 litre boot space, which is not compromised by the hybrid powertrain, other than the need to store a bag containing two bulky cables – there is no underfloor space for them, as the fuel tank takes up the spare wheel well.
The S90 is already established as a highly competitive rival to E-Class, with exceptional cabin space. But the hybrid, only available on up-market Inscription and R-Design Pro trim levels, adds an extra level of refinement and low cabin noise thanks to the hybrid powertrain.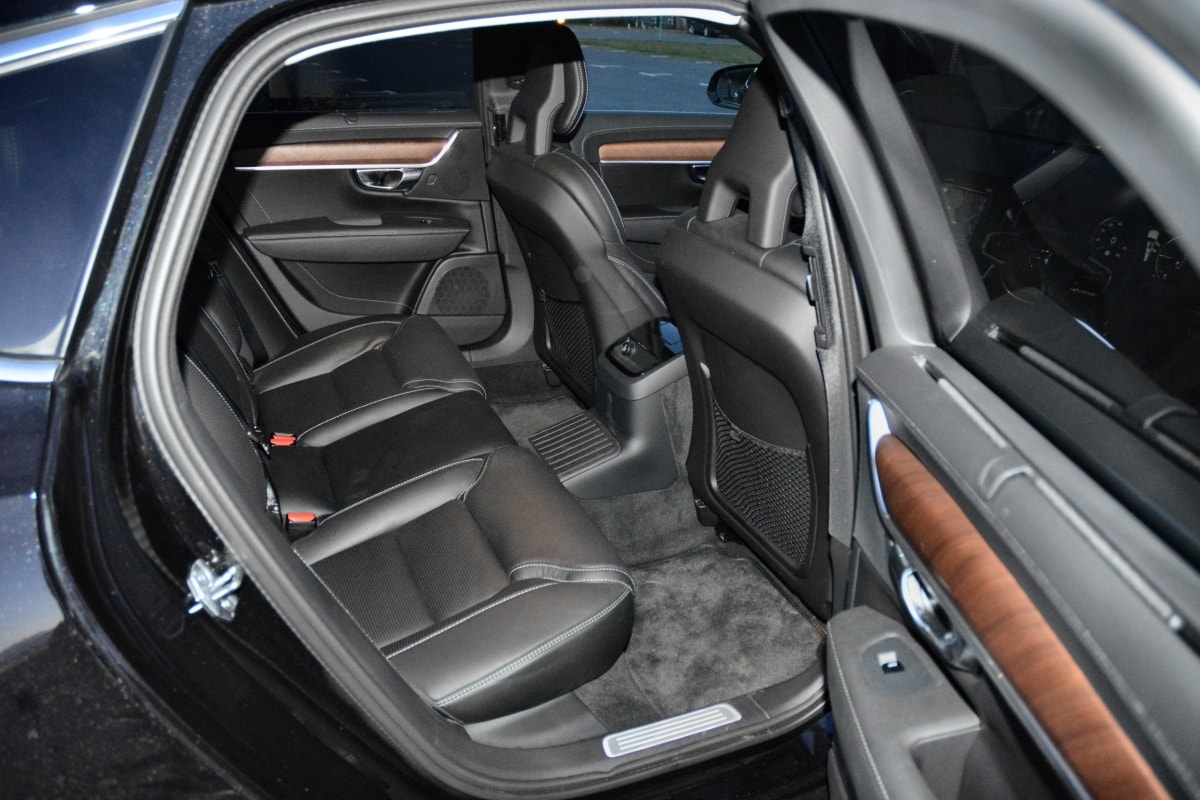 Powertrain and pricing
It uses the same drivetrain and battery as the XC90. That means all-wheel drive, with a 2.0-litre petrol engine coupled with a crank-integrated starter generator and an eight-speed automatic transmission driving the front wheels, and a 65 kW electric motor powering the rear wheels.
In the middle of the transmission tunnel is a 9.2 kWh lithium-ion battery with 6.7 kWh usable capacity. As the S90 is a little lighter and more aerodynamic than the XC90, that should enable around 30 miles of all-electric range.
The T8 versions of S90 are being pitched as up-market, range topping options. There is the choice of T8 Inscription Pro at £57,705 or the performance-oriented T8 R-Design Pro at £56,455. We're testing the less sporty of the two trims, but with a loaded specification including adaptive dampers and air suspension, a park-assist pack, a £3,000 stereo upgrade and a few other geegaws that take the price up to £65,905 – into the bottom end of BMW 7-series territory.
The T8 powertrain is seen as Volvo's flagship, and it's not just about economy. This is an impressive performance saloon too. The T8 will hustle you along from a standing start to 62mph in 4.8sec, while delivering official fuel economy of 141.2mpg, although we achieved a realistic 40mpg in normal usage. Switching the car to eco mode optimises energy recuperation, allowing the battery to be recharged on the go, giving more electric miles.
There is a plug-in Volvo V90 T8 estate, with the Inscription Pro costing £59,705 and the R-Design Pro £58,445. Performance data is the same as for the saloon.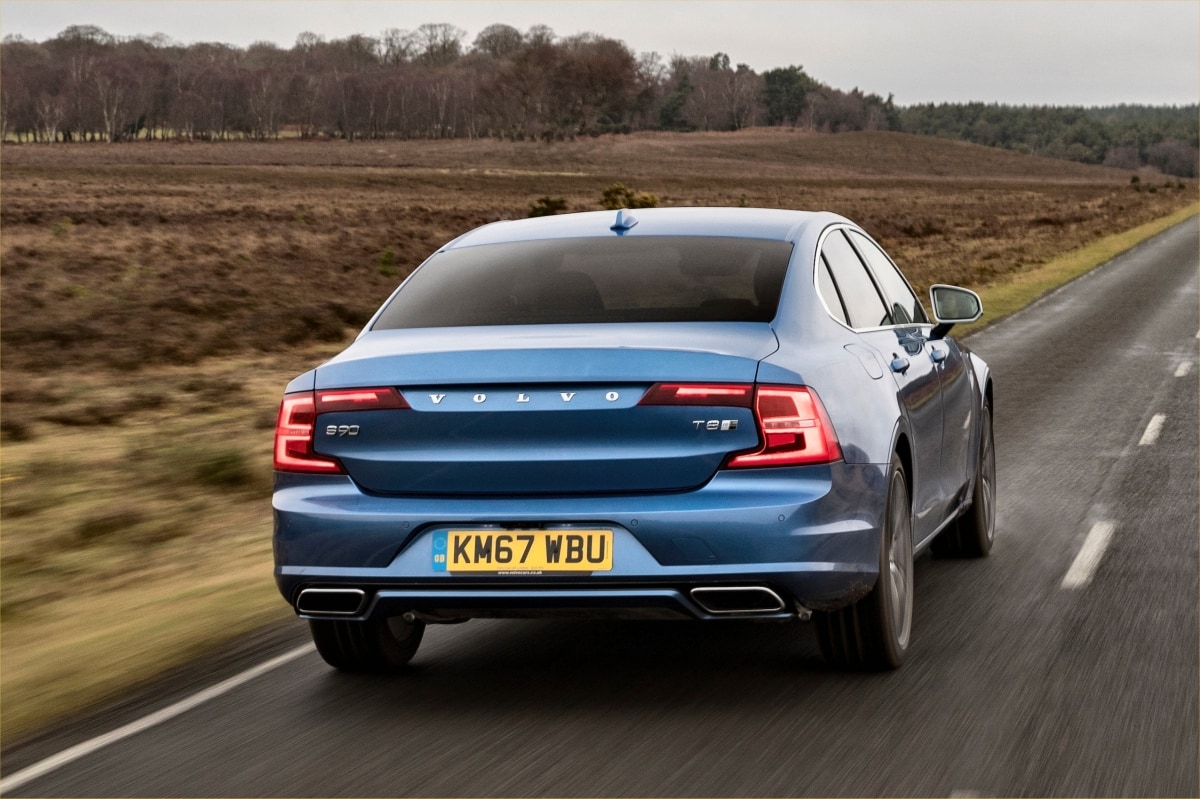 Safety and autonomy
As you'd expect, safety is high on the agenda. Adaptive cruise is extremely smooth and progressive – and it will take the car down to a standstill in traffic. It will resume if you don't stop for more than a few seconds. Lane departure and City Safety systems are fully integrated.
In addition, this is a car that is very much "autonomy-ready". Press a button on the steering wheel and you can add adaptive steering – hands off the wheel and the car tracks the lanes – for a short time, before flashing up a warning to resume contact with the wheel. Ignore it and a more strident audible warning sounds, before the "autopilot" disengages.
So as long as you just keep applying gentle touches to the wheel, the S90 will cruise along happily on sweeping motorway curves, holding a safe distance from the car in front and remaining in lane. Tighter bends on A-roads are a little less convincing, though, with turn decisions being made a little late for a truly comfortable ride.
Volvo is testing these systems on UK roads, but only on motorways – even a well-sorted AV system is still not ready for more twisty roads, even at lower speeds.
We've grown to love the S90's looks both outside and in. It has clean, sharp lines, lovely details and a great "big car" feel – certainly compared to BMW 5-series, and to a lesser extent, Mercedes E-Class.
Dashboard and satnav
We also really like the highly minimal interior. Switchgear is kept to a minimum; the instrument panel is digital and a 12.3in portrait-format digital panel sits at the centre of the dash. The screen operates like a tablet, with maps sizeable by pinching and functions accessed by swiping your fingers across the screen.
It looks great, and the capability of the system is immense. But it's one area where the Volvo doesn't offer quite the smooth input ability of BMW and Mercedes' physical input devices. It's much easier to discreetly input an address using a rotary wheel with you hand stabilised on the centre console than it is to use a touch screen. With touch, you have to look at the screen, and bumpy roads make input accuracy a little hit or miss, literally.
On the plus side, Volvo seems to have addressed the weakness of the map display on early second-gen XC90s, where roads would disappear if you zoomed out too far. A much more detailed map with better graphics now anchors the system, and a traffic flow function that highlights traffic snarl-ups in red is a useful function, though it didn't always spot the jams.
What we do like about the system is its ability to customise the way the car drives to suit the driver, especially in terms of ride and handling. That's great news for chauffeurs who want a soft ride but with positive handling, for example. The system allows the driver to set a customised profile. So you can set a Comfort setting, but with firmer steering and better throttle response. Or you can have an Eco setting but with Sports handling.
On the road
To maximise the car's fuel economy, we used the Eco setting for much of the test. This has two main effects – it provides a much stiffer throttle response, so acceleration is less sparkling. And it cranks up the braking regeneration so the S90 uses more electric drive than petrol.
With the plug-in system, the car offers a nominal 30 miles of electric range before the lithium ion battery pack is depleted. Regeneration only tops up the "drive" battery, not the big pack, so once the electric range is gone, you'll need to plug in. At least you can choose when to use the battery – use the petrol engine on the motorway, and switch to EV mode in town.
We tested the car with a full charge, but without recharging – this is more typical for chauffeur use, where finding the time to recharge in the middle of a busy day might not be possible.
Over 180 miles at an average of 32mph, we recorded a figure of 38.5mpg. Nowhere near the fantasy official figure, and a significant way off the 43.2mpg we scored on a 2.0-litre diesel-engined V90 D4 Momentum in 2016 in similar conditions. Diesel still holds an advantage in pure economy terms – but as we know, it's not all about that.
Verdict
Volvo's S90 T8 Twin Engine is probably the most competent executive plug-in hybrid currently available. Admittedly, there's a pretty slender field at the moment, though both key rivals, Mercedes-Benz and BMW, are present with similar offerings, as well as Volkswagen, with a plug-in Passat.
Plug-ins are always going to be a stop-gap. Much of their popularity stems from low Benefit In Kind (BIK) rates for company car drivers. But the benefit is only felt if you actually use the cars' capability.
We've heard too many stories about sales reps handing in their plug-in hybrids with the charge cables still shrink-wrapped. For high-mileage motorists, there's no incentive to plug in for 20-odd extra electric miles.
But for the moment, you're going to need the "zero-emissions capability" of a plug-in if you're going to avoid the London ULEZ charge. And if you're in London 300 days a year, that's £3,750 a year you'll be shelling out to TfL. I'm sure you can find a better use for it.
What you do get, even if you don't maximise the EV capability of the S90 T8, is a very smooth and quiet car with a very composed and compliant ride thanks to the air suspension fitted to our test car.
The more we get to know the Volvo S90, the more we like it. It delivers on the promise to provide a genuine competitor to the established German and British executive designs, and should be on any chauffeur's shopping list.
---
DATA
Volvo S90 2.0 T8 Inscription Pro Auto
Price OTR                    £58,555
Specification
| | |
| --- | --- |
| Engine | 1,969cc four-cylinder petrol, electric motor |
| Transmission | 8-speed automatic, front-drive |
| System power | 407hp |
| System torque | 640Nm |
| Top speed | 155mph |
| 0-62mph | 4.8sec |
| Combined fuel economy | 141.2mpg |
| CO2 emissions | 46g/km |
| Electric range | 30 miles |
| Length | 4,963mm |
| Width | 1,890mm |
| Height | 1,443mm |
| Wheelbase | 2,941mm |
| Loadspace | 500 litres |
| Warranty | 3 years / unlimited miles |
| VED Band | B |