Volvo XC90 D5 Inscription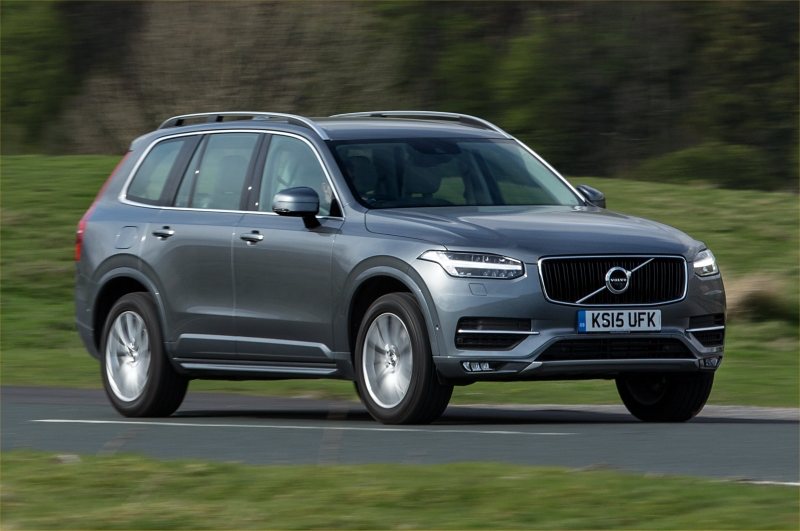 Volvo's advertising rather grandly bills the arrival of its new XC90 SUV as "a new beginning" for the company.
And they have a point. Five years after Ford sold the Swedish automaker to China's Geely, Volvo has released the first car it can truly claim to be a product of this new era. Even the Volvo grille badge has been given a makeover to highlight the change.
The last traces of Ford's input have gone – XC90 has been developed entirely since 2010. It's the first of a new family of large Volvos, including replacements for current S80 and V70 models, using a new Scalable Product Architecture (SPA) platform, which allows vehicles of differing wheelbases, lengths and heights to be made on the same production line. And all models are powered by Volvo's own new four-cylinder Drive-E powertrains.
The thrust is up-market. Clearly Volvo is targeting luxury brands such as Audi and BMW with its new offerings. Whereas previous large Volvos fell in a size bracket somewhere between lower- and upper-medium sectors, the new S90 and V90 will compete head-on with the likes of Audi A6 and Mercedes-Benz E-class, while XC90 goes head-to-head with Mercedes-Benz's rebadged ML, the GLE, and another newcomer, the Audi Q7.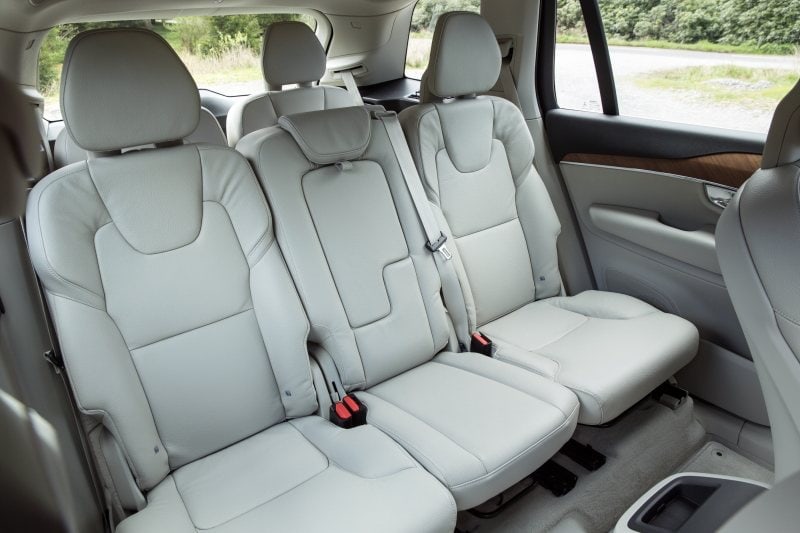 Interior space
With XC90, there's an emphasis on "Scandinavian" design, with clean lines inside and out, and extensive use of lighter woods and leathers in the interior. Volvo says the target ambience was of a "spa hotel". Swedishness extends to Levi's jeans-style tags of the Swedish flag stitched into the seats – a neat touch, and evidence of the attention to detail that has gone into the XC90's design.
It feels like a more substantial car – it measures 4,950mm in length, compared with 4,807mm for the outgoing XC90. The wheelbase has been extended by moving the front axle forward, allowing for a larger cabin and genuine seven-seater capability.
The third row should be able to accommodate average adults – Volvo claims 5ft 7in people should fit without headroom issues. Third row access isn't as easy as an MPV, though, and some councils might be loath to license as a seven-seat Private Hire vehicle.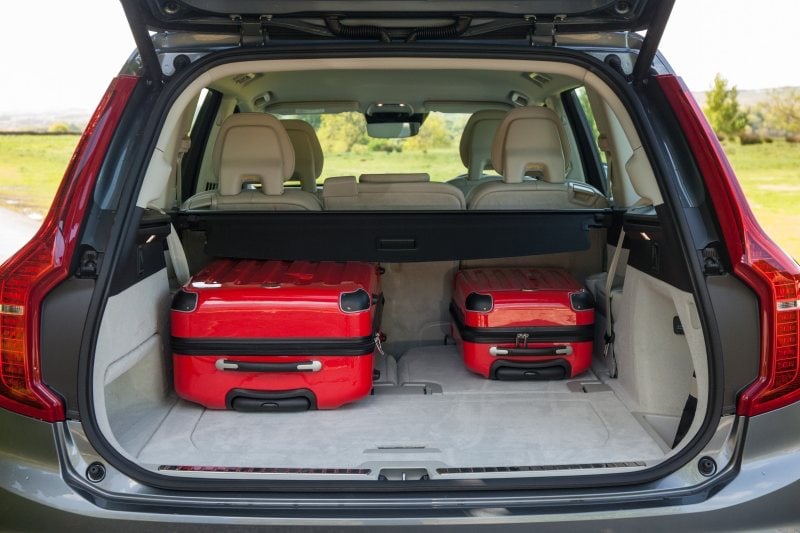 Both the second and third row feature theatre-style seating, set slightly inwards so that the occupants have a better view facing forwards and helping alleviate any potential travel sickness. All seats in the second and third row can be folded individually.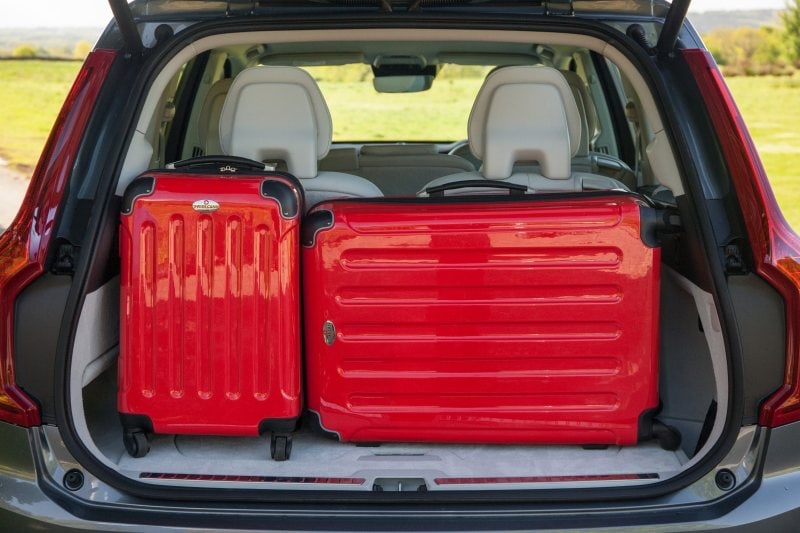 As a five-seater, the XC90 is both a roomy passenger carrier and a capacious load-carrier, with 775 litres of luggage space below the load cover. Even with the third row up, there is a decent 397 litres to the window line.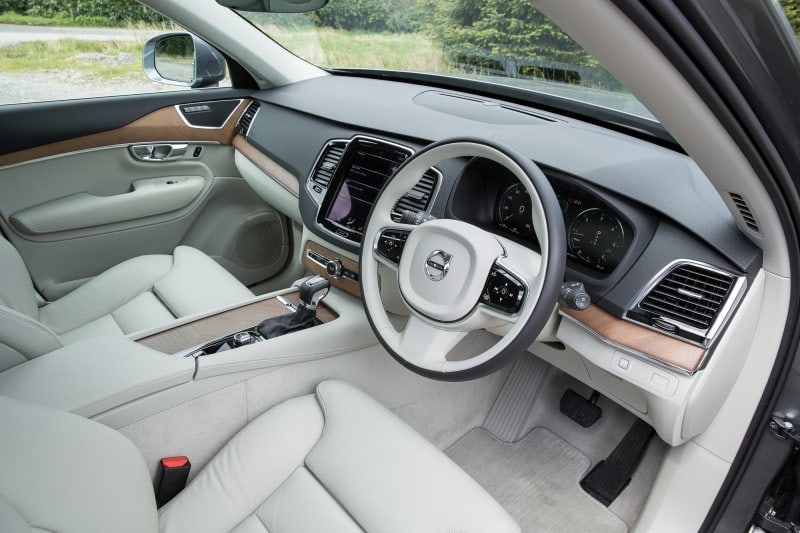 Dashboard design
Volvo has attempted to declutter the dashboard, largely through shifting much of the functionality to a large, portrait-format central touch screen multi-function display – 9in on base Momentum models; 12.3in on sporty R-Design and top-line Inscription trim.
The system, called Sensus, operates rather like a tablet, with maps sizeable by pinching and functions accessed by swiping your fingers sideways across the screen. It covers a lot of ground – this is a lot more than a sat-nav – so the effort in learning how it functions pays dividends.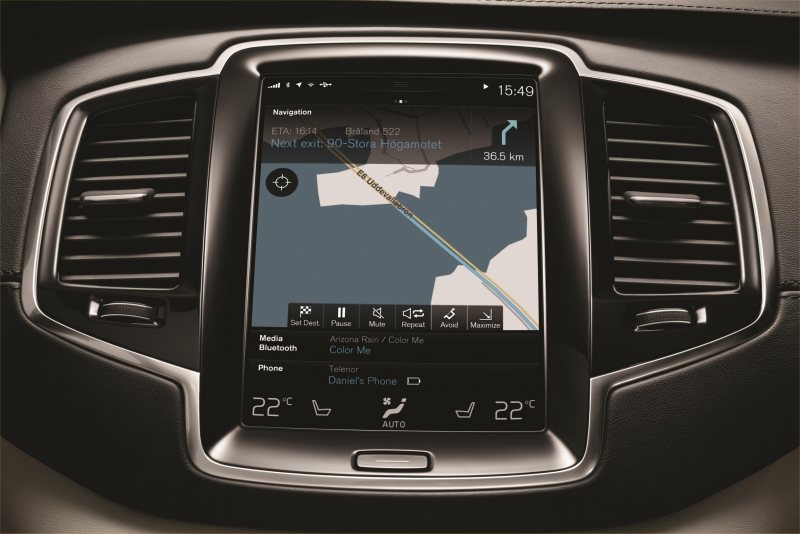 If there's a gripe about the sat-nav it's the actual detail of the mapping. Zoom out and minor roads disappear, leaving you driving through unmarked white space. And there are not enough place and street names. You have to zoom in to find where you are, but that removes any sense of where the nearest town is, for example. A software upgrade is required!
On the road
The Sensus systemt allows the car's ride and handling to be customised quite extensively, with the ability to set a customised profile that suits the driver. On our test drive across twisty country roads, we found a softer comfort ride from the optional air suspension fitted on an Inscription-trim model gave less twitchy performance, while we preferred the firmer sports steering setting. The custom setting allowed us to combine these two functions from different standard profiles. Other parameters, such as throttle response, can be changed too.
Where the XC90 felt most comfortable was on motorway cruising, where its high level of refinement really shone through. Again, we retained the comfort ride, coupled with the firmer sports steering. The low-revving 2.0-litre D5 twin-turbo diesel, which develops 225hp and 470Nm of torque, is very much at home at 70mph.
Safety features
The motorway also gave us the opportunity to try out some of Volvo's additional safety features, notably a lane departure assistant that uses the car's ABS and traction control to steer the XC90 gently back into its lane if the driver starts to veer out of lane without indicating. It's very smooth, and helps alert a drowsy driver by vibrating the steering wheel – far better than irritating beeping systems that inevitably get turned off so as not to annoy rear-seat passengers.
Should the XC90 leave the road, the car automatically and instantly tightens front safety belts to keep occupants firmly in position. An energy-absorbing shock absorber, in the seat frame, allows for 150mm of movement. This reduces vertical forces by up to a third, helping to minimise the spinal injuries that are a frequent outcome of such accidents.
Safety has always been a Volvo core message – the XC90 even has "since 1959" stamped into the seat belt clips, to highlight the date when it became the first automaker to fit them as standard.
The XC90 also has an enhanced version of its low-speed impact-reducing City Safety system. This now incorporates an 'auto brake at junctions' function that automatically brakes the car if the driver inadvertently turns in front of an oncoming vehicle.
If the relative speed difference is less than 31mph, City Safety is able to avoid a nose-to-tail accident entirely. At higher speeds, it will mitigate damage. Cyclists and pedestrians can be recognised, as well as other vehicles.
Performance and economy
Combined fuel economy is claimed at 48.7mpg, while official CO2 figure is 149g/km. Our test drives were brief – around 50 miles a time. On general roads, averaging 32mph, we achieved 32.2mph. On a motorway run, averaging 46mph, consumption improved to 37.5mph. Clearly longer journeys would make the 40s easily enough.
All versions use an eight-speed automatic transmission, while a haldex-coupled four-wheel drive system allows drive force to be split between front and rear wheels according to road conditions.
Verdict
The XC90 represents a great start for Volvo's new era. It has managed to highlight its Swedish roots and retain many Volvo styling quirks, while crucially not being a "me too" competitor to German or British rivals.
It's an extremely well-packaged car, with plenty of interior space, relatively low access for an SUV and a voluminous boot. We really like the cruise performance, and would recommend you keep the ride on the softest settings to avoid slightly twitchy handling, which is apparent on more sporty settings.
We loved the appearance of the central, upright screen, though drilling down into the menus is quite complicated, and rewards a bit of effort in learning how the system works.
Safety is emphasised, as ever, with Volvo, and we were particularly impressed with the lane departure prevention system.
The launch of the Volvo XC90, together with the new Audi Q7, gives chauffeurs looking for an all-weather luxury alternative some very fine new options, with car-like motorway performance and lower entry and exit than some more traditional – and more expensive – rivals.
---
DATA
Volvo XC90 D5 Inscription
Price as tested £64,830
| | |
| --- | --- |
| Specification | |
| Engine | 1,969cc four-cylinder turbodiesel |
| Transmission | 8-speed automatic, all-wheel drive |
| Max Power | 225hp @ 4,250rpm |
| Max Torque | 470Nm @ 1,750-2,500rpm |
| 0-62mph | 7.8sec |
| Top speed | 137mph |
| Fuel economy | 49.6mpg |
| Combined CO2 | 149g/km |
| Length | 4,950mm |
| Wheelbase | 2,984mm |
| Width | 2,008mm |
| Height | 1,776mm |
| Loadspace | (5/7 seats)775/397 litres |
| Fuel tank capacity | 71 litres |
| Warranty | 3 years /60,000 miles |
| VED Band | F |